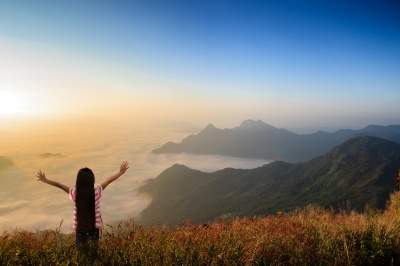 This past November I started a series titled "how to create your perfect life – part one."  On that post I promised my readers that there were going to be more posts to complete this series that I'm hoping will help you to fully grasp what it takes to be able to live the life of your dreams.
And, yes, it's possible.
That post was discussing why some people don't have dreams and why some let their dreams die.  Then I explained how most of your behaviors in this regards have to do with your subconscious programming. If you haven't read part one yet, I suggest that you do this first, and then come back here.
But for those who are already in the loop, here we go.
Today I wanted to talk more about how we get to where we are, and the first things we need to understand in order to be able to make any change in our life.
It took me years to finally understand why I was where I was in life. I have almost always felt out of place just about anywhere I've been in my life, except maybe when I was on a stage. I knew that I had to find a way to find me, so to speak. So, I guess that's why I became so attracted to personal development. It was the source of light I needed.
I know that I am now on the right track, but why do we have so much of a hard time to get there, anyway? The quick answer is because who we really are and what we are mentally fed with don't agree. Most of what we carry around is just learned stuff.
We learned our behaviors from 2 main sources.  Those 2 sources are modeling and dramatic events. Let's see what this means in more details.
We Learn by Modeling?
Modeling behavior is what you learned by observing your parents or anyone who raised you and was around you the most in your early years.
People underestimate how much children learn by observing what their parents do even more than what they just tell their children to do, or be.
For example, even if you parents were to tell you " you can do anything you want in life," while they are working a tough job that they hate, what you are truly going to learn by modeling is NOT what they are saying, but more what they are doing.
So, while they may want you to succeed and tell you, you can do whatever you want in life, subconsciously you are really picking up on the fact that they are working a tough job that they hate.  In such case this is the model you're going to learn from. Chances are that this behavior is the one that's going to win in your subconscious programming.
As you grow up, you are learning unconsciously (also called subconsciously) what to think about anything and everything. What to think about money, what to think about God, what to think about people, what to think about relationships, what to think about food, what to think about behaviors, what to think about work, what to think about health, what to think about weight, etc. Remember you weren't born with ANY of that.
We are modeling our own self behavior after the 2 to 5 people that are surrounding us the most between the ages of 0 to 16.
This is subconscious programming by modeling.
We Learn by Dramatic Events?
Besides modeling which is the most common and widely spread way of learning how to behave, we also learn from dramatic events.  For example, if one of your parents dies or moves away when you are very young, this will be a dramatic event on which your subconscious will pick up a certain behavior patterns.  A common behavior that comes out of such specific situation is the feeling of abandonment. And they are others.
If you happened to have been bullied in school, this is also a dramatic event that is going to dictate some of your behaviors for the rest of your life. Some common behaviors born from that can be depression, suicidal thoughts, and aggressiveness to name a few.
You may have been a witness to a violent crime or any dramatic event that would surely mess up with your subconscious mind, whether you ever become aware of it or not.
Such dramatic events also program us subconsciously whether we realize it or not. That's why we call it unconscious programming.
In my case, for example, I was affected by both the loss of a parent at a young age when my father died when I was 5,  and been bullied at school from age 4 to 16.
Did those dramatic events affected my subconscious programming? You bet they did.  Tremendously. I'm still working on that to this day while I'm aware of it.  How much do you think it would affect you if you weren't even aware that it affected you at all?
That's why some people need to cope with their feelings using drugs, alcohol, or even violence, and other destructive behaviors.  They adopt these dramatic events that changed their life as an inherent parts of them.  It disturbed they subconscious mind so much that they fail to realize that those events are totally separated from them.
But let me tell you this. What ever happened TO you is NOT you. You have the power to detach from this completely and let it go, until you find yourself underneath all this mess. In the following posts of this series we are going to go deep down into that.
Your Subconscious Mind Runs the Show
Imagine your life to be like a movie, which it actually really is.  The movie of your life is basically run by your subconscious mind.  Actually it's very common to hear life coaches say things like, your subconscious mind runs the show. It's because it really does.
The subconscious is so powerful that once it learned something, it can do it automatically. You don't ever have to actively think about it.
A very easy example is languages. The reason why you can speak without thinking is because your language is totally part of your subconscious mind now, and even more so because you've learned this language as a very small child. You've been listening to it – being molded after it – since infancy.
That's why once it's there it there. Only if your brain incurs some kind of damage can that darn language ever get out of there.  It's the same thing with riding a bike, driving, swimming, walking, etc. Once you learned those things, they go to your subconscious and they'll never get out of there.
The fact that the subconscious works that way can be both a good thing and a bad thing. In the case of the things mentioned above it's a good thing, of course, but in the case of negative stuff it's a bad thing.
That when this could be very bad news for our life pattern.
However, there is some good news for us, because the subconscious mind can easily be tricked. And that's what we are going to use to change our lives in the way we want.
The Subconscious Mind Can Be Tricked
Why is it that we can be sitting in a movie theater in a comfortable chair with maybe 100 people around us, and yet get frighten, or sad watching a movie.  There is no doubt that we are consciously aware that none of the things that are making us scared or sad are real, but that doesn't matter one bit. We are still going to scream or cry because it's our subconscious mind being tricked.
That's why we always say that it doesn't matter if it true, if it's false, if it makes sense or if it doesn't, because the subconscious mind does believe it just the same.
When we are scared or cry because of a movie, it's because it's our subconscious mind reacting.  In this case, our conscious mind is NOT affected at all. It totally knows that it's just some images passing in front of a white screen, and that we are safely sitting in a room eating popcorn and drinking soda.
The conscious, which is the analytic part of us, knows exactly what's actually REALLY going on, but it's that other part of us, the unconscious part (called the subconscious) that truly makes us react emotionally and physically.
Yes, what makes us vibrate and react in life, is not are logical analytic conscious mind, but our are subconscious mind that believe everything as is.
When it comes to the subconscious mind remember two things:
1-     It really runs the show – making us react to totally fictitious things as if they were real.
2-     We can trick that subconscious mind into believing anything.
Once you truly understand these two important factors of the mind, all you need to do is embrace this fact and use it for your own good.
I hope this post has prepared you well to understand the next step of this series which will be about how you can trick the subconscious mind into creating the life that you want.
In the mean time, please, leave your comments and thoughts below.