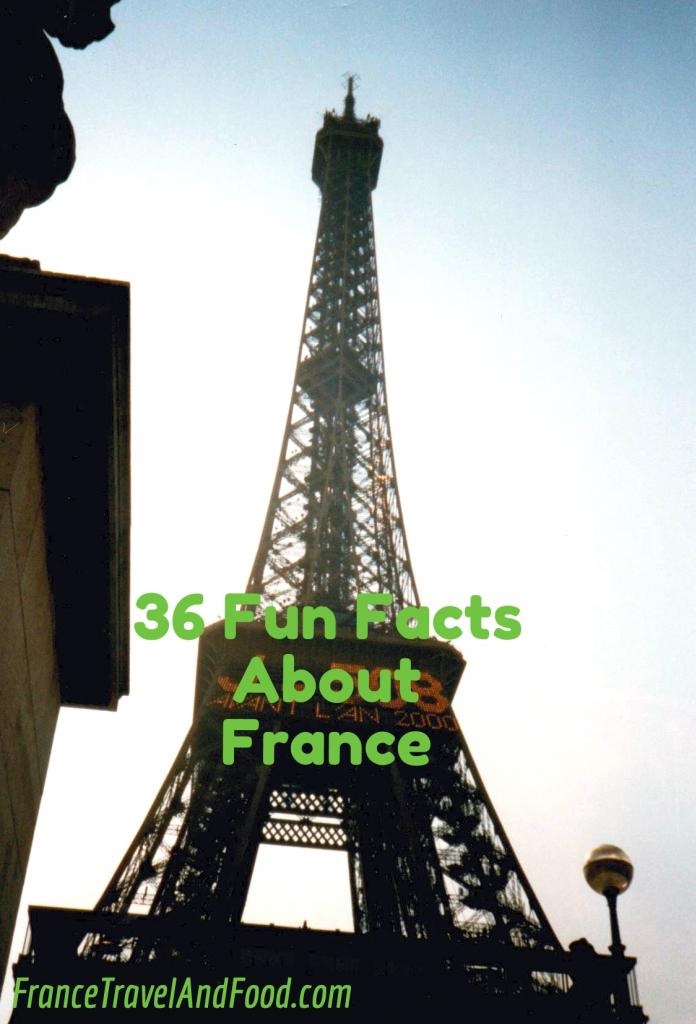 Here we are guys, I've reach my 100th post on my travel blog today!
I had already celebrated my 100th post, 0n my writing blog, and a couple of weeks later on my personal development blog, and today it's this baby's turn.
I know I could have looked through the blog and gather my 10 most popular post or something like that, but I'm keeping this for the end of the year.  On this 100th post I wanted to just do something fun, and thought about gathering 36 fun facts about France.
It's always fun to me to do research and gather facts about France, and put them together.
Now, I'm not sure if they are really ALL fun, but here they are, divided in 4 sections.

Fun Fact about French Language
1)  French used to be the official language of England between the 11th and 14th century.  Today French is still the official language of 30 countries, and the United Nations. Did you know this?
2) French is the language has 21 verb tenses.  There are 12 in English if you're stretching it.  Yes, we learn them all in French class, even though 3 or 4 of them are basically never used anymore.
3)  Some 75 million people speak French as a first language. Yep, I'm one of them.
4)  American Actress Jodie Foster speaks fluent French with no American accent. I was shocked when I saw that! She is 100% bilingual. Did you know that?
5)  French is the second most taught language as a second language after English, and it's taught is just about every country of the world. I'm not too surprised on that one.
6)  French used to be the diplomacy language across all Europe until mid 20th Century.  This could be one of the reasons why there are quite a few French expressions and words in the English language.
Fun Facts about People
7)  The name France comes from the Franks, the first people settling in France.  They were a Germanic tribe, but French people come from one of the most diverse backgrounds such as Celts, Romans, Basques, Danish, and maybe more.
8)  The French Declaration of the Rights of Man and of the Citizen was the first human right declaration of the world. For ALL people of the earth, regardless of race or ethnicity.
9)  8% of the population of France is made of immigrants.
10)  20% of French live in and around the Paris region.
11)  France has the highest female life expectancy of the European Union, and third highest for males.
12)  French have the lowest incident of obesity in the world. French eat well, but they are very disciplined when it comes to eating as well.
13)  France is the biggest alcohol consumer per capita in the world. Now, that's not a surprise, but again there are no more drunks in France than anywhere else.
14)  French greet family and friends with a kiss on the cheek, even men. The numbers of kisses vary according to regions. See my friend Annie Andre's post about that!
15)  Someone once said, "French are Italians in a bad mood." Fun, and kind of true too, at times.
Fun Facts about Numbers
16)  France has one of the highest wealth taxes in the world. Yep that's why some super wealthy move to Switzerland or Russia.
17)  About 100 million tourists visit France each year.  France is one of the top visited countries in the world.
18)  France has about 40,000 castles still standing.
19)  France has over 300 varieties of cheese.  Almost one new cheese per day.  I love them all!
20)  An average 2 cook books are published every day in France. Well, that makes sense.
Fun Facts Country Leadership
21)  France is a wine maker since Roman times, well over 2,000 years ago. No wonder they are experts at this.
22)  France is the world's leader in luxury goods such as cosmetics, perfumes, brand name clothing, and gourmet food.
23)  France is the number one European country producer of nuclear electricity, and second after the United States.
24)  Charles de Gaulle Airport, in Paris is the 6th largest airport in the World and one of the busiest.
25)  he French company Bic "ball pens" was the first world mass manufacturer.  Billions of Bic pens have been sold over the world.
26)  France has the highest number of ski resorts in Europe.
27)  One of France Mountain, Le Mont Blanc, is the highest mountain in all Europe.
Fun Miscellaneous Facts
28)  France has about two more hours of day light than the US, with or without day light saving. It's still day light at 10 PM in June and July. I missed that.
29)  The slang word "salut" is very common in France and means both hi, and bye.
30)  France has won more Nobel Prizes for Literature than any other country.
31)  France is known to be rather weak in sports except for soccer, cycling, and car racing Formula 1, where they are experts.
32)  French inventions include Braille, the parachute, the sewing machine, the submarine, and more…
33)  The last time a man was executed by the guillotine was in 1977.  There is no longer a death penalty in France since 1981.
34)  The Eiffel tower was build only as a temporary exposition item to be dismantled, but is still standing today, 124 years later. It's the most recognizable building on the planet.
35)  The Statue of Liberty was made in France and gifted to the US.   A small reproduction of the Statue of Liberty can be seen in Paris.
36)  French presidents used to be re-elected every 7 years until 1995.  It's now every 5 years.  French president Francois Mitterrand was president for 14 years.
So, there you have it. I hope you had as much fun reading those 36 fun facts about France as I had writing them down.  Let me know your feedback on that.