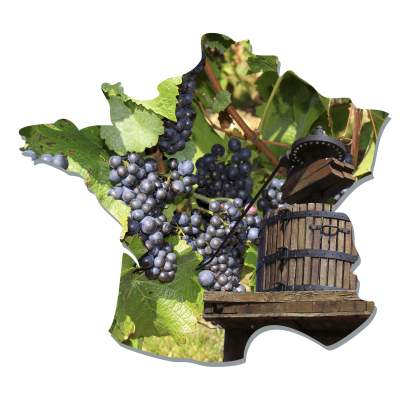 In the process of making this blog ever more interesting, and more outreaching to the public, I decided to start blogging more about new worth and interesting topics that are both newer and market targeted.
Of course, I will still write the occasional more personal blog post here and there, but my goal is to reach a larger and new audience with more in depth specific topics such as this one.
Is the French wine market in danger?
The industry of the wine has changed greatly. More and more people all over the world do now drink red and white wine, if not on a daily basis like the French do, at least on a regular basis.
It used to be a time where French winemakers were basically making a living with consumers in France only, and maybe just a few neighboring countries, but today, the wine market has grown so much that even countries that were absolutely not known to make wine in the old days are making wine today.  Ironically, those new wine makers, while still very far from making the wine quality that France produces,  are now direct competitors to the old world wine maker which is France.
The result of this, and few other problems, involving the French wine industry is that some winemakers have to simply waste good wine into making something else with it because of lack of selling it.  But why is that?
What's happening with French Wine Makers?
It happens that in the good old days, all that French winemakers had to do is worry about was making a good to superior wine and then the wine would sell itself. They never had to think "marketing" or even trying to "please" a certain population or market.  They already knew that they would be pleasing them "their" market.
They were making wine first and then selling it. That would seems logical, right?
We make a product and them we sell it!
Well, no, not exactly anymore, and not even for wine.
Nowadays, "new winemakers" are thinking marketing FIRST and making wine second. Actually, France is not the only one that has been making wine first and thinking of selling it second, most of the old wine makers in Europe have thought that way, but it appears that's why the Australian, Chilean, Argentinian and other new wine-marketers are growing their market while some Bordeaux wine-makers are in the verge of bankruptcy.
It appears that those new wine-marketers make wine only once they've understood their market, for example, making ONLY the quantity that they are going to sell and matching the demand in price and quality that matches such market.  This new behavior doesn't seem to be what French winemakers are doing right now.
WineAtWork.com says that "these days, people who want to succeed in selling their wines look at the market and what it wants before they even crush a grape." It seems that French wine-makers is not doing this well, yet and has a learning dysfunction when it comes to adapt to new markets.
The Main Conflict Between Old Wine-makers and New Market
It used to be a time, when the wine marketer was smaller, and the good old wine was purchased in those wineries or specific wine stores where the the consumer had to come to the wine, and not the other way around.  Now however, it appears that the largest wine selling happens in supermarkets, where people want both a good and cheap wine. And that's when the wine really comes to the consumer now. Which means that if there is no wine, then there is no consumer. That's as simple as that!
One thing that I remember well from my days in France is that both good and cheap, when it came to wine, just didn't existed. I remember how mediocre wines in supermarket were, the first day I ever tasted a Beaujolais wine from a wine maker.
Well, the main reason why French wine is in trouble is that it seems that French wine-makers have trouble getting used to that idea.
So, while according to experts, France has no rival when it comes to make the most profound fine wines, they have rivals when it comes to make and commercialize more casual wines for the largest market, which nowadays, is not interested in paying $60 or more for a bottle of wine, but more interested in a good wine that they can easily afford.
According to my research, it seems that France needs to rethinking its wine making/industry, and its wine commercialization, but this goes all the way into political decisions and changing a very, very old way of thinking wine in France.
Two Wine Cultures
There are two wine cultures today, and it seems that the gap between the two is growing.
There is the people that want to buy cheap and good enough wine at the supermarket. I have to admit, I am one of those people, and there are the fewer ones that are wine connoisseurs who can taste where the grapes grew and at what altitude under how much sun. But those are not what can help French wine-makers compete with the worldwide wine competition.
True, great wine depends on soil types, climate, viticulture and wine-making process and practices, but the guy who buy his affordable to cheap wine at the supermarket "like me" doesn't care about that.
The new world of wine making doesn't really care about that either. What they care about is selling the wine to the general public. And frankly that's working great for them!
This is where old tradition French wine-makers are going to have to make some changes and learn to adapt to the market if they want to remain the top wine selling in the world, because the real wine "amateur" is kind of dwindling while the common wine drinking is growing.
It's a known fact that it takes time to change old thinking patterns. And France is an old country and wine-making there is as old as the country. So, while the resistance its having with new wine-making is understandable, they need to change their mind and see what's coming if they want to stay ahead in the wine market.
I hope this article helped and educated you in better understanding what's going on with the French wine market.
Now, please, leave your comments below.