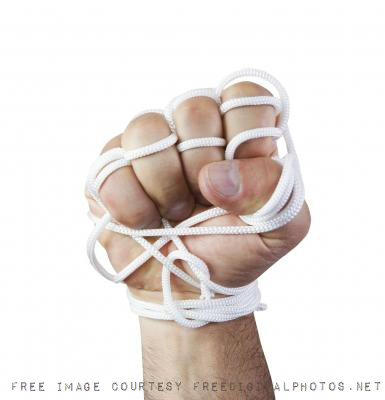 What we call the "law of attraction" actually includes many other laws that a lot of people are not aware of.  Often, when people say that the law of attraction doesn't work it's because they are actually ignoring or not knowing about the other universal or spiritual laws that are related to it.
This post will be the first of a series where I am going to explain what each of such laws is, and what they do.  Today we are going to talk about the law of resistance which is a very important law to know about and understand.
What is the Law of Resistance?
This is a pretty easy one to figure out isn't it?  The law of resistance is about resistance, right?  Now the first question I would ask you is what does the word "resist" or "resistance" evoke to you?  Does it evoke positive or negative feelings?  Most people will have no problem giving the correct answer.  Resistance evokes a negative feeling.  The law of resistance it's a law you want to fully understand in order to use it for your own benefit instead of your detriment.
You apply the law of resistance when you push something away, either by using negative statements such "can't", "don't", "not", or "ill", "poor", "fat", etc.  You also apply the law of resistance when you focus on negative feelings or emotions or even physical pain.
The point is that since the law of resistance does exist we need to learn to work with it and not against it.  So let's see how we can do that.
Avoid Resistance Words
One of the first things to understand is to limit to a stick minimum the use of resistance words such as "I can't", "I won't" "I'm not", or I "don't".  The subconscious doesn't understand negatives.  For example, if you keep saying "I don't like my job", you are making it harder for you to get out of it.  If you are saying "I don't want to be fat", you are making it more difficult for you to lose the weight.  If you are saying "I don't want to be poor" each day, you won't be any closer to becoming rich.  If you are saying those things often, you are applying the law of resistance.  And you are actually sending out energy that is resisting what you want while improving what you don't.
Instead of speaking of what you don't want, ALWAYS speak of what you do want.  In order not to use the law of resistance against you, do not say "I don't like my job", but "I love my job", "I love what I do".  So instead of getting more of that job that you don't want, you are opening the doors for a job that you do want.  Instead of saying "I don't want to be fat", say "I'm skinny, I'm fit, I like myself, I love the way I look", so you won't apply the law of resistance that will prevent you from getting what you want to achieve with your weight.
Here is an Illustration…
Think about it this way.  When you want to tell your computer that you are looking for "a red dress" or a "winter coat", or a "BMW" using the search engines, what do you say (write)?  Do you write what you don't want?  If you are looking for a black BMW, do you write I don't want a white BMW!
Well, the answer is obvious, isn't it?  If you'd write in your search engine box "I don't want a white BMW" you'll get all the results with the term "white BMW".  Why?
Because computers don't understand "don't".  Our subconscious mind is just like a computer.  If you wouldn't ask what you don't want to your computer why do you ask for it to the Universe, God, your Higher Self, your Subconscious?  Yes, that's right!
You don't ever need to mention what you do not want. Every time you do, you actually are asking for it, and resisting what you really want.  Treat your subconscious like your computer, because they act the exact same way!
Do Not Resist Feelings, Emotions 
Some people are very good at burying their feelings and emotions.  In some cases it's because they want to show how tough they are. In other cases, it's because they are trying to resist the pain.  Unfortunately when you do this, all you are doing is applying the law of resistance. Instead of going through the emotions or feelings, and then release them, you keep them inside and they will come back over and over, and over. As a matter of fact, if you resist them, you'll NEVER get rid of them.
The fastest way to get rid of a negative emotion or feeling is to acknowledge it and release it.  If something in your life makes you sad or depressed, acknowledge your pain, don't cover it over.  And then let it go.  Then and only then will you be able to totally release it.
Do Not Resist Physical Pain
Not too long ago I've learned from my fiend Melody Fletcher that I could do the same thing with physical pain.  She learned that herself during one of her meditation sessions.  She found out that by NOT resisting physical pain, the pain would go away quickly, while trying to fight the pain will actually increase it or make it settle longer.
Only few weeks after I learned this tip from Melody, I happened to have a cramp in my right foot (as I sometimes do) while I was standing in a grocery store.  When I get those cramps I tend to get stiff and fight the cramp with all my being.  Then I end up feeling more and more pain and have to either take my shoe off and put my foot flat on the floor or pour warm water on my foot if it's possible, depending where I am when I get the cramp.
As I was getting that cramp in the middle of that store I instantly remembered to NOT apply resistance and accept the pain mentally and let it be.  For the first time ever, I wasn't resisting the pain of the cramp but let it be by relaxing all my muscles and mind as much as I could.  Interestingly, the cramp went away in just seconds.  It was amazing and I was so glad that I actually could experience what Melody was talking about.  I could now prove to myself that by resisting pain we only make the pain last much longer and more intensely.
In order to NOT resist physical pain you have to skip a fear factor that makes us resist such pain.  It might be a little scary the first time, but it's worth a try.  When you have done it once with good results you will be amazed, and it will be so much easier to do it again the next time.
I know that I can't explain everything in a blog post, and that's why I give coaching lessons, but I hope you have grasped what it means to resist or not resist, and will try to apply the law of non-resistance in your life.
So, what do you think? Give us your feedbacks below!
See also my post about the Law of Allowing.