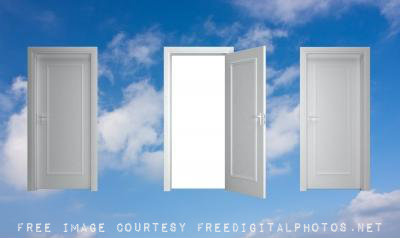 The Law of Allowing has been said to be one of the most difficult to understand and apply Universal Law.  However, understanding and applying this law of the Universe is very important if you want to be successful in life.
As you may know, my goal with this post series is to try my best to explain each one of the Laws of the Universe that are directly related to the Law of Attraction.  Last week I started this series with the Law of Resistance, and you can read each post in no particular order regardless of what post you get to first.
The Two Sides of the Law of Allowing
There are two sides of the Law of Allowing:
1) Allowing good energy to you
2) Allowing other people to be who they are
As you will see by the end of this post, both sides are related.
Usually people who have a high spirituality level or have been meditating for years are doing pretty well with the law of allowing.  On the other hand, considering the state of things in this world, it's obvious that a lot of people not only don't practice the Law of Allowing, but have no idea of what it is either.  When you do practice the Law of Allowing you are at your extreme peaceful state of mind and a magnet for good things to come your way.
Allowing Good Energy to Pass Through You
The key to be able to attract good things to you is to allow good and positive energy.  Don't be fooled, though, there is no way that you can attract good things to your life if all you allow negative energy.  To allow positive energy you first need to be "conscious" of such energy, of course, and with such consciousness comes knowledge and awareness that allows you to fix things.
As we discussed in my last post and even other previous posts, everything is energy.  Your thoughts, your feelings, what you hear, what you touch, what you see… it's all energy.  To practice the Law of Allowing you need to replace negative energy by positive energy.  For example, if you have a bad thought not only it's not healthy and bad for you, but it blocks the Law of Allowing from doing its job.  By simply chasing the negative thought and replacing it by a positive one you are opening the gates for the Law of Allowing.
Bad thoughts could be compared to a common cold virus.  The cold virus will clog your respiratory system and you will have trouble breathing right and feel miserable.  So, what do you do? You take medicine that will help you clear up your pipes and you will start breathing better and feeling much better too.  Once you're completely healed you are like a new person.
It's exactly the same things with your brain.  You need to clear up the thoughts that are clogging up your mind and are making you feel miserable by taking the "good thought" medicine, as much as you can.  There are no potentially dangerous side effects, and it's free (unlike cold medicine).  As you're healing your thoughts, and feelings you start feeling better, and the Law of Allowing can do its work.  Good things can be allowed to come your way.
You can't allow good things with negativity going on in your head, just like a cold virus won't allow you to breathe right or feel good.
As I have said before throughout this blog, it's impossible to catch ALL your negative thoughts, but when you develop more awareness, you can catch much more than you would if you hadn't.  It's a practice. Like any other thing in life, the more you practice, the better you will get at catching yourself thinking negatively, and switching to better thoughts.  Each time you do, you're allowing the good to come your way.
Allowing Other People to Be Who They Are
The Universal Law of Allowing also means dropping all judgments and all emotional attachments to what others are, have, or do. This is quite different from being tolerant. Being tolerant is not liking what someone else is or does and holding emotion-laden, negative thoughts about them, but letting them be or do it any way.  Practicing the Law of Allowing requires granting to others the same rights you ask for yourself – the right to be, do, and have whatever you choose without emotional attachment. Christy Whitman – Life Coach
Some people spend quite a bit of time and energy judging other people or running their own life based on what other people do, say or think of them.  I should know. My Italian side of the family are masters at this, so they certainly helped me to dislike and stay away from that type of behavior early on in life.
A Huge part of the Law of Allowing is letting people be who they are without you being affected by it one little bit.  I learned the whole meaning of this, especially within the past three years, and it really helped me have a totally different point of view about a lot of things.
Do not confuse letting people be with tolerance, however.  There is a big difference between the two.  When you just tolerate someone's behavior which you don't approve of, you are still judging such behavior and in most cases, you have a feeling that you're right and they're wrong.  But because you're being so good, you "tolerate" it.  This is NOT applying the Law of Allowing.
When you allow someone to be who they are, you are NOT judging at ALL.  You fully allow and respect who they are, what they do, what they believe in, what they think, etc.  Without an ounce of judgment.  I know this one is a tough one, I told you! But like the other part of the Law of Allowing, you can work on it and practice, until you get better at it.
Why does Allowing Others to Be Who They Are has Anything to do with your Success?
When you are bothered, annoyed or worse even angered by someone else's behavior, way of life, etc… you are creating blocks for yourself.  You are not allowing good and positive energy to come to you, but rather the bad and negative energy that comes with judging others.
In fact, while you are not affecting them at all, you are affecting yourself by not allowing the positive energy that is needed for you to bring success into your life.  That's why these two sides of the Law of Allowing are totally related.
This equation is this: Allowing positive energy + allowing others to be who they are = getting good positive energy back to you.
The human being is like a channel and our mind is the gate that lets or doesn't let positive energy go through us.  Knowing and applying the Law of Allowing brings better quality energy which in turn brings on a better quality of life.
So, what do you think? Do you have a better understanding of the law of allowing? Let us know your thoughts on that down below!
Also, See my post about the Law of Resistance.