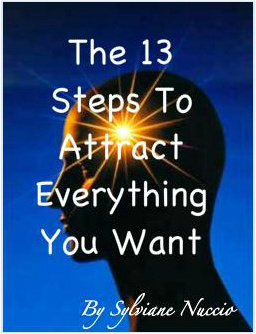 I had been offering the book "Think and Grow Rich" by Napoleon Hill on this blog for a long while now.  The reason I was offering it is because this personal development classic book has been a very important factor of my understanding of the law of attraction and the subconscious mind.
However, I thought that now it's time  for me to offer something new to my readers, and here it is!
Based on the 13 steps of success from Think and Grow Rich, I have written an easy to follow manual of 30 pages to help you understand better how all this works and how to apply such steps into your life.
Before you leave this post make sure you get my free eBook "The 13 Steps To Attract Everything You Want", which you can find on the right hand side of this blog or down below at the end of this post.
A Student of the Law of Attraction For Six Years
I have been a student of the law of attraction since 2006, and I have to say that the understanding of this magnificent law of the universe has changed my life forever.   Of course the existence of the law of attraction didn't start to exist in 2006 in my life, it was there all along, but it's my understanding of it that changed my life.
When you have been spending your life wondering things like why can't I manifest what I want in my life? Why can't I get a good job even thought I qualify for it? Why can't I find the right partner? Why don't I have a true friend?  Why can't I find a way to be successful? Why am I such an under-achiever even though I have talents, etc…  When you don't have the answers to those questions, you start to wonder.
You feel that something is completely off, but you have no idea why and even less how to fix it.  I came to a point where I was really depressed and felt that I was a lost cause with no way out.  So, you can imagine, when I started learning about the law of attraction and the subconscious mind, what a revelation it was for me.  So, yes, it really changed my life.
Growing up Without Being Aware of the Law of Attraction
The Law of attraction is a theme that is "thankfully" becoming more and more popular all over the world.  When I grew up, however, I had never heard anyone around me, ever mentioning such thing.  I grew up in an environment where having total control over your life and fate was something too good to be true.
My mother had a lot of superstitions passed on to her by her own mother and as any superstitious person she was more controlled by it than she was in control of her life.  I lost my father who died in a car crash at the age of 34 when I was 5 and my brother 2.  Even though my mother has always been a strong woman on one hand, she was also very depressed and had a nerves break down after my father's death which lasted a long while.
When you are 5 years old and have just lost your father in something as swift as a car crash and see your depressed and sad widow mother trying to make it to the end of the day, your self-confidence doesn't run very high
Now, I am not saying this to try to sound like the poorest little girl in the world, I had an overall happy childhood and I was spoiled like a brat, but we had few very difficult years, emotionally.  As a matter of fact, those few years being some of the most important years of my childhood have affected my whole life.
Becoming Aware of the Law of Attraction
It's probably because of this lack of control in my life and the fact that I wanted to understand "why" all of this was happening to me that in my early twenties, I started to look for answers and was attracted by personal development materials.
The first book that I read about the laws of the universe was a book by Catherine Ponder.  It was the first time that I was learning about the power of the mind and how one can start taking control of their life.  This was the first time I read such a book and it's where I learned for the first time as well what a vision board was and how to create one.
However, it was going to be another dozen years before I really get introduced to the law of attraction in a manner that I could really understand it, and start really applying such knowledge in my life.  Even though I was somehow introduced to this concept twelve years earlier, I was not ready to embrace it fully.
It was always on the back of my mind, however, ready to be awaken again when I would be ready. This happened in the spring of 2006 when I started to work from home as a network marketer.
Today, I have the immense pleasure of teaching the law of attraction to the ones who are not familiar with it.
So, What's in this eBook?
Well, to be sure make sure you read it.  But to tell you a bit about it, it's based on my own study and use of the law of attraction in my life.  I have taken all 13 steps to success by Napoleon Hill and wrote about each steps according to my own experience with them.  Those steps are the following:
Desire
Faith
Auto-Suggestion
Specialized Knowledge
Imagination
Organized Planning
Decision
Persistence
Mastermind Group
Sex Transmutation
The Subconscious Mind
The Brain
The Sixth Sense
I hope that you will enjoy this quick to read little eBook.  If you have any questions you can always do it in the comment area down below or email me.