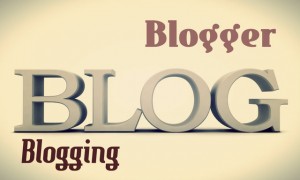 Why are you blogging? Do you like blogging? Are you still wondering what you should be blogging about?  What is blogging anyway?
Blogging has opened many doors to many people.  Today, anyone can blog about anything and publish their thoughts, ideas, expertise, and so on.  And they can do it for free.
Most people are blogging for a specific reason such as promoting their business, their product or service, but some people are also blogging for fun or use their blog as a journal, writing about their thoughts and experiences.  No matter what you are blogging about, at the end of the day it needs to be fun and something you are looking forward to.  If not, then your blogging experience will probably be short lived.
I thought that maybe by telling you my blogging story from the beginning it would some of  you to understand better what blogging is all about, and what you should expect depending on the choices you will be making.
When I Started Blogging…
I know that blogging started before I did, but as far as I am concerned I have to admit that I didn't know much at all about blogging until April of 2006.  You need to keep in mind that 6 cyber years is like 20 regular years.  Yes, in 6 years, I've learned pretty much everything I know about the online business and that includes blogging.  Those 6 years seem like an eternity to me.
When I started my online venture, I started with network marketing.  After a couple of pretty bad experiences I joined a health supplement network marketing company and even though I am not with that company anymore, it's where my online knowledge really started.   However,  blogging was still not what it is today by any mean.
Blogging, back then, was still very new for a lot of online folks.  No one in my team had a blog.  It was only about a year later that one of the big earners of the company talked about his blog which was pretty new.
Shortly after that I was introduced to the then most popular blogging platform Blogger.com.  I can still remember registering there and having absolutely no idea about what to do. Today as soon as you get stuck, you can do a quick YouTube search to find the type of tutorial you are looking for, back then, I had never heard of You Tube yet.  Yes, that's right. However, eventually I started a Blogger blog.
A year later in March 2008 I joined an online marketing tutorial program to learn how to promote my network marketing business.  However, they were really concentrating on affiliate marketing rather than network marketing, and since I wasn't going much anywhere with my network marketing business I decided to switch to affiliate marketing.  There I started learning everything I could about affiliate marketing and in a few months I could write about what I knew like an expert.  Eventually I became on of their article marketing expert and also learned about blogging.
Too Many Blogs Handled the Wrong Way
Article marketing came very easy for me because I have always loved to write and I was already writing for article directories for a couple of years.  I did pretty well with article marketing and even started to write for others as a freelance writer.  What I had more trouble with, though, was blogging.  My blogs, back then were nothing more than selling platforms and you don't want to make that same mistake.  Basically, I was writing superior quality articles for article directories and inferior quality articles for my own blogs. Needless to say, I had it all wrong.
Came a time when I had 7 blogs that were all more or less neglected, and even though I was making regular sales with them, I was really fed up with the whole thing and wanted to concentrate on blogging and the blogging community more.
Getting More Involved With Quality Blogging
This meant that I had to make some choices and keep only the blogs that really mattered to me and get rid of everything else.  The choice was easy.  I most definitely had to keep my writing blog, since writing was pretty much my niche, my specialty, and truly something I love to teach.  The blog I am referring to is the one you are on now and which used to be named Persuasive Article Marketing.  Since I wanted to brand myself I renamed the blog to what it is now.
Another very important occupation of mine is personal development.  I read my first personal development book by Catherine Ponder back in the late 1980's, but I really started to get involved with this at about the same time I started network marketing early 2006.  So, the other blog I had to keep was my personal development blog.  This blog has really grown with me.  Early in the life of the blog, my posts were shorter and also a bit on the selling side, but now the blog has gravitated to more in depth kind of posts that are really meant to give true personal development advice to the reader.
Through that blog, I let my passion; knowledge and experience speak on each post.  This is what blogging should be all about.  Don't blog to sell on your posts, that's the wrong way to go about blogging.
The third blog that I decided to keep was the only blog that I actually started more for the fun of it than any others and it's my blog about France, travel and food.  Being from France, I had to have a platform where I could talk about my home country, or should I say, write about it.  The places, the culture, the wine, the food and more.
To tell you the truth, I am not sure where I am going with this blog quite yet, but I am thinking that it could turn into something big.  I have a few ideas under my sleeves and even other people have approached me with ideas of their own.  You just never know what a blog you love and nurture can turn into!
So, what about you? What are you blogging about and why? Do you have a passion for blogging?  When I first started, as I explained above, I didn't do it the right way. Therefore, I didn't enjoyed blogging at all. But it all changed when I took blogging to another dimension and started connecting with real bloggers.
Now, I enjoy writing each one of my posts on my 3 blogs, and I know that those blogs are going only one way, and it's up.  So, what about you?  Where are you with your blog and what would you like to change, or not?  Do tell us.