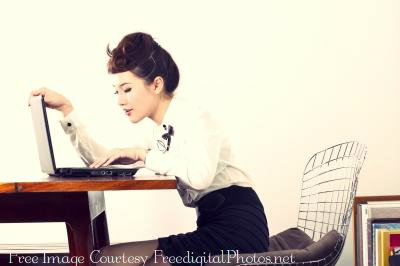 Even though this post was written for freelance writers, any blogger or article marketer can take advantage of the advice mentioned here.
In a previous post I was talking about why you shouldn't write for peanuts when you write for clients.  In this post I wanted to talk about what it takes to be able to write in a professional fashion for your clients (or your own blog), especially about a topic you know very little of or even not at all.
As a freelance writer, you are bound to write about topics you do not know, unless you have the luxury of writing only what you want.  However, to me it's a little bit like wanting to sell only to a certain type of clients and refusing all the others.  In my case, I accept all kinds of assignments, as long as I feel that I can do the job and that the price is right.
This is how I found myself writing about health issues, diets, inventors, weddings, addictions, historians, social issues, technology, and more.  Since I'm not a Jeopardy game millionaire winner, you can be sure that I do not know about all such topics and need to do some research before I can write about them.  Research is a huge part of writing, and when you calculate how much you should charge a client, research should be included in the addition.
Why is Research so Important for a Freelance Writer?
There are several reasons why research is important before writing, but two reasons really stand out. 1) When you don't know much or at all about a topic you won't be able to write anything about it. 2) Even if you have browsed around about the subject, it won't be enough to write an 800-1000 word article that flows.  Eventually, your lack of knowledge will prevent you to write high quality content.  There is no way around research.
What's Involved in Research?
Remember that not everything you read online is necessarily true.  Not everything you read in hard copy magazines is true either, and neither is everything you hear on TV.  So, don't think that I am trying to undermine all the media here, but be aware that false information does go around, and some of it could be seen as true while it's not.
With this in mind, when you do research try to find out if any given fact is true.  You can research certain facts by using the specific keywords involved in your findings.  If you find contradictions, this is red flag that such fact may or may not be correct.  If you find two opposite facts, it's obvious that one of them is incorrect.  You're job as a high quality writer is to try to find out which of the two is the true fact.
This is why research takes time.  You need to go as deep as you are paid for to be able to write superior quality content with as true facts as possible.  This is why companies and individuals who are really looking to add high quality content to their blog or website will not hesitate to pay you well for the job.  While writing the article can take relatively little time, research can take you several hours.
Editing your Content Over a Few Times
I don't care for how long you've been writing, and how much, we, as humans are bound to make mistakes once in a while.  I've seen incredible grammar and spelling mistakes from people who most definitely knew better. Nonetheless, they did make those mistakes.  I have sometimes been totally blinded to my own mistakes until someone pointed them out to me or I slept on it.  This is why it is a must that you sleep on your work. Unless you absolutely can't, you should never deliver a written piece the same day you wrote it.
Also, curiously, you see incredible mistakes among English native speakers that make no sense to me, even though the English language is not my native language.
I am talking about mistakes with words such as:  Effect instead of Affect; isle instead of aisle; except instead of accept, etc. Those are incredibly bad mistakes because it makes you look like you don't understand your own language.  And Frankly, I've seen those mistakes often.
Here are few examples of the correct use of these words
The new schedule will take effect soon.
The fact that English is not my language doesn't affect my performance.
All are in, except one.
I'll be glad to accept your money.
There is an isle with palm trees, three miles from here.
Olive oil is on aisle 3.
If you are using those words inappropriately, you will look like either you really don't think about what you are writing, or you haven't really understood what those words meant to start with.  How any native speaker could mix those is beyond me, but if you are one of them, please, makes sure you get those straight.
We all have error patterns, but it's our job as a writers to know them well and search for them as they tend to sneak in if we don't give them our full attention.
Punctuation is Part of Writing
Are you one of those people who think that punctuation is not important?  If you want to write online or offline for pay, I hope that you are not one of them.  Lack of punctuation or wrong punctuation will affect (not effect) your writing greatly.  I've read a blog post lately that I didn't want to share because of an awful lack of punctuation.  So, believe me, people won't want your writing if you can manage to use correct punctuation.
When you are used to write, punctuation is not that hard, but if you are still confuse about it, just get a grammar book and learn the basis of punctuation.  Over time, it should become easier.
Punctuation Basic Rules
Absolutely no run on sentence without a coma or a period.  Each thought or statement should be separated by either a coma or a period.
Use a comma to separate elements such as: he stood, ran, and fell.  Use a comma before conjunctions such as: …, and …, but …, for …, yet …, so, etc…
Use a comma to introduce a new element such as: While the groom was waiting for the bride, he realized that he had forgotten the rings.
 Use a comma before a quotation, "quotations".
There are of course other instances when a comma is needed but these are the basics.
When I write for clients, these are the three areas I spend the most time – research, editing and making sure my punctuation makes sense, and is correct.  Interestingly, the writing part itself is what takes the least time for me.  When you write for pay, you take those three areas into consideration.  When you write for your own blog, be sure to do the same.
So, how is your writing? Let us know what's tough and what's easy for you…