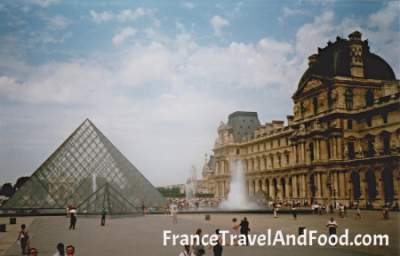 Thank goodness none of that ever happened while I was leaving in Paris, but I felt very bad for my French people when I heard about this terrible pollution that affected Paris and other big cities in France over the past week.
I've tuned up to French News to make sure I didn't get any distorted news lost in translation, and found out Paris, Lyon and Lille were under an alarming pollution level they had not seen since 1997, which I wasn't there to witness either, and did even heard about.
Because of this, Paris which was the most affected city because of its size, city officials took some drastic measures to try to alleviate the pollution level by ordering alternate traffic on Monday March 17.  That day only odd number plates were authorized to be on the street while even number plates where banned unless they were electric cars or had two or more passengers in the car.
Why This High Level of Pollution?
Why this pollution even happened at all? Unseasonably warm weather over Paris and other cities over the past few days and cold air coming down after that formed a lid over the largest cities with the most pollution. pollution particles literally got stuck under that lid which created the alarming level of unhealthy air.
This lid prevented pollution particles to evaporate and literally poisoned the air to what they called a dangerous level, forcing the government to take drastic measures to bring the numbers down fast. Cars were banned and joggers were advised to walk instead.  the general public was told to avoid any type of workout and efforts that required more air into the lungs.
The measures that the city of Paris took to bring the numbers down helped so much that they didn't continue the restriction onto Tuesday and all cars were allowed to travel.
Now what did those few days of pollution cost the city of Paris? Big indeed, except for one thing.
Much Less Traffic
The effect of alternate cars on the roads brought the traffic jams to 60% less than usual, and those who were allowed to travel on Monday said that is was just great.  I'm sure that the ones that were not allowed to travel didn't think so.
Police delivered some 4,000 tickets to drivers that were traveling with even number plates that day, and got caught by police check points which were all over the city. The price for taking your car that day was a $50 fine, and their car put away. Ouch!
Public Transportation Lost 4 Million per Day for 4 Days
The RATP (The Paris public transportation association) which includes buses, RER, metro and trains that serves the suburbs of Paris, with a normal revenue of about 4 million a day, was free for 4 days to help and encourage people to leave their car at home. This was good for pollution, but very bad for the public transportation wallet. They lost about $16 million all together.
Car Rentals went up 30%
Starting Sunday evening car rental places were starting to get very busy renting cars with odd number plates for those who were desperate to have a car that day. They had a couple days of booming business.
Carpooling went to the Roof
In the Paris region (Ile-de-France), they announced a raise of 17% carpooling offers while there was a 42% raise in carpooling requests.  This was due to the fact that even number cars that had 2 or more passengers in the car were allowed on the roads. For this reason, many people did carpooled on Monday in and around Paris.
The Air Improved Drastically by Monday Evening
Airparif, the company/association that measures air pollution was expecting a great improvement in air quality by Tuesday.  On Monday there was a medium pollution alert of around 50 microgrammes per m/3 while the alert the week before was at 80 microgrammes per m/3.
By Monday evening the numbers were low enough for the government to decide to stop the alternate traffic on Monday Mach 17 at midnight.
Conclusion of all this
I'm very happy to report that France is breathing again today, but as French officials brought out, this is a clear warning that errors made in the past, such as building too many diesel car engines, are responsible for pollution alerts such as this one.
It's also a good warning to remind us all that are Eco-system while marvelous is also a fragile one, and we should never take it for granted. If are very planet can't stand, we can't stand either. So beware and be wise.
Please, leave your thoughts and comments below!
Related articles