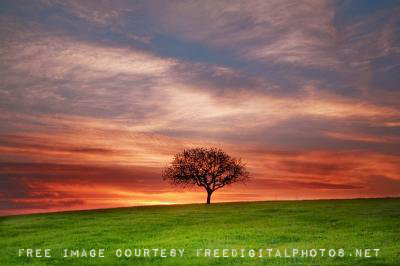 The difference between the Law of Attraction and the Law of Deliberate Creation is that the law of attraction works like a boomerang.  Whatever energy we send out through our thoughts, emotions and vibrations will undeniably come back to us in time.
The only problem is, most people on the planet use the Law of Attraction by default, because they are ignoring such law.
The Law of Deliberate Creation is when you master the Law of Attraction to create the outcomes that you want.
Yet, some people who might have heard about the Law of Attraction, but for some reasons choose to ignore it, are believing that by doing so they can actually escape it.  However, there is just no such thing as escaping it.  You either use it for your own benefits or by default, but you are not, ever, escaping it.
Let see if I want to ignore the law of gravity and jump off a building!  Let's see if I can fly!  Yet, this is how some people deal with other laws of the Universe. They are just not knowing about them or choose to ignore them.  It's not because such universal laws don't have an instant and drastic effect as the law of gravity has, that they don't have a drastic impact at all. They do.  It's just that it doesn't show right away.  But that's the only difference between them.
Does it Help you to Ignore the Laws of the Universe?
When you are not knowing or even "refusing" to be aware of what you are attracting in your life through your thoughts, emotions, and vibrations, you simple attract by default.  You are becoming a mere observer of your own life, and you don't have much say in it. Things just happen to you, year after year, and you never, ever, feel in control.
As a matter of fact, if you'd chose to live that way by trying hard to ignore the law of attraction, you would basically never have much control over your life.  I am sure you know some people like that, don't you?  Not only I know some people like that, but I used to BE like that before I became AWARE of the Law of Attraction.  So, believe me, I know what I'm talking about here!  Living while ignoring the effect of the Law of Attraction is no fun and it's a bit like being on a Marry-Go-Round while wondering why we never get to our destination.
When you fully understand the Law of Attraction, you can stop being an observer of your own life and start being an actor.  This is called the Law of Deliberate Creation.  The Law of Deliberate Creation has always been here for us, it's up to us to use it to create the life that we want.
You are your own magician. Out of seemingly nothing you can, with conscious intent, and detachment from results, create whatever you want.  There is no judgment on what you create, but here are consequences that follow your intent. Christy Whitman
Is knowing about the Law of Deliberate Creation Enough to Create the Life that you Want?
I am sure that you know the answer to this question, don't you? Just knowing that you can create won't suffice to be able to actually create.  Using the Law of Deliberate Creation calls for action on your part.  Is knowing that exercise is good for you enough to benefit from it? Of course not. You need to go on that treadmill and run in order to experience the benefits of exercise.  It's exactly the same thing with the Law of Deliberate Creation.  You need to use it for it to work in your favor.
Remember, just being an observer won't do it!
How to Use the Law of Deliberate Creation
When the movie The Secret came out in 2006 many people thought that by watching the movie or reading the book they were going to be able to change their life. When that didn't happen, they blamed the movie, of course.
However, I can tell you that nothing that was said in that movie was untrue.  What the movie doesn't emphasis enough, though, is that wishful thinking is not enough.  Deliberate Creation must come from our whole subconscious programming that affects our thoughts and emotions which activate the vibrations that we send out.
It's not something we can fake like you can fake a smile and maybe make someone believe that you're happy.  You can't fake the Universe with a smile or even a positive thought here and there.  It needs to come from the deepest part of you.  That's where your creation comes from.
Even if you were to get up every morning with the best intentions of being happy and "wanting to feel wealthy" but deep inside felt miserable, it wouldn't work. You can't be wanting to feel, you HAVE TO FEEL.  Your more dominant state will always win.
If you were to repeat your self-talk, saying I'm financially free a hundred times a day, while thinking about your debts and bills, what do you think would be  your dominant state? The state of plenty or the state of lack?  The reason why it's so tough for a lot of people to use the Law of Deliberate Creation is because they do just that.
People may have great intentions, but do they really, really follow through with their thoughts and emotions?  Most people don't. Therefore, they are still creating by default rather than by design. But it's not because it's impossible to do so, it's because they are letting problems or what they call "reality" get in the way.  Something is resisting the outcome that they are dreaming about; and that something is simply them.
Yes, the one thing that is resisting and preventing you to deliberately creating the life that you want is YOU.  That why what Life Coaches do is help people release such resistance which blocks any type of changes to come about.
In order to create what you want in life; to create the life that YOU want, first, you need to understand this process fully and then, apply the Law of Deliberate Creation, the direct ally of the Law of Attraction.
Don't forget to leave your feedbacks and thoughts before you leave!
See also the Law of Resistance, the Law of Allowing, the law of Detachment, the Law of Cause  and Effect, and the Law of Polarity.