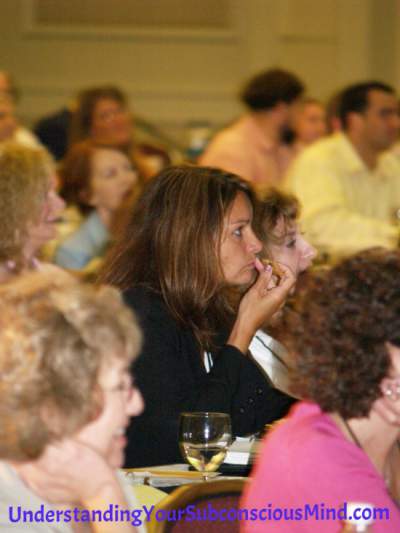 Do you have fear of public speaking? I know I used to.  But in my case, the theater killed it over two decades ago, and it never came back.
What about you? Are you someone who feels that there's no cure to public speaking?
Well, if so, let me put you at ease right now. There is a cure to fear of public speaking.
But before we even talk about the cure, what is the source of public speaking, anyway?
In this post, I will discuss what the source of fear of public speaking is, and how to overcome it. So, fasten your seat belt and let go.
What is the Source of Public Speaking?
When people are fearful about giving a public speech it's because of false anticipation on their part.
They anticipate the fact that they may make a mistake, not measure up to expectation, experience some type of incidents while speaking, forgetting what they're supposed to say, or being judge negatively by people in the audience, etc.
All of these, create fear of public speaking for many people.  But just by taking a quick look at the reasons why people have fear of public speaking, it's obvious that it simply comes from a lack of self-confidence.  Yes, fear of public speaking is all about lack of confidence in our ability to perform the act of speaking in front of an audience.
The problem is that as long as this lack of confidence does exist in you, you most likely will experience some of those scary things that you're imagining in your head, because fear could affect your memory, your speech and your overall actions and reactions.
So, let's practice a step by step to kill your fear of public speaking forever.
But now, what makes me an expert in public speaking, you might ask? Well, years of it.
First I've got 8 years of acting and 10 years of giving regular small speeches in my former church where I've done it in English, French, Spanish, and yes, even Korean.  Talk about fear of public speaking when you have to do it in a foreign language!
So, I've got 18 years of public speaking behind me, and by the way, as my visualizations go, I will have many more in the future.
So, now that I've given you my credentials on the topic, let's see how you can tell that fear of public speaking goodbye.
You're Not Alone
You're not alone, most people on the planet have had at some point the fear of public speaking, even if they are now looking cool as cucumber.
I bet if you'd ask someone who is now a seasoned public speaker, they'll tell you that it wasn't always that way.  For most of us, there's been a learning curve, so to speak.
I remember the first time I ever been on a theater platform with online like 20-30 people present, I was a wreck.  I thought I would never make it. It was awful. But one thing that I quickly realized was that it was more painful to let that fear take over than me trying to take over that fear and get rid of the handicap it was causing me.
Fear of public speaking is a vicious circle. You're fearful of speaking in public, but that fear alone will make you do the very things you're afraid of. So you need to consciously decide to take over, and get rid of that fear.
Fear is a Liar
I'm sure you've heard that before; the word FEAR goes for False Evidence Appearing Real (of so it seems, right?).  This is truer in the case of fear of public speaking than any other fear.
When people have paid or taken some of their time to sit in a room to hear you speak, believe me, they are on your side. The last thing they want is for you to be bad in anyway.
The only REAL person that is inviting the fear is YOU.  You create your own fear. Whatever you're imagining that might or will happen is ONLY in your head. It doesn't exist at all. Whatever is going on in your head when you're afraid to speak in front of a group of people is based on false evidences that appear so real to you, that they create that creeping fear.
Recognize your Fear
When it comes to fear, the best thing to do, always, is to face it, not run from it. Recognize your fear by doing the following.
1)     Make a list of the very things you're afraid of about speaking in public
Are you afraid of making a mistake? Are you afraid of not being good enough? Are you afraid that you'll forget what you have to say?
Try to find what it is, exactly, that you're afraid of.
As yourself the question out loud. OK, what are you afraid of Jane or Joe?
See what answers you get.  Once you get your answers, make sure you acknowledge the source of your fear. Then try to dissipate it by replacing that fear by positive affirmations.  Reassure your brain that there's no foundation for such fear.
For example, if your fear is that you're going to have a big blank in the middle of your speech, make sure that you know what you're going to talk about well. Practice it while walking, while driving, under the shower, as you're falling asleep at night, and so on.  Practice it to the point that you will know that your speech is so much part of you that their no way it could escape you.
Plus when we talk about speech, what's important is what you want to say, not every single specific word, as it's the case in theater.  So, as long as you know what you want to say, there is no way you could lose that, because you know it so well.
Take each one of your fear, and work around them, until they have no reason for being anymore at all.
2)     Locate where the fear is in your body
Think about your fear of public speaking and try to locate where it is in your body. The most common places are stomach, guts or throat. but you could feel it anywhere, really.
Once you've located where your fear is in your body, do some breathing exercises, and relax your body as much as you can by imagining that your muscles are like rubber, or that you are lighter than gravity and floating above the ground.
Inhale and exhale, while letting go of your body for about 3 minutes. Do that every time that you feel your fear overcome you and before you give a speech.
Breathing and concentrating on your breathing will help you to take your mind off your fear and focus on your breathing. Remember, the brain can't focus on two things at the same time.
3)     Be yourself
Be yourself as when you have no fear of speaking. How do you speak when you're just talking to a few friends?  People relate to people, and the more you'll just be yourself when you speak in public, the more people will be interested in what you're saying, and react positively to your speech.
Once you feel your audience reacting positively to what you're saying, your fear will melt like ice on a hot sunny ground. That I know for sure, as I've experienced it many times.
If you manage to learn how to dump the fear of public speaking by being YOU, it's a wonderful feeling.  I've got addicted to public speaking a long time ago. I love it.
Now, am I completely relax when I speak in public? No.  But I've learned how to let go of the fear enough to be stronger than the fear, and enjoy this wonderful experience that public speaking is.
4)     Have Fun
If you can replace fear by fun, you'll win every time. Fun is a killer of fear. Where there's fun there's no fear. If you can use your brain to convince yourself that public speaking is fun, your fear will melt away.
How do you do that? By visualizing yourself happy, smiling, standing tall, and being liked by your audience as you see yourself giving that speech. Remember that the way you visualize yourself doing that speech will impact the real thing tremendously.
Enjoy the experience. It's fun and exciting. When you do public speaking, people are all ears, and you can express your message to them in such a way that could stay with them forever.
5)     Practice Energy Routine
There is an energy routine that you should practice each morning, but definitely before you give a public speech. Instead of giving you much details about it, I thought that a video would do a much better job. Please, watch this and learn those exercise, and practice them each day, and especially before you give a public speech.
I hope you enjoyed this post! Please, give me your feedback in the comments area.