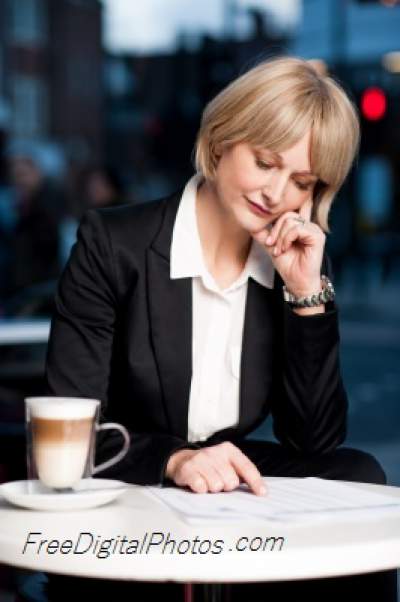 So, how do YOU keep motivated to write on your blog week after week even when life makes it difficult for a while?
Keeping a blog going means to write an article once a week (at least), but at times events in our life such as grief, illness, and other situations can make writing difficult, because writing on our blog each and every week demands concentration, research, commitment, and efforts that we may not be able to provide during such time.
This is what I wanted to discuss today, because I can tell you that at times, events beyond of our control can take the motivation away. It did me.  And I've always tried to use my own experience to come up with topics for my own blogs.
Back in January I've written a post how to blog in the mist of havoc. In August I wrote a post about how to deal with overwhelming emotions, and  how a Toastmaster's Club can help you in your professional and personal life, and more recently I wrote about grieving.
All in the mist of times when writing was hard for me to do, because my mind, feelings and emotions were all over the place, even though, must I say, I do practice meditation on a regular basis.  I dare not think what it would have been if I didn't.
So, needless to say that at times we can lose interest, even if only momentary, and keeping up with our blog posts and other writing assignments if we are a freelance writer, can be tough to say the least. We are only humans and when life throws hard stuff at us, the challenge can be rough and our energy and motivation can go away.
Here are 5 tips that I've been applying to myself to be able to keep blogging as much as possible in the mist of my challenges.  I hope that they can help YOU too.
# 1 – Give Yourself some Time to Heal
"It has been said that time heals all wounds. The truth is that time does not heal anything. It merely passes. It is what we do during the passing of time that helps or hinders the healing process." – Jay Marshall
I love this quote because I find it to be SO very true.
However, you are may need a bit of time to be able to do anything at all.  If you're someone who doesn't even need such time, then all the better for you.
Since most of us do, the advice I want to give you here is to first and foremost not to force writing if what you're going through really needs some time to heal.
For me, for a couple of weeks it was impossible to write or read at all. I just wasn't able to do either. Even my walk was slow, everything came to stop. This is called the first steps of grieving, and you've got to let yourself of the hook for a while if and when that happens to you.
Don't feel guilty about it, just take the time you need to heal. No matter what it is.
If you have someone, either guests or a writers that you pay to write for you for a while that's great, but if not, just explain to your readers that  you'll be out of the loop for little while.  I know they'll understand.
#2 – Be in Love with what you do
"The only way to do great work is love what you do". – Steve Jobs
I love this quote from Steve Jobs. It says it all here.
At the end of the day how soon you'll get back to writing on your blog will depend on how much you love it.
As much as we read all the time that we need to write for our readers – and it's true – unless we love what we do, it's going to be very tough to get back to blogging if we experience some shipwreck in our personal life.
If you love what you do, in this case, blogging and writing, Loving it will actually contribute to your getting better.
So, how do you feel about blogging? Do you love it, or has it just became something you've got to do? If it's the fist option, you will get back, no matter what.
#3 – Don't Isolate Yourself
"Isolation is a dream killer." – Barbara Sher
This is so true, indeed. I know for a fact that in the case of grieving, for example, the first thing you want to do is isolate yourself. At least, this is true for many people and it's true for me too.  But eventually you are going to need to get back in the world again, and it will actually help you get better.
I know one thing, it's the moments that I'm alone that are the hardest for me. At least when I'm out there my mind is occupied so it forces me to function better.
As bloggers, reading other blogs and writing for our own takes us out of this isolation, and it helps us keep going.  It doesn't have to be perfect, as long as you're doing it as much as you can.
#4 – Keep on Reading
"Reading is to the mind what exercise is to the body." – Joseph Addison
If you're at a point where you still can't read much, at least try to read 5 or 10 pages a day of something that motivates you. And reading will, as this quote says, exercise your mind in a positive way.
The beauty of reading is that even if we consciously forget what we've read, subconsciously it's still there in our mind and that material will come back to mind when we'll need it the most, so we can use those ideas to help us inspire our writing to keep our blog going even during hard times.
#5 Write about what you're Going Through
"Words are a lens to focus one's mind." – Ayn Rand
Writing about what you're going through is not only therapeutic, but can help you keep the writing going and help you keep up with your blogging obligations.
Even if you don't have the will to write about any other subject for a while, you may have to the will to write about your pain or challenges. So take this opportunity to keep your pen going and help yourself with your writing/blogging this way.  It will help you recover faster.
Here is a smaller resume of those 5 points in video and music. Enjoy!
Let me know what you think of all that down below in the comment area! Your feedback is very much appreciated.