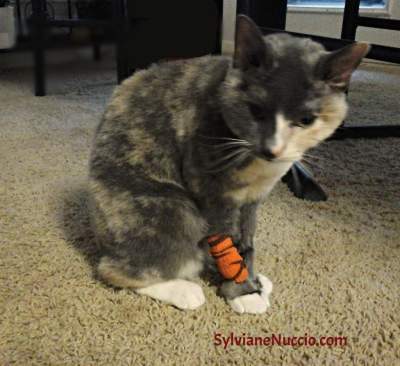 What happens to blogging when we are having a less than usual week? Are you someone who is good with blogging even in the midst of havoc?
I would love to know your own answer to this question, because when my life goes haywire, I find it difficult to put my mind into writing my blog posts. This past week was a wash for me.
I managed to post this past Monday, because thankfully I had written my post just before it all started, but I didn't make the other two.  I also knew that I wasn't going to be able to reply to the comments either, so, in cases like these, better not posting at all.
Why I wasn't Able to Write
It kind of all started last Friday evening when I first started not feeling very well.  I had the feeling that I was coming down with something. For some reasons, the older I get, the less sick I get, I rarely ever get a cold anymore, but this past Friday I knew something was up.
So while I wasn't really sick I did dragged my feet all weekend and didn't get anything done. On Monday, however, I was normal again.  I don't know what hit me, but it went away fast. For a moment I thought that I would have a real excuse not to go to that darn jury duty I had on Wednesday, but no such luck.
Monday…
Monday went on quite normally, but in the evening I noticed that my cat Sophie had a nasty looking abscess on her upper gum on the left side, and I could see two nasty looking teeth in the mist of it. It turned out that we had an appointment for blood work the following Monday (today), but I asked to come in the very next morning. So I called the clinic immediately to see if I could come first thing in the morning. They said no problem.
I barely slept that night and was at the vet's office at 7:30 AM. The doctor gave her a full exam and took some blood for a complete blood work. I was to have all the results the next day.
Tuesday…
Since Sophie is a senior cat (she's 13 years old) I was hoping that everything in the blood test result would look normal and safe for surgery, even though she had her yearly blood work less than a year ago.
So, I was somewhat relieved when they called me to let me know that everything looked OK, except for a little urine infection that the doctor believed to have happened because of the infection in her mouth. He explained to me that it can simply travel down from the mouth with the food and water.
However, he said that she was safe for surgery.
Wednesday…
Like I need that right now, on Wednesday, I had a jury duty that, I'm sure you know, I couldn't escape.  I've been an American citizen for only 8 years, and I couldn't believe that they sent me that darn summons.  I mean, don't they have real citizens that they can call for this?
So that morning, I had to drag myself to downtown Raleigh, NC for a day of pure boredom as well as nerves wracking. That day was a complete wash for me. When I got home I was exhausted and had a lot on my mind. I couldn't do anything of substance.
My first thought was that they were going to choose a handful of people out of the 168 sitting in that huge jury waiting room, and just let me go home. But, it didn't go that way.
NO.
They actually intended to use all 168 of us. As the clerk explained to us, their goal wasn't to just have us show up for no reason. The more they could use people present that morning, the more money they would save. Yep, that totally made sense to me now. I thought I was going to scream!
After 3 and half hours of wait, by 12:00 PM I was called in with a group of about 30 people to go to a court room where they were going to choose 12 of us for a case that was due to start as soon as they made that jury choice.
So there we went to the 7th floor in a dark brown court room where the judge, the court clerk, the DA and defense attorney, the court reporter, the bailiffs, and the defendant were waiting for us.
We all sat down in the public area of the court room.  Then the court clerk started calling a list of 12 out of my group, and we were supposed to sit in that jury box as she called our name. I prayed that they wouldn't call me, and at first they didn't, so I thought that my ordeal was almost over.
I was so wrong. And I learned a lot that day about how it all works.
As the judge, the DA and the defense attorney were asking question after question to each of those 12 individuals, sitting the jury box, to see if they would be a good fit for the trial, I stared to understand what was going on.  As long as they found that any one of those people wasn't a good fit for the trial, they were going to keep on calling more of us still sitting in the public area.
Saved by the Bell for Now
Then, came 1:00 PM and the judge stopped everything for lunch recess. As I was eating my lunch in that downtown restaurant, I still couldn't believe what the heck I was doing here. And that's when tons of thoughts came to my mind.
I started seeing the little girl who was born in France in the city of Lyon, and grew up in a rural village near that big city, speaking a totally different language within a totally different culture. And I thought, wow, if anyone had told me then that one day I was going to be involved in an American judicial system procedure, I would have, never believed it. This made my think of how true is the expression "never say never." I mean, really. Never say never guys.
Even though I am somewhat familiar with court rooms for having been an interpreter for attorneys and their clients here in North Carolina few years ago, I had never been a potential juror, and in my mind never thought I would be.
Now Shocking
We were due back in court room at 2:30 PM, and it wasn't 10 minutes later that to my surprise they excused 5 totally good fit people. I'm sure it was good news for them, but that was bad news for me.
So I shrunk into my seat as they were calling 5 new people to replace the 5 that were just let go, and to my profound shock they called my name.
When I heard sylsylviannneee I just got up and said "it's got to be me" and started walking towards the jury box. By the time the poor woman was able to butcher my first and last name as much as she could, I was sitting in that jury box.
However, one thing that I had time to learn while listening in to all the questions and answers for over an hour, is that if they're not sure that they will have all your full attention and that you are fully willing to be there, they really don't want you there either.
So, as the Judge asked me the first question, I said that I had a pet that had surgery the next day and wouldn't be in a position to pay attention to the case what-so-ever. I said I'm here today, because it's my duty, but I shouldn't be sitting here due to my lack of sleep and my mine being somewhere else.
I didn't even have to lie!
It work better than I even thought it would. The judge turned to the defense attorney and the DA, and they ALL agreed to let me go. I was the fastest one to be let go, and I was so happy. I tell you!
So, Wednesday at 3:30 PM that ordeal was out of the way.
I was totally wiped out, though,  and in bed by 8:00 PM that day.  But now the biggest day was to come.
Thursday…
On Thursday morning I woke up at 3:00 AM and couldn't go back to sleep. Sophie (my cat) wasn't allowed to eat that morning because she was schedule for surgery to remove her abscess and clean her teeth. It was heart breaking to refuse her food. She was looking at me like "why don't you feed me?" and I wanted to cry.
It was tough to see her being hungry from 3:00 AM to 7:20 AM when we left the house. Those were the longest hours ever!
At 7:30 we were at the clinic and the doctor gave me a rundown of her blood results and what was going to happen.
He told me that I was to expect a call from the clinic at around 12 noon when she would be waking up from the Anastasia. All morning I was wreck waiting for that darn call. I couldn't do anything of consistence like I had ADD.
Just about at the time they said they'll call, they did. Gosh I was almost shaking when I picked up the phone, but all my nerves finally relaxed when the assistant told me that everything went well and that Sophie was awake and looking fine. But really, I truly felt fully OK when I actually saw her at 4:00 PM to pick her up.
Sophie was looking great, and since she had not eaten since 8:00 PM the day before she was famish. She ate like a pig. I think that if I had put pure vegetables in front of her then, she would have eaten them. Poor baby. I know she ate way more than she was supposed to after a surgery, but I just couldn't help it.
Well, a hungry cat is a healthy cat.
Sophie is now on 2 antibiotics, one for her mouth and one for the urine infection, and she's was on pain killers for the first 3 days. But she looks great. She's such a trouper.
Thankfully, this hellish week that prevented me from blogging normally seems to be over, and I can finally get my brain back on normal cruising writing.
So, that's my post for the day. I know it's rather off topic for this blog, but I thought it would be good writing practice for both the writer and the reader.
So, don't forget to answer my question to you, how do YOU manage to blog in the midst of havoc? Please, do tell us in the comment area.