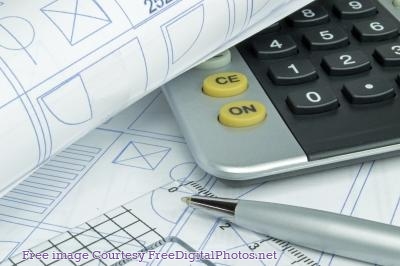 The other day I was waiting for my turn at a gas station to pay for my gas (since I don't like to run my card at the pump) and I was feeling very sorry for the person who was in front of me.
Why was I sorry?
Because they were probably spending few days meals in stupid lottery tickets.
I don't know if you know the statistics about lottery winning, but you have a better chance to be struck by lightning than to win the lottery.  People who play the lottery expect one thing, though.  They're expecting to get something for nothing, but we know that this very seldom happens.
If you really want to get something for yourself, you have to learn how to plan it.  It doesn't mean to WORK HARD for it, as some people think.  No, you don't necessarily have to work hard, but you have to plan for it.  I'm sure you know the old saying "if you fail to plan you plan to fail".
Failing to plan is more common than you would think.  I actually know some people who have created products that they want to sell, but have failed to plan the process of putting such product in front of potential buyers.  Yet, they expect their product to sell.
In this way, they are also expecting something for nothing, and they have failed to plan in order to sell their product.
I also personally know a handful of talented people which talents have totally gone to waste because they've never "plan" to use such talent for their own financial benefits.  For their whole livelihood.
Bottom line, no lottery ticket, no product or talent will ever bring you any success or money unless you know how to plan.  Planning is both an inside and outside job.
In this article I wanted to underline what you can do to best mix both your inner and outer intentions so you can plan for success and not let your lack of planning lead you to failure.
1 – Determine Where you are Now
Where are you in your life now? Analyze where you are in all aspects of your life. Financially, physically, professionally in your relationship, and wherever else you want, and decide what needs to be improved the most, and concentrate on that for the moment.
For example, if you want to work on your finances and business situation you could take a sheet of paper and draw a line in the middle.  On one side write what is and on the other side write what you want it to be.  Here is an example of what I mean. But you could make that list as long and as different as you want.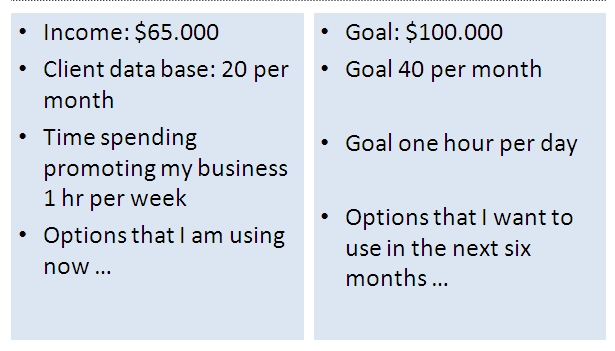 Once you put down in writing where you are and where you want to be, you have a visual of what you have now and what you want to have in the future. This list is the beginning of planning your actions to get to your goals.
When you read your list of all your items one by one, you need to ask yourself ask yourself what steps do I need to take in order to get there?
This exercise is great for procrastination.
2 – Let your Dreams Come Out
What do you really want to do in life? Are you willing to do what it takes to be, have or do what you want?  Would you like to live somewhere else?  What type of lifestyle do you have in mind?  What do you REALLY want for yourself?
Do the same excises again. Take a bank sheep of paper and write down everything you want one by one.  Name your short term goals and your long term goals.  If you can you could even put an approximate date for each desire to become a reality.
People who succeed in life are people who are going after their dreams.  People who fail are those who don't. It's not about having talents and dreams, it's about going after you dreams by using what you have.
My mother 'side of the family is full of very talented people, but none of them have used their talents to do anything that could have changed their lives.  They never went after their dreams.
Talents and daydreaming won't get  you where you want.  You really have to GO after your dreams.
Write down your dreams big and small and analyze how you can get there!
3 – Know your Strengths and Weaknesses
We all have strengths and weaknesses. For this exercise take another blank sheet of paper and draw a line in the middle. Write down your strengths on the left side and write down your weaknesses on the right.
Then, analyze what you could do in order to use your strengths for what you want, and what you could do to improve your weaknesses.
Remember, that you always have a choice, and you CAN use even your weaknesses for positive things.
This blog has many tips and tools to help you work on those. EFT is a great free technique that you can use to work on any type of weaknesses you may have.
4 – Write Down your Plan
Now it's time to write down your plan. You can write down only one plan at the time or you could write several. It's up to you, but just make sure each plan has its own notebook.
Get a brand new notebook and name it "what ever your plan is".  Write down what you want and how you're going to get it.
Here I'm going to tell you one of my little secrets. You see, I have this crazy idea (maybe), but it's very strong in me, to purchase my childhood house that my mother sold in the late 1990's.
I have very strong emotional attachments to this house, and it's always been mine in my mind. I never let it go.  So, I decided that I am going to "buy it back".  Yes, this house will be mind again, and yes, I've got plans for it.
What I did, is write a plan for this.  I got a brand new note book, and I named it My house at Saint-Sorlin. I wrote down all the repairs that I going to do and how I want everything to look like. This will be my full circle story.  I will live in two countries which I am blessed to be a citizen of.
I have all that down, guys!
You need to write down your dreams as if they were already in the process or even already here!
5 – Visualize your Plan
 Now it's not enough to write down your plan, you have to visualize them as fully and in details as you can.  You have to feel it with as much emotion as you can.
This part is really important, because it's the part that affects your subconscious mind the most.
Visualizations and emotions are activating the law of attraction on steroids.  So, don't ever forget or by pass this part.
So, did you enjoyed this how post? The questions is are you going to do this? Let us know in the comment area down below!