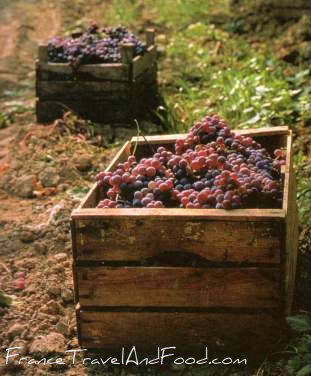 It can be said that wine is part of French diet. Wine is served at every meal (except breakfast) and it is as common as the jar of water on every table. This is especially true for France, Italy and Spain. The three biggest wine drinkers of Europe.
For anyone that doubt the health qualities of wine, you should know that for an adult, to consumed wine (with moderation of course) it's much better for you than any dark soda or milk.
One of the most known property of wine is that it's good for your heart. The cholesterol that blocks arteries is low-density lipoprotein cholesterol (LDP). This is cleared from the blood by high-density lipoprotein cholesterol (HPD). Both are carried in the blood. Moderate consumption of wine produces a better balance between the two because of it's anticoagulant effect.

Until the 19th century, before drugs took over, alcohol beverages such as wine was a normal part of medical treatments. It has now been proven that moderation consumption of wine such as 1-2 glasses per day can be instrumental to your good health.
I have always been a lover of wine, especially red.  As I mentioned in a previous post, I had an early introduction to wine due to the fact that my mother was sent to live living with one of the biggest wine maker of the Beaujolais region for safety during WWII.
Some History about Wine
Wine has been part of human life for almost as long as we have been a civilized society.  It's not known when exactly the first wine was made, but we do know that wine has been here since around 5000 B.C.
Wine is a food, a medicine, and agricultural crop and even a religious symbol. And most of all, wine is a delight for the palate of the "connaisseurs".
Besides being a drink to enjoy and a medicine, wine is also a way of life and a living for wine makers. The difference between a dry sunny summer and a wet cool one can make all the difference for the profit or the lack of it for wine makers. A good year for a wine can also mean long term fame for the wine and the region where it comes from.
Wine was so common in Europe that it also became part of religious ceremonies for just has long as this alcoholic grape juice exists. The ancient Greeks even assigned wine its own god, Dionysus (also known as Bacchus).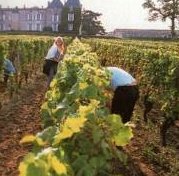 Number One Wine Producer
If you say the word "wine", most likely people will think of France. If you are in France, most likely you will be offered wine at one point or another. Very few tables in France are set without it. It's like the country is totally related to this fermented grape juice.
Just like America is best at producing the great basket ball players or Italy the best pasta, France is the best at producing wine.  Wine is produced all through the country from Champagne, Alsace, Loire Valley, Bordeaux, Rhone Valley, Bourgogne, South-West, Languedoc Roussillon and Provence.
Even other wines that are now famous have started as imitation of some French wines. Cabernet Sauvignon sprang from some flavors of red Bordeaux. Chardonay and Pinot Noir you are drinking from your grocery store were inspired by French Burgundy, and countless of sparkling drinks where inspired by the one and only Champagne.
Do regions make a difference in wine taste?
The only answer to this question is a reasoning, YES! As a matter of fact each wine in France are called by the region there were produced in. Bordeaux, Beaujolais, and Champagne, are all regions which gave their name to the wine made there.
Are all vintage the same for its respective region?
The answer is, NO. the vintage is the year in which the wine was made. A good vintage is a year in which generally good wine were made in that region, due to excellent climate for the vines for that year, and a bad vintage could be a bad year for any wine region.  For example, 1975 was an excellent year for Beaujolais wines, and it become even better as it matured as time went on.
French Wine Classifications
Many people are not very clear on wine classifications. France and other European countries have a very strict classification which includes gape variety, methods of growing and methods of making wine.
Appelation d'Origine Controlee (AC or AOC). (origin controlled wine) These are top grade French wines where producers may only grow certain grape varieties in each area, and yields per hectare are regulated.
Vin Delimite de Quality Superieure (VDQS) (specific wine of superior quality). A junior wine which includes only for one percent of French wine.
Vin de Pays (country wine). Less regulated wines that are supposed to have the character of their region. This category allows wine makers to make the wine they want and like.
Vin de table (table wine). The most basic French wine where the label won't state the region where it was made, because more times than not it's a blend of several regions. It is usually not the best of wines.
How To Store Wine
Of course you don't have to have a cellar to properly store your wine, but if you do, it would be the best place in your whole house to store the delicious alcoholic juice. In the house where I grew up we had a nice size cellar where my mother stored about 200 wine bottles at the time.
Of course they were mostly Beaujolais Wines. Even if you don't have a cellar, here are key points to store your wine properly.
Wine is best to be stored lying down. This allows the cork to keep wet, which keep it expanded. When the cork is as expanded as it should be, it prevents air to get inside the bottle. Air would oxidize the wine.
2) If you want your wine age slowly, keep it in a cool place. The cooler your cellar the
3) Store you wine in a dark place. Wine left in the sun light will deteriorate very rapidly. This is why wine is kept in dark caves and wine bottle are mostly made of dark green glace
4) keep your wine in a humid place. Humidity keeps the corks from shrinking and the cork is the life saver for the liquid that it keeps from any outside elements.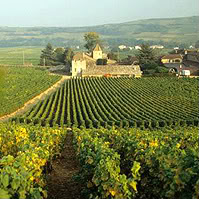 The Vineyard
Ah, the vineyard! There would be no wine without the vineyard. The vine is a rather fragile plant, and there is as much care to be taken of the vineyard, as there is of the wine since the quality of the wine depends on it.
To make the perfect wine, the vineyard has to be on the right type of soil, the right direction and angle of the slope, getting the right amount of rain, the right amount of sun, and the right temperature during the day and during the night.
The most important factor when it comes to the vineyard is the climate in which it is located. This is the most influencing factor for the many differences in the varieties of wines. Just like any other fruit, grapes need lots of sun to grow to maturity and taste as good as they are meant to be.
Not enough sun will make a "green" flavor wine, where you would actually be able to taste the unripe grapes. To much sun, however, will produce too much heat and create a dull wine. This is why places like France which has enough sun, but not to dramatically hot can product a great wine.
Wine makers pray for the perfect weather everyday!  However, the weather in France can have some bouts of ill climates once in a while and some years might be too sunny or too rainy or get an unsuspected spring frost or hail that are all subject to jeopardize the vintage.
The Importance of the slope
As a rule vineyards are planted in such a way, so they will get the most sun in an angle facing south. When the terrain makes it possible, some vineyards are planted in very steep slopes that are looking like veritable hills more than fields. This allows the water not to sit a the foot of the plants and drown them.
Varieties of soils
Just about every wine region in France has its own soil. Beaujolais is known for its granite soil, Bourgogne (Burgundy) and Loire have a more chalky soil. Pomerol and St. Emilion grow on clay soil and Cabernet Sauvignon on gravel.
Region, location, climate and soil all make wine taste the way it does.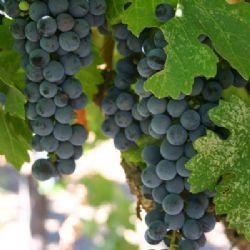 Grape Varieties
Red grapes
Some pretty famous red (also cold back) grapes are; Cabernet Sauvignon, which makes an elegant wine as well as very intense. Merlot, which makes a juicy and fruity wine and higher in alcohol than Cabernet Sauvigno.   Pinot Noir makes a silky wine and Shiraz which makes a spicy and rich wine.
White grapes
Among the white grapes the most known are, Chardonnay, the favorite white grapes the world over which give a buttery, nutty and lemony flavored of a wine. Muscat Makes a rich, sweet, floral and dry wine. Sauvignon Blanc makes a wine with aromas and flavors of gooseberries and asparagus (I know sounds weird), and Semillon Make a dry and sweet wine light and lemony wine.
There are many other varieties of grapes both red and white, each make a delightful distinct wine.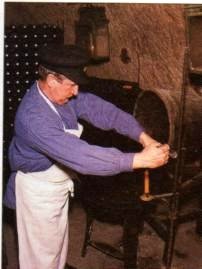 Wine-Making
Just like cooks have their own way of cooking and making their signature dishes, winemakers make distinctly different wines as well.
I was fortunate enough to have been acquainted with one of the most famous winemaker of the Beaujolais region who made the best Beaujolais wine there was. Same region, same grape varieties, different winemakers.
Basically speaking, wine is pressed grapes let to ferment in barrels. This is ONLY the basics, though.  There is much more to put into wine making, to make wine not only drinkable, but  Good to excellent.
Every grape variety contains sugar, acid, yeast and flavor compounds. The riper the grape, the more sugar it will contain.The yeast is in other words a form of bacteria.
Good yeast will turn the grapes into wine, bad yeast will turn the grapes into vinegar. The amount of sugar in the grape is enough to create a wine with 12 to 13.5 percent of alcohol. When winemakers want to make a wine higher in alcohol for a stronger wine, they are legally allowed to add up to 2 percent of sugar.
Wines that reach the strength of 15 percent or more will knock out the yeast which has helped create that alcohol, and will make a sweet wine. If there is any unfermented sugar left in in the wine, it will make sweet wine.  If not, it will make dry wine.
Wine makers may use both the natural yeast of the grape (the waxy dust on the surface of the fruit) or cultured yeast. Cultured yeast is much easier to control during fermentation, while natural yeast makes a more flavored wine.
I don't know about you, but I can't ever eat my a meal with water. The reason for this is that water washes out the taste of food. The great advantage of wine and probably it's primary quality it that it enhance the taste of food.
This is why certain wines are to be pared with certain foods in order for us to enjoy the best of both. What foods go with what wines? Without going into deep details the basic rules of pairing wine with food is pairing what food goes with red and what food goes with white.
Foods that goes best with RED wine
Cheese

Pasta

red meat

White meat

Chocolate

Potato gratin

Beans
Foods that go best with WHITE wine
Fish

Seafood

Salads

Appetizers

Desserts
I hope you enjoyed this wine review and will understand wine better after having reading this.  So, let us know. How much do you know about wine and are you an amateur of wine?
Ouch that French accent doesn't sound too good to me, but I'm sure you'll enjoy it!