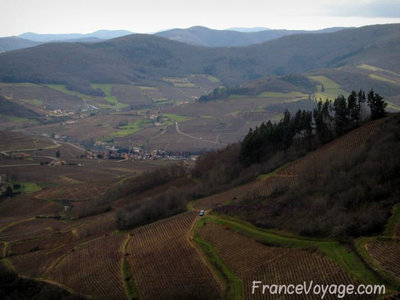 November is the Month of two cool festivals in France.  The Beaujolais Nouveau Wine Festival and the Festival of Animal and Nature Photography in Montier-en-Der in the Haute-Marne departement.
If you're like me lovers of animals, outdoors, photography and wine then you will love those two festivals at the heart of the fall season in France.

Festival of Beaujolais Nouveau
The third Thursday of November marks the beginning of the Festival of the Beaujolais Nouveau.  For four days winemakers open their cellars for wine tasting from lunch time until late at night.  The festival marks the end of the "vinification" (wine making) and the beginning of the commercialization of this new Beaujolais wine.
The new fruity wine is a great expectation for both wine amateurs and wine connoisseurs.  During this festival you can attend numerous events, wine tastings, and other celebrations all through the day.
However, you need to remember that new wine can get you drunk very easily and fast if you're not watching.  Driving right after you leave the festival is not recommended, so If you are going to participate in wine tasting, my advice would be you need to stay at a hotel or private dwelling chez l'habitant nearby and just walk back home.
My Family Link to Beaujolais
Beaujolais is very dear to me and my family and we are very familiar with the New Beaujolais Wine Festival because Beaujolais is where my mother and her siblings spent most of the World War II years when they were just small children.
During WWII a lot of children from Lyon (my family's home town, and mine) were sent to country side areas for safety. My mother was 6 years old when she ended up with in a wonderful family of winemakers in Beaujolais where she spent over three years during those trouble times in France.
Lyon being a large city and the headquarter of the French Resistance against Nazis was not the safest place to live, so my grandparents decided to take advantage of a program that homed children in dangerous cities to country villages.  So my grandparents sent their three kids away to safer grounds, and that's how my mother, aunt and uncle ended up in Beaujolais in a very well known wine making village called Villié-Morgon which makes a wine of the same name.
Host families were supposed to take only one child, but the family who took my mother also ended up with my uncle who was only two years old.  My aunt was with another family next door to them.  The family who took care of my mother and uncle had three daughters of their own which I met many, many years later when I was 8 years old.  Two were few years older than my mother, and one was my mother's age and both became best buddies.
It was with Beaujolais Nouveau that my mother and her friend got a little drunk once when they were around 12 years old after the War.  Interestingly, my mother never like wine as an adult, though.  It was just a fun Beaujolais story that she used to tell us. I know big culture shock here, but what can I say, wine is almost like water in France.
So, if you enjoy real French culture, beautiful villages and landscapes, and if you like Beaujolais Nouveau, I am sure you will enjoy the Beaujolais Nouveau Wine Festival.
The Festival of Animal and Nature Photography
Montier-en Der in the Haute-Marne Department is the center of a very interesting festival if you are a lover of nature and photography.  The town's festival of animal and nature photography is starting the third week of November. This years it will be held from November 15th through November 18th.
You will find around 15 expositions areas, indoors and outdoors with more than 2000 animal and nature pictures from all around the world.  The program focuses on nature and environmental themes with gorgeous photographs of animals, landscapes, ocean depths and other environmental related scenery.
You can also attend some projection conferences with known scientific, cultural and mediatic professionals who are part of the program, including famous photographers from the world over.
If you happen to be in France this month of November or going to be there, you might want to keep those two festivals in mind.
 Enjoy the beautiful pictures for the Montier-en-Der festival!
Don't forget to leave your comments before you go!