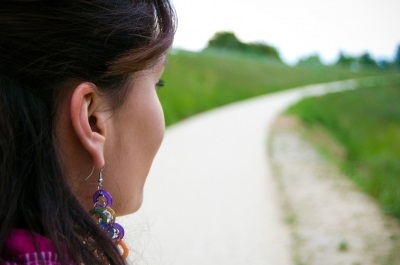 Do you have a strong intuition?  I think that intuition, can even be transmitted from generation to generation.  On my mother's side of the family there is a strong intuition factor going on especially in women.
Maybe that's why they call it feminine intuition.
My grandmother, mother and aunt all had a strong intuition, and I have to say that mine is also rather strong.  I can remember some very intuitive dreams and moments in my life.
But when that happens, one can't help asking where does intuition come from? Immediately followed by another question, what is its purpose?
Do you have a strong intuition? Are you wondering what it means?
In this post I am going to try to answer those two questions to help you understand you intuition better, and be more on the alert when it's trying to tell you something.
But first, let's start with one of my intuition stories, so you'll be able to see how intuition manifests.
An Intuition True Story
I remember few years ago, as I left for work one morning, I was locking the door and something was telling me "Sophie is out," "Sophie is out." Sophie is the name of my cat.
I remember very well going into my car, starting the car as if everything was normal, but with a darn heavy feeling that Sophie was out.  I knew Sophie was inside the house with my mom and aunt who were visiting me at the time for their regular 3 month stay each year.
My mom and aunt were going to be picked up about an hour later by some friends of mine who were going to show them around so they wouldn't be bored at home all day while I was at work.
When I came back home that day, some 10 hours later, my mom and aunt had not yet returned.  I was greeted by my other kitty, Tony, as usual, but I couldn't see Sophie.
So, I started calling her, but no Sophie was coming.  That's when my blood pressure was starting to rise.  I was calling Sophie louder and louder looking in all the corners of the house.  After 10 minutes of that frenzy search, I came to the very painful realization that Sophie wasn't in the house.
So, in a frenzy panic, I ran outside the house yelling and crying Sophie's name.  I don't know how long I looked, but it probably wasn't more than maybe 10 minutes – it just seemed like an eternity – when I finally spotted my Sophie behind some small trees, crouched on a piece of wood, and looking a bit scared.
When I saw her I felt a mixture of relief and extreme anger, and did my best not to spank the hell out of her.  But most of all I was relieved and it seemed like the weight of the world had been lifted off  of my shoulders.
As I was runny frantically, I recalled that intuition of the morning.  Dang, why didn't I listen to what my intuition was trying to tell me?  What's interesting, though, is that Sophie wasn't yet out when my intuition kicked in, it happened about an hour later when my mom and aunt came out of the house.  If you are familiar with cats, you know that they can be as swift and invisible as they want to be.  My mom and aunt never saw her getting out.
What's incredible is that I had an uneasy feeling all throughout the day, but I didn't listen.  I could only be thankful that Sophie was still alive and well after she had spent some 9 hours outside on her own.  This was probably the strongest lesson for me to listen to my intuition from then on, no exception.
I remember apologizing to God for not having listen to the warning, and for having protected my kitty for a whole day outside on her own, which she had never, ever, done before.
Where Does Intuition Come From?
Intuition comes from our higher self. From that part of us which is much higher than our physical body and its 5 senses.
Our higher self is that divine part of us that is able to know and see things that we don't.  The reason that we don't is that our body and conscious mind are rather limited and able to capture only what is at their level, so to speak.  On the other hand, our higher self, is able to know things above and beyond what we are able to perceive consciously.
A good way of explaining this is that let's say we "our body and conscious mind" are sitting at the bottom of a mountain with a view of what's in our sight.  Our higher self, on the other hand, is sitting on the top of that mountain and has a much wider and sharper view of everything around and above us.
There could be a loose rock from the mountain getting ready to fall on you, and you wouldn't be aware of it from your stand point.  On the other hand, your higher self sitting on the top of that mountain would.  That rock would not be in your sight or awareness, but it would be in the sight and awareness of your higher self, because it's much higher than you.  Its perspective is very different than yours.
Our higher self is stronger, higher, wiser, and knows a lot we don't.  This is why when our higher self sends us a "message" called an intuition, it's an all knowing information that many times blows our mind or even confuses us, if we are novice at listening to our intuitions.
But the thing is that the intuition is always right, because it comes from an all wise, all understanding, and all knowing place, our higher self.
What is The Purpose Intuition?
If you ever had an intuition, and I am sure you have, then you know that intuition is for our own good.  Intuition is a protection to us. It's a voice that tells us yes, do this or no, don't do that.
I have spoken with a lot of people who have told me about their intuitions, and it never fails; when they listened to their intuition, things turned out well for them, when they didn't, things turned out not so great for them. This just never fails.
If I had listened to my intuition about my kitty "being out" I could have gone back inside, tell my mom about my intuition, and ask her to make double sure that Sophie was nowhere near the door when they came out.
Listen to your intuitions, folks, it's trying to tell you something, and it's always for your own good. In an upcoming post I will be discussing  how you can improve your intuitive senses, so your intuitions will speak to you and guide you even better.
Your turn now. Let us know about your intuition…