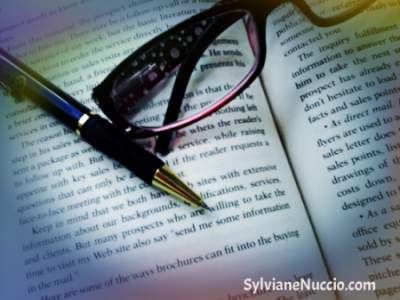 I think that it would be an understatement to say that there are many people (even online) who are a bit confused about the terms copywriting and content marketing.
You may be confused about the two yourself. Maybe you thought that they were one and the same thing all together.
The idea for this post, actually came to me because of a blog comment I read last week where someone didn't know the difference between the two.
But why is it important to know the different?
Well, if you are writing online to market your product or service, and even if you need to hire a writer, I think that you should know the difference between the two.
Copywriting and content marketing are two different types of content with two different agendas. In this post I'm going to fully explain the difference between the two, so you won't ever be confused again.
What is Copywriting?
If I were to write the definition of the term "copywriting" I would say that copywriting is seeking the potential buyer's attention and cleverly convince him or her to buy, by using emotional triggers.
As a copywriter, the better you'll be at using those emotional triggers by putting them well together, the more successful your copywriting will be.
Another misconception about copywriting is that this type of content refers to only sales letters, but that isn't true at all. Copywriting content is used in newsletters, emails, press releases, brochures, memos, reports and other type of written pieces.
Copywriting doesn't have anything to do with the format it's written into, it has to do with the type and style of writing.
 The Art of Copywriting 
Copywriting requires a line by line crafty design.  The first of such line being the headline.
A good copywriting piece will have a knock out headline that usually will require a lot of thinking on the part of the writer.  At times it may requires some tweaking over and over until you get it right.  The higher you get paid for your copywriting, the more tweaking, trying and testing you'd probably need.
The better the headline, the more money the copywriting  piece will bring in.  A bad headline could simply sink a product into total failure.  Headlines are always important, but even more so in copywriting.
When the copywriter is done with the headline, however,  it doesn't mean they can now relax. They are going to need to keep that sentence by sentence work of art to keep the interest of the reader/buyer alive, and nudge that potential buyer to make the decision to buy.
Now, there are as many copywriting styles as they are copywriters.  You could pick 10 of the best copywriters out there, and you'd notice that each have a different style, but that doesn't mean that one style is less or more efficient than the other. However, there are some noticeable features that you can recognize in copywriting. Let's see what they are.
The Trademark of Copywriting
If you'd write your sales copy as a college paper, you would be fired as a copywriter in a heartbeat. Copywriting is meant to make people feel and act, so it's full of sort sentences, repetitions, colloquialisms, and phrases starting with Because, And, But or Or for emphasis.
Regular college paper type grammar rules don't apply to copywriting, whatsoever!
While it still is important to write using good general grammar and spelling, it's OK to beak English school writing rules on purpose, so you can get more readers' reactions to your writing.
The one and only goal of copywriting, whether it's in the form of a sales letter, an email or a brochure it's to sell. If your copy doesn't sell, then you've failed at the job.
However, the reason why copywriters have to be more and more skills these days, I think, it's because the public is becoming smarter, or at least more aware of selling's tactics, and they can smell fishy stuff faster and easier now.  I think that any good copywriter needs to keep this in mind nowadays.
So, now that we've clarified what copywriting is, let me try to clarify what content marketing is all about.
What is Content Marketing?
"Content marketing is a marketing technique of creating and distributing valuable, relevant and consistent content to attract and acquire a clearly defined audience – with the objective of driving profitable customer action." Content Marketing Institute
I think that this quotation gives a very short and clear definition of the of term content marketing. If I were your high school English teacher and ask you, what is the most important word in this sentence, though, what would your answer be?
Well, the most important word in this sentence is the word consistent. Unlike copywriting, content marketing is ongoing – it needs to be consistent.
Content marketing is very different than copywriting in several different ways, but one thing for sure, it's that there is much less pressure to content marketing than there is to copywriting. Content marketing is more of a free writing style, so to speak – it doesn't have as many rules and recipes for success as copywriting does.
What you and I are doing on our blogs is content marketing. When you write small blurbs on Facebook, Twitter, forums, or even emails to your lists, it's content marketing.  Content marketing is everywhere in the internet.
Content marketing is an ongoing process, as oppose to a sales letter, a brochure or even a mailing campaign that is often created once, or maybe only a few times during the life span of a product.
For a lot of online marketers, while they may have paid a copywriter to write their sales page, they still have to use content marketing to promote that sales page which reveals their product or service.
Content Marketing Equals building Relationships
Content marketing also calls for building relationships with your readers, while it's usually not the case for copywriting.
Since content marketing is an ongoing and consistent content creation to help educate and inform our readers, we can use content marketing to build relationships with our readers, so they could become our best customers and referring people.
While copywriting requires more of specific writing skills, content marketing requires more long term commitment.
Do not use Copywriting Style in Your Content Marketing
Maybe not so much now, because of Google slap, but in the recent past there were way too many bloggers using copywriting type content on their blog posts.  Especially the guru kind of blogger. This is a mistake.
While a blog is the perfect platform for content marketing, it's not the place to create copies to sell.  Keep your copywriting style for your sales copies, and write your best content marketing for your blog.
I hope this post was helpful to you in understanding the difference between copywriting and content marketing.
Please, leave your thoughts, inputs and comments below!