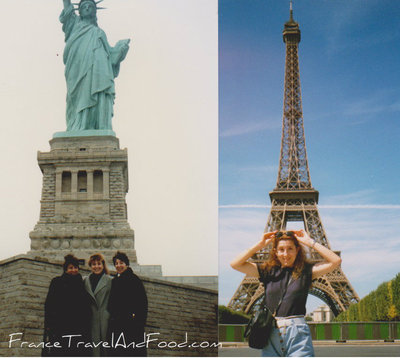 Have you ever been in a situation where you had a culture shock?  Well, needless to say, I have.  I had huge culture shock at least twice in my life.  The first time when I moved to the US almost as soon as I landed to Newark Airport, and believe it or not, the second time, when I came back to France five years later.
Culture shock can be a lot of things; they can be fun, weird, and even downright embarrassing at times.  But one thing is certain, culture shock exists.  To me the worst culture shock I ever had was actually when I actually came back to France after having spent five years in New York City, and I thought I was still very French.

The Culture Shock of Going Back Home
Culture shocks don't happen only to people going in a foreign country, it happens to anyone having spent a long enough time in a different culture. My own quote.
Usually culture shock doesn't take too long to manifest, as they usually happen right at the airport.  The first biggy for me happened right there.  I asked a question to a French airport attendant, you know, in good old French, and what does she do?  She answers me in English. Wow, what happened to me in five years?  Does it say on my forehead that "lived in the US for the last five years"?  I got a little offended and mad at the same time, and asked that woman (in French) why the heck was she trying to speak English to me?
I must have been carrying along something that wasn't there five years ago for sure, because no one had ever spoken in English to me on that side of the Pacific Ocean before.
More Culture Reminders
The second culture shock I encountered was when my (now ex husband) asked me to bring him a cup of coffee on my way back, since I was going to get something eat while we were waiting for our next flight from Paris to Lyon.  At first, I just said sure, and as I was walking away it hit me! Dang! We're in France, I can't bring you a cup of coffee here! You've got to walk to the café and get your tasse de café over there.  Plus, they don't ever serve that watery dark drink called coffee there, it's only espresso type coffee, and in much smaller amount.  You forget these things easily, you know.  Especially after five years.
Another culture shock, for my ex husband, was when he was greeted by other men in my family who greeted him with the typical cheek kiss.  Which is not even a real kiss, per say, but a cheek to cheek thing while you kind of kiss the air. Very common in France for friends and family regardless of gender.  Yes, that was a culture shock for him all right. But he did get used to it, though.
Culture Shock when I Moved to the US
The first time I saw people walking the streets of New York with a carton cup of hot coffee, it was really fun to me. I had never seen that before, in any European country I had been to or in the French Caribbean Islands.  This was my first.
The second thing I thought was strange was that strangers would pick up a conversation with me.  In France, rarely, people speak to strangers.  I know I have rarely talked to stranger in France, unless I had a good reason to do so. So, this was a culture shock when it happened to you for the first time.
Then they were the fact that strangers used my first name to call me, which is not common at all in France.  Or should I say, doesn't happen at all.
Culture Shock is Inevitable
When you've lived in a country most of your life and spent only five years outside of it, you would think that you are going to feel home again as soon as you get back.  Well, you'd be wrong.
When I first got back to Paris after five years I felt like a tourist.  As a matter of fact, I've must have sounded so awkward when I asked for my metro tickets, that again, the clerk was trying to speak to me in English.  I got so made that I told the guy "listen, I'm French and I've lived in this darn city for five years".  I said it just like that but in French, of course.  But while I did say that, I also understood where he came from, so to speak. I was totally acting weird in a way, and there was no way that poor guy could have known that I was from there.  I couldn't blame him.
Then, another big culture shock was about the good old "tu" and "vous" French pronoun thing. You know, in English you don't ever have to think how you address someone, unless you require "your majesty" in front of your name, maybe. But for everyone else it's "YOU".
In French, however, it would be better if you'd remember not to use the same pronoun if you speak to your mom or if you speak to her boss, and that's exactly what I did.  I started to use the familiar "tu" pronoun when speaking to my mother's boss (who is also a friend), but being that he is 50 years older than me, I've never use "tu" but "vous" to address him.  I felt so embarrassed when I caught myself.  Gosh it's tough to get back home.  I had to remind myself of things that I had never even had to think about before.  That's what another culture does to you.
Overall, I had fun with my culture shock, and I could only understand my mother and brother better when they came to see me in the US.  They had quite a culture shock as well.
So, what about you? Did you ever had culture shock? If yes, tell us all about it in the comment area below!