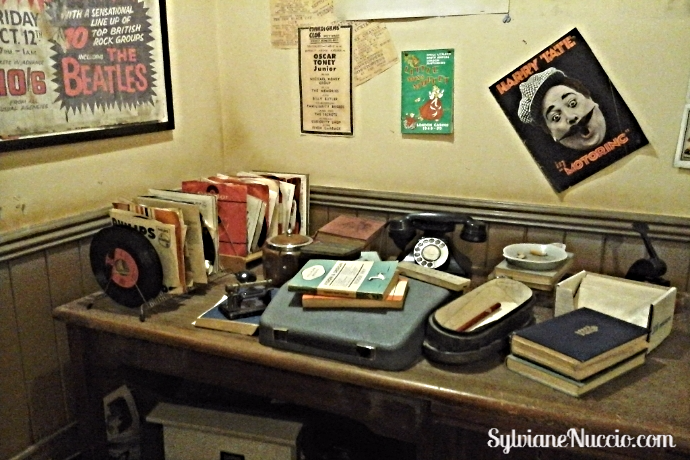 I know it's sad  for some of us, but there are still business owners and other product creators out there today who still don't have no clue about how to promote their business.
Even though this is 2015 and counting.
How do I know?
Well, besides the fact that I personally know some individuals fitting this description, I also receive promotional emails in my personal inbox and through social media, on a daily basis, from such people.
That's what prompted me to write this article.
Interestingly enough, when I have the time, I do reply to some of those guys to tell them that they are doing it wrong, but for the most part they ignore my help.
If this is you, it means that you don't have a clue about how to market and promote your business, and you're simply hurting yourself.
I'm not sure if there are still so called gurus who would teach anyone to market this way in 2015, but if there are out there I hope they find this article too.
However, spamming is not the only tell-tale sign that you don't know how to promote your business, there are others that we will discuss here as well.
So, make sure you read about all 5 points.
1 – You're Sending Unsolicited Emails to People you don't Know
First let's look at the definition of unsolicited emails.
Here is how a site called Webopedia defines spamming:
Spam is most often considered to be electronic junk mail or junk newsgroup postings. Some people define spam even more generally as any unsolicited email. However, if a long-lost brother finds your email address and sends you a message, this could hardly be called spam, even though it is unsolicited. Real spam is generally email advertising for some product sent to a mailing list or newsgroup.
If you're sending unsolicited promotional emails to strangers it's a strong sign that you have no clue about how to market your business, and I hope that you will soon realize that's why it's not working for you.
You see, when you haven't even taken the time to get to know someone, and you're sending an email that suggest them to buy something from you, or even to "check it out" as some people like to call it, it tends to makes people upset with you. Not a very good way t introduce yourself, now is it?
That's not the kind of reaction you want to get if you want to promote your business or sell your product.
What you should do Instead…
Join forums and social media groups and interact with people. Get to know them.
If you interact with people within your niche, you will eventually even get access to their market and be able to expose your business the smart way.
A note of warning, though, if you are fake, if you're not genuine in your attempt to get to know people, they will feel that too. So, if your issue is that you are too selfish or self-centered to be interested in people, your best bet is to hire someone to do the job for you.
2 – The Only Thing you Promote is your Product or Service
I don't know if you've got that by now yet, but people don't care about what you're selling.
Why do you think advertisers turn up the volume during commercials on TV? Because they know that by nature people won't care.
So when you send your unsolicited message it's just like those annoying commercials, and just like most people do with commercials on TV, they'll discard your message.
Instead of promoting your product or services so much, try promoting YOU instead.
I'd be way more interested if you emailed me about you and what you do, then if you put your product in my face.
Wake up and smell the coffee. This doesn't work anymore!
If it has ever worked to some degree in the past (maybe) it certainly doesn't work anymore in 2015.
This is how someone replied to a person who emailed some of us on Linkedin about their product rather than trying to connect the smart way.
Do you really want to get that kind of reaction?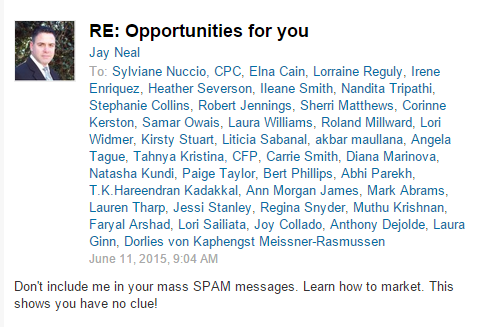 What you should do instead…
Instead, introduce yourself, and genuinely explain that you would be willing to get some help and feedback about how to promote your business or product.
You'd be surprised about the suggestions that you would be getting if that is your problem.
Or try to get to know people first and then send them individual messages, not blast emails to a long list of names as you can see above.
This doesn't work my friends.
3 – You are Using your Business Name Instead of your Own
Gosh do I hate that one.
Are you still using your business or product name instead of your own?
I don't care what you're selling, it's NOT a good idea to use your business name instead of your own name.
Why?
Because usually it doesn't inspired trust in people. It actually has the very opposite effect, it tends to make people run away from you.
Before being a business, you are a person, and that's what people want to see.
If you were to write your resume, would you write it in a way that you are the job you did, or would you write it as the person who did the job?
Obviously, you would use the latter suggestion, wouldn't you?
You're not accounting, you're an accountant
You're not engendering, you're an engineer
So if you get that, what don't you get that using your business or product name instead of your own is totally wrong?
You are the person who owns the company, the business, the product or the service… etc, but you are NOT the business.
It's interesting that this type of behavior was born online, tough, but it doesn't make any difference whether you promote your business online or not.
What you should do instead…
Do not use your business avatar in your blog or social media profiles. Use your real face.
Do not use your business name as your name, but your own name.
By doing this people will recognize you as a person and trust you much better, and your sales will increase.
If you could only get that much from this post, you would start flourishing in your business, I'm sure.
4 – You are not Blogging
If you have an online or even an offline business, you should be blogging about it.
By the way, I have written numerous posts about how to promote your business the right way through blogging, so check out my blog.
Even though there are literally over 500,000 blog posts written each day, you need to have your own.
The reason why there are so many blog posts written each day it's because people know that it works.
On the other hand, people who do not have a blog struggle to get a momentum.
I have a friend who has written what otherwise should be a very popular book, because it touches the cause of a very specific but large market.
He was told by quite few people which include publishers that his idea was unique. It was even accepted in a couple of book stores that sold a  handful of copies, but it fell short of reaching its true potential.
Why?
Well, even though I encouraged my friend (the author of the book) many times, to start a blog that would be discussing the topic of his book while helping him build relationships with his target audience, he has never done it.
He doesn't have the money to pay someone to do it for him, but he won't do it himself either.
So he's stuck and so is his book.
Bottom line, even though the book should be a popular one, no one knows about it, but a handful of people.
This is a very good example, that while just starting a blog with no planning, you're blog will probably fail rapidly; having a good reason to start a blog and not doing it is an obvious business mistake.
What you should do instead…
Create a blog or hire someone to do it for you.
If you have a business or a product that you want to put out there, there is no better way than having a blog that will help you promote it for you.
When you use your blog the right way, it will be the vehicle that's going to drive traffic and money to your business.
5 – You are not Building Relationships with your Audience
In 2015 and in the coming years, businesses are and will be built with relationships more and more.
My Friend Don Purdum often writes about that. You can check one of his latest articles here for more details on the subject.
Whether it's the relationships you are building with other business owners, your potential clients or through your customer service, it's all one and the same thing.
It's all about how good you are at building relationships to help you grow your business, and your profit.
If you're not even trying to connect with people right now, and all you do is advertise, advertise, advertise… good luck to you!
What you should do instead…
In order to do that it's would be a good idea to have a blog first as I explained above.
While it's not impossible to build relationships without a blog, it makes it so much easier if you do, because you can give people high quality information and value through your blog.
Once they come to your blog it's up to you to try create a connection with them. By that I mean a one on one connection with each individual.
When people visit your blog, check them out. If they do have a blog too, go check it out, and get to know them.
When you go to their blog, read their latest article and leave a comment. Follow them on Twitter or any of your favorite social media platforms.  Make sure you introduce yourself as a genuine person.
If they don't have a blog, look them up on social media and try to connect with them that way.
If they have come to your blog and leave a valuable comment, you could even email them directly with a thank you note.
The ways you can connect with people and build relationships with them is endless, but here is a start for you.
Conclusion
Doing business today is different than it was 10 or even 5 years ago.
Mentalities have changed, grown and evolved. The way we do business needs to adapt to that.
Business evolves with people.
Look at the way they used to make movies 50 years ago, for example, do you think if they made movies the same way today it would still work for the motion picture industry?
My guess is probably not. Because the public has evolved over time.
Today the public demands more realistic movies, so the industry has adapted with the demand. Look at the quality of movies today!
But remember that internet marketing changes much more rapidly than movie making does.
Instead of decades we're talking more like  year to year changes that we need to adapt to in order to stay on top.
So, what used to work only 5 or 4 years back doesn't necessarily work today.
Keep that in mind and get a clue about how to promote your business today. Start by applying my tips here.
You're tun now. Leave your comments below.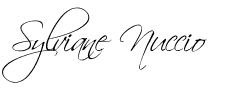 I write in such a way that your potential customers will fall in love with your business.
Would you like some advice about blogging for better business? Get it here!