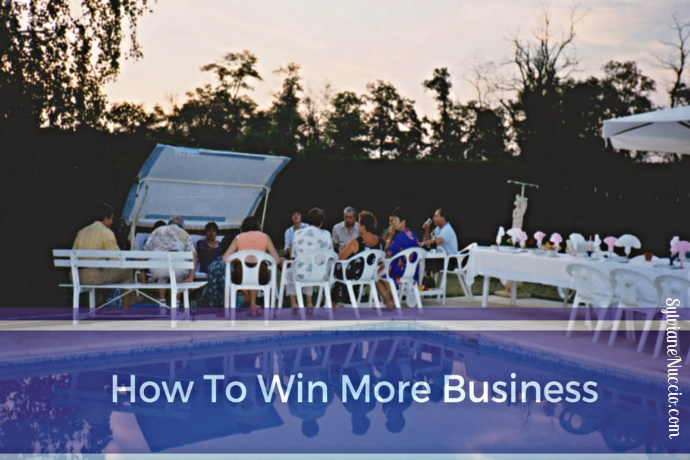 Do you want to win more business?
Well, if you are in business, you most likely do.
That's probably why you have a blog, writing press releases, solo ads, email marketing campaigns and what not.
Yet, most business owners are still looking for ways to win more business.
Actually, wanting to get more clients is a good thing, because it can help you improve your message and the way you portray yourself and your business to the public.
In a way, it keeps you on the edge and forces you to improve.
Winning More Business May be Easier than you Think
If you are craving more clients or customers for your business, because they're not really knocked at the door, it doesn't mean that your product or service is bad.
What it means is that there are some important things that you are not doing, or some vital steps that you are not taking.
Entrepreneurs who have plenty of business, have either a well establish enterprise which generates residual referrals and repeat business (those are actually so busy that they can't even accept any more clients because of it).
Or they have implanted specific strategies that they are applying on a regular basis which keep on supplying new prospects to their business.
To be honest I am myself working at creating more business, and I'm not at the point where I can afford to give away some of my clients, as some other people in my trade pretend to be.
But as I'm learning more and more, I am willing to share some nuggets so you can too implements those tips for your own business.
Also, remember that if you are a business owner who needs good strategic content for your blog that is exactly what I do.
In the meantime here are 5 strategies that can help you generate more clients than you are right now.
5 Strategies to Wind more Business
1 – Tune up Your Writing
Learn how to write better and more valuable content.
What does better content really mean?
Better on its own is a pretty vague term, isn't it?
You could say, I like better chocolate than vanilla, but that would just be a matter of your own personal taste.  It doesn't mean that chocolate IS better than vanilla.
We could compare just about anything under the sun and say that something is better than something else.
But most likely that would only be relevant to you. It doesn't mean that it is so.
However, you could say that you are better at math then I am, because you can crunch those figures much faster and more accurately than I can.
Or yet again, I could say that I'm better at speaking French than you are, because it's my native language.
So, now the word better, makes much more sense all of a sudden, doesn't it?
Well, there are better writings style than others as well.
In this case writing better especially means making sure you are using writing rules that apply to electronic devices that people use today to read your content these days.
it also means writing more inviting, more entertaining, more captivating, and more valuable content, so the person that lands on your blog for the first time will want to come back.
The more you understand what better writing is the more they will want to come again.
You want people say things like this to you:
"Great post indeed!!!! I'm so glad to read this article. I found this helpful too. It is such a valuable post to learn good points from. Thanks so much for doing all the hard work to make it easy to understand for all of us. A big thanks to you for sharing such a helpful post with us. Thanks"
"I loved the introduction of this post. I have not come across "telemarketing" association with blog content. But you are absolutely right! When I think of some blogs and their content, they do sound like telemarketers."
"This is my first visit to your blog. I am very happy Google redirected me to this page. Every line has something to learn from. I have learned many things from this post. You are talented no doubt. I am waiting for a lot more good posts from you.Thanks"
When you're getting more and more comments like these, you know that you are on the right track. But what exactly do you have to do, so people will love to read what you have to say?
Here are few pointers:
a) Short Sentences
I've said it many times before, but in case you missed it, here it is again.
Always remember that people are lazy in nature, so start your article with sort sentences.  Especially my  first 3-4 sentences are rather short.
Why?
Because the purpose of a sentence is to lead to the next.
If your first sentences are too long, people won't want to keep reading, they will want to move on to something else.
So, help the lazy reader (that we all are) to hop from one sentence to the next by writing short sentences as much as you can. Especially at the beginning or your article, but keep this trend all throughout the article still.
b) Introduction
Make your introduction interesting. Start with a story if you can.  Take the reader for a ride as they swallow your introduction one bite after the other.
Make them WANT to know more.
Make them want to know where you're going with this.
They are very thirsty for good information, tempt them in your introduction, so they will keep reading.
This technique can be learned, by the way.
Try it and see what a difference it can make.
c) Value
Pretty and short sentences are great, but of course that doesn't excuse you from adding value.
Your introduction is the appetizer, but now you have to give your visitor the plat de resistance.
That's where value comes in.
No matter how well-crafted your introduction is, what makes it more valuable is the value that you add after that introduction.
The value is your content, your topic, how you discuss it in your article, and how it will help the reader/your potential customer.
I have been writing about content quality for a while, but be sure to check some of my recent posts on the topic, such my posts titled how to write magnetic content for you target market and what is descriptive writing and why should you use it.
2 – Identify What Matters to the Customer
Once you've understood your basic writing rules that will rock your blog post, article, press release and everything you write for the promotion of your business, you need to use that content wisely.
What will help you tremendously in your writing is identifying what matters to your customer.
People will want to do business with you if you are addressing their needs and wants, not just because your business exists.
I am not going to expand too much on this today since I've recently written extensive posts on the topic of communicating with your potential customers the smart way on my posts titled, why is your blog not attracting your ideal client and How to convey the voice of your brand.
Give those articles a read if you need help with better identifying with your customers' needs.
3 – Ask for Referrals to your Current Customers
Another way to win more business is by asking referrals to your current customers.
An interesting thing about referrals is that if you don't ask for them, there is a 50% chance you won't get any.
How do I know?
Because I often noticed that when I have asked for references, people were not necessary thinking of giving me any, unless I asked. Even if they seemed to be glad I did.
If you do a good job, and people know someone that could benefit from your products or services, they will refer you to their friends, and relatives. If you don't ask, they may not.
They don't know your situation. They don't know if you're booked right now. There could be many reason why they might not give you referrals.
So, don't assume that they will refer you to other potential customers, unless you ask for it.
4 – Expand your Business
If you have a product or service, think about expanding by adding to what you already have.
Think about adding another product or service that will complement what you have, if it applied to your business.
Adding something to what you've already created is always easier to do, and mostly likely will be taking much less time to create.
For example, you could use your blog content or you email marketing content to create a special report or even a book that you could either sell or use as a promotion tool.
If you don't know how it's done, ask me.
5 – Raise your Prices
If you are still new in business, you might be surprised to hear that keeping your prices and fees low is NOT the best way to win more business.
On the contrary.
Too low prices can make your service cheap in the eyes of the potential customer, and they might not trust that it's a valuable service.
Raise your prices and win more business by promoting it well, and providing quality.
Raising prices is a wonderful strategy to get more business.
It works like a charm.
I know for a fact that freelance writers and coaches that are charging low fees are not at all the ones who get the most clients.
On the other hand, those who do charge higher fees, have plenty of business all year long.

So, your turn now. Please, leave your comments and inputs below…
Thanks you to Enstine Muki for asking me to be his featured blogger last Thursday.