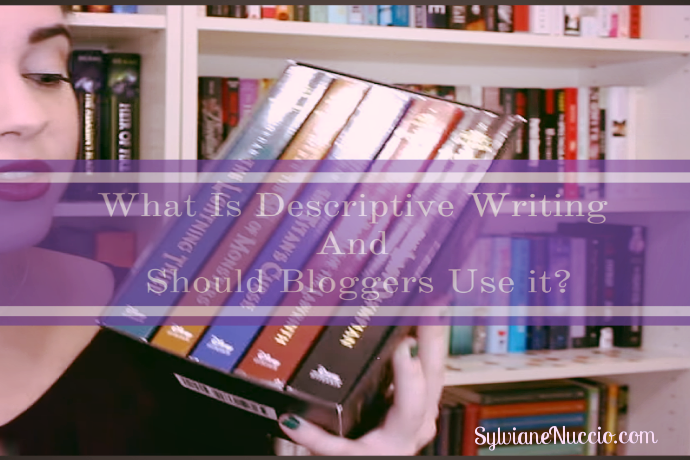 Descriptive writing is supposed to be a style that's used in fiction.
It's a writing style where the writer is basically painting an image that you can see with your mind's eyes as your read.
Have you ever heard someone say that they prefer to read a story rather than watch a movie of that story?
Maybe that's you!
Well, it's because in a movie, the images are just handed to you.
When you read the story, instead of watching it, you are seeing it with your own mind eyes, and you become more involved emotionally as you create your own images of the story.
For example, if I describe a blond, slender, young woman wearing a red dress, walking slowly down the street.  You will see a blond, slender, young woman wearing a red dress, walking slowly down the street.  But the image of this character will be created in your own mind with as many specific features as your creativity allows.
So, when you're using descriptive writing, you're guiding the readers where you want them to go, but you also let them fill in the blanks as they wish.
This is the magic of writing, you could say.
But why am I discussing descriptive writing here?
Well, beside the fact that I love to inform my readers about different writing styles, I also think that descriptive writing is a writing style that applies to bloggers.
Do Bloggers Need to Use Descriptive Writing?
In a word.
Yes.
Even a simple blog post, could benefit from descriptive writing.
Why?
Because it's good to start an article with an attractive, eye-pulling story that can trigger interests right away.
This type of writing, usually pulls me in and get my interest right away.
What about you?
Where should you Use Descriptive Writing?
As a blog reader, I love to read posts that start with an attention grabbing little story.
There are some bloggers out there that are very good at introducing their article with a little story.
Yes, they are using descriptive writing, even to introduce a post about blogging, keywords, or traffic.
You can use this technique will writing about anything.
There's always a way to start with an attention grabbing story, that gives the  images in their head and help them jump right in the article smoothly.
So, yes, it's OK.
What am I saying!
It's more than OK to use descriptive writing no matter what you write.  I think you should.
Why?
Because it works.
People love it, because they love stories.
We love stories, and it makes us want to know more.
In a recent blog post titled 5 Reasons Why You Shouldn't Move Overseas For A Year I started with a true story of mine.
That was the perfect descriptive writing introduction for that particular post.
Here it is:
We are at Charles de Gaulle Airport in Paris, and my husband (now ex) and I are waiting three long hours for our connecting flight that's going to take us from Paris to Lyon, France.
While waiting, I decide to walk around the airport to make the time go by faster, and my husband says to me; could you bring me a cup of coffee?
Without even thinking that we are now in France and no longer in the US, I say yes, and start walking away in the direction of a coffee shop.
As I'm walking, an alarm goes off in my head – like my subconscious mind awoke me – hey, we're in France here, we don't bring coffees. We come to the coffee, which is served only in real coffee cups and consumed on the spot.
A rush of old memories came back to me.
When I first arrived in New York, one of the first things I told my mother on the phone was; "mom, they walk in the streets with coffee cups here!"
It was something new to me.
My mother and I, both had a good laugh.
As all of this is rushing to my mind, in that busy Paris airport, I'm walking back to my husband and tell him; "we're in France here, so I can't bring you a cup of coffee, you need to go in that coffee shop yourself and drink it there."
This was my way to pull the reader into my post, and seeing the few comments I've got, it worked.
Use Descriptive Writing to Engage the Reader
Descriptive writing is excellent to engage the reader, because whether you know it or not, reading is an emotional thing.
Oh, you didn't know that?
Well, why do you think a product creator would pay hundreds to thousands of dollars to a good copywriter to write their sales page?
It's because a good copywriter knows how to use what I like to call the "emotional buttons" of the reader.
Once you find out a way to reach the emotion, you have wined the reader in, and then, it's easier to make him or her do what you want.
In the case of a sales page, it could be to have them click on the buy button.
In the case of a blog post, it could be read the whole post, and potentially take that call of action at the bottom of the post.
3 Important Things to Remember about Descriptive Writing
If there is anything your should remember about descriptive writing, is this…
1) Descriptive writing helps you get the attention of the reader right from the get go.
2) Descriptive writing is entertaining and makes reading smooth, effortless, and enjoyable.
3) Descriptive writing helps keep the reader reading and take the actions you want them to take in the end.
Maybe it's because of my descriptive writing that I've been mentioned so many times lately on other blogs.
Oh, yes, by the way, I wanted to dedicate the last part of the blog post to introduce a new section on my blog…
Introducing a New Creative Way to Say Thank You!
I was inspired by Carol Amato, and Jaime Buckley who have a section at the end of their posts, where they give thanks to a handful of people each week (or as needed).
Actually both ideas came from Carol and here are both versions: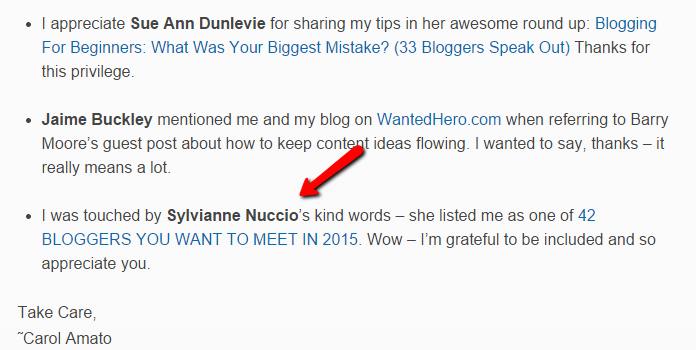 Jaime Buckley calls it You're in the SpotLight! But it was a creation of Carol Amato!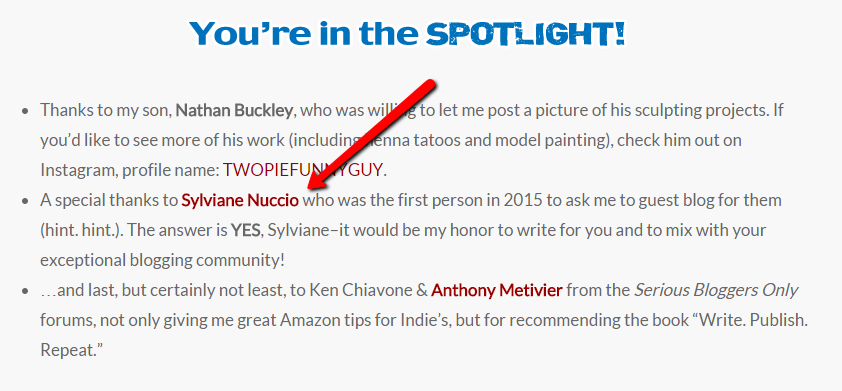 I really liked that idea, and wanted to incorporated that into my blog too!
After thinking for a while, I decided to call mine Star of the week!
So, here we go…
This is my first one, and last week was a wonderful week too, so there are a lot of thank yous!
Thank you to Andrew Warner for asking me to participate with 16 other bloggers on this super post 17 Bloggers Reveal Their Reasons For Reading A Blog Post.
Thank you to Richard Martin for suggesting my blog for Jefferey Romano's post about 34 Top Blog About Blogging in 2015
Thank you to Fabrizio Van Marciano for picking  one of my blog posts in his December 2014 and January 2015 blog posts not to be missed.
Thank you to Don Purdum for having mentioning me more than once since I've met him, only about 6 months ago, and here again on this last week's post about content marketing.
Thank you to Deborah Tutnauer for mentioning me in a post last month and saying this about me: "Sylviane is a woman I'm excited to learn more about, and spend time developing a relationship with. It is obvious from her writings and her actions, that she truly values people. Take time to meet her!"
Thank you to Jaime Buckley for the great inspiration that he is and for saying this about me: "First off Sylviane, let me say–you're one of the smartest people I know. Incredible perspective, impeccable taste, able to spot a phony a mile away….uhhhhh I appreciate your compliments and love your company. Reaching out to you was easy as can be. You're a delight to associate with!"
Thank you to Carol Amato for inspiring me to do this.
I hope you enjoyed reading this. Let me know how by leaving a comment below!
Heads up everyone!
No hard feelings anywhere. Carol and Jaime are good friends and I certainly admire and respect them both.
We all sorted it out and Jaime himself wanted to say this:
Oh no, no, no, Sylviane. I appreciate your thoughtfulness, but that was never my idea–the whole Spotlight idea came from Carol Amato. In fact, I mimicked her so closely, wanting to follow her example, I actually crossed the line. You really have to be careful when wanting to follow another's example, not to corrupt someone's hard work & uniqueness. Unfortunately, I didn't see that until it was too late.
But you know what? Carol was a true friend and pointed this out to me and encouraged me to design my own art and buttons. She's a true mentor–and I appreciate her instruction (and patience).
"You're in the Spotlight" belongs to Carol. My homage to that idea has turned into "You're my Hero" for Wanted hero instead.
Not as brilliant, but I think it fits the theme of my site well enough. =)