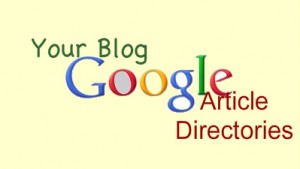 I am going to be play the "advocate of the devil" here!
Why? Because, I have recently written a couple of blog posts that emphasized the advantages in spending more time blogging than writing articles for directories.
However, I wanted to tell you on this post why you should use article directories to promote your blog.
Article marketing is mostly used and even known by people who are trying to sell products online such as affiliate marekters.  Through their articles they lead readers to a landing page or a squeeze page that is intended to sell a product.
However, do you know that you can use article marketing just to promote your blog as well, without trying to sell anything at all?
Writing articles that relate to your blog theme is a very good way to give good quality back-links to your site and bring you new readers and followers which will eventually grow your list.
Article directories are free and some of them have a very high PR (page rank) that will give some juice to your blog.
When you start a new blog it can take months for your site to be found in the search engines, even while doing a search using all your exact keywords.  However, by submitting an article with a link to your blog to an article directory, you are adopting their search engine ranking.  Because of this, you can go from not being found at all to getting listed on the first page of the search results in just a matter of a few days.  A great boost to your blog URL!
You do not use article directories to "replace" your blog posts, we made that clear on a previous blog post, but it's meant to give back-links to your blog and advertise it for free.  Article marketing is actually better than many other form of advertisement.
How Does Article Marketing Work?
The most popular article directories are already well known and ranked on search engines.  To give you an idea, even after Google slap some time ago, ezinearticles.com got a beating, alright, but they got their act back together by doing some clean up and they are back on track.
Different search engines have different search ranking algorithms, but they still all use similar ranking model.  When you submit your article to popular article directories, your article is borrowing some of that popularity as it will live on their domain.  Using your specific keywords, your article will be listed in the top ranking for those keywords and get spidered regularly by the search engines.
There is nothing hard about writing articles that can rank high on search engines.  You do not need to be an SEO expert. Just pick the right keywords, the ones you want to rank for, and write your article according the basic rules of article writing.  If you do you, will get fast ranking, fast traffic and superior quality back-links.
Article Writing Tips in a Nutshell
Your article should be (ideally) between 450-650 words.  This will make any article directory happy and get you listed within engines easily.  This type of article size is also a good one to provide great information on any topic you might be writing about.  Shorter would be too short, and longer would be too long for an online article.  Keep the longer pieces for your blog.
Always use your keyword phrase in your title and sub-headings when possible.  Your keyword phrase should also be spread about in your article at a rate of about 2%.  That's about 1 time every 100 words.
Keep your reader awake. If your article is boring it won't be read.  A good way to keep your reader awake is to use some persuasive writing tips, talk directly to the reader and tell them a story.  Write a review or answer questions that you know of your audience to have.
For those who keep saying "I can't write" I would say one thing, forget that you are writing an article and just tell your story.  Give step by step instructions, add your personal touch and just talk to your audience. Don't' forget, people respond best on an emotional level, so don't forget to sound like you are a real human just like them trying to help.
If you are going to use article directories to promote your blog and get new followers in the process, you want to make sure they are high ranking sites and do-follow as well.
You can also gain an audience using no-follow directories and I will never tell you not to use them, because some of them are good directories, however, if you are looking for building back-links I will advise you to use do-follow directories.
My 10 Top Do-follow Article Directory list!
1-     TheFreeLibrary – PR8 – Do-follow
Originally this directory was reserved to classic literacy works, but it is now open to reports and articles of any kind.  It's also a great resource of inspiration for writers.
2-     Squidoo – PR7 – Do-follow
If you'd look back at Squidoo 2 to 3 years ago a lot of change has happened.  Squidoo has now a rather large list of topics they do NOT want anymore such as 'money', 'internet marketing', 'diet' and more.  However, if you write an article within the topics that Squidoo loves, your article will rank pretty high, indeed.  Make sure you check their terms and conditions before you post your article on their site.
3-     EzineArticles – PR6 – Do-follow
Even after Google slap, ezinearticles.com is still a very good article directory ranking very well on Google.  Make sure your read their rules and regulations as well, since they have made some changes after being penalized by Google a year ago.
4-      Suite101 – PR6 – Do-follow
This directory used to have a PR of 7 and is now down to PR6, however, it's still a very good directory.  You will have to fill out a form explaining why you want to write for Suite101 and provide some samples of your writings.  Not the kind of directory for beginners, but great if you can write well.
5-     Hubpages – PR6 – Do-follow
Hubpages is a little bit like Squidoo, but they do accept more topics then Squidoo does.  It's a very good alternative to Squidoo all together if you don't want to have to follow Squidoo strict rules or if your blog covers a topic that Squidoo is not accepting.
6-     WebProNews – PR6 – Do-follow
As long as you make sure that you provide ONLY original and unique content this site is known to generate good traffic.  They will also give you more the back-links if you provide good articles.
7-     Gather – PR6 – Do-follow
Gather accept articles right away with no problem and can rank them pretty well on search engines.  It also has an inside networking that you can take advantage of.
8-      Brighthub – PR6 – Do-follow
Brighthub is focusing on high quality content for their readers.  When you write an article for Brighthub, make sure that you are writing about what you know well and be as accurate as possible.
9-     ArticleAlley – PR5 – Do-follow
AlleyArticle has over a million pages of content and has kept growing since its creation in 2004.  Like any good article directory they expect your article to be of good value for their reader and original.
10-  IdeaMarketers – PR5 – Do-follow
IdMarketers accept articles right away and they give you different avenues you can use to promote your articles and therefore your link.
Before you start posting on any of the article directories above I would advise you to make sure you read their terms and conditions and read a few articles that have been published there as well.
This might seem like a lot to do, but you would be wasting more time if you posted an article that is rejected because you didn't understand what type of article such directory approves.
Good writing and good blog promoting!

Do you Want more article marketing success? Just fill out the form below and get my FREE article marketing eCouse!
If this article was helpful to you, or if you have any thoughts about it, don't forget to leave a comment and link you own blog or post to it!