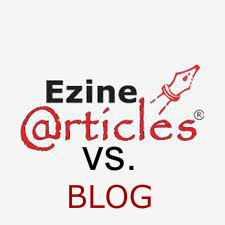 I am often asked the question, what is the difference between an article and a blog post, and sometimes I get emails from people confusing my blog with an article directory.
For these two reasons, I decided to write this blog post to answer this question the best possible way.
I also have a video down below that will give you an overview of what I am talking about in this article for those who like visuals.
What is the Difference Between an Article and a Blog Post?
Some people are still very confused about the difference between an article and a blog post, and to make matters worse, we often call a blog post an article and they may have similarities as well.
However, there are some distinctive differences between the two and I've used this 1000+ word blog post to try my best to explain what those differences are.
It's interesting to remember that the blog post only goes back twelve to fifteen years as for the article, it goes back a few hundred years.  However, the blog post has now become the most popular written expression online.  Therefore, a detailed explanation about the difference between an article and a blog post would be appropriate.
Understanding the Purpose of your Blog
The purpose of your blog is to educate and create relationships with your readers.  When you write a blog post you shouldn't try to sell anything to your readers.  However, you can link to some of your products when it's appropriate within the context of your post.
The reason why you need to create a relationship between you and your blog followers is that a very small percentage of people would ever buy from your site on a first visit.
Most of online sales are made from people you know, because you have taken the time to build a relationship with them and they are trusting that the product that you recommend to them is worth it.
Beside this, they are confident that if they ever get any questions or get stuck somehow, they would be able to ask you questions and get your help.
You can also blog to talk about your passions and share it with the world.  Your blog is whatever you want it to be, but it content should be as far as a sales copy as possible.
If  you blog is valuable, you will be able to build a list of followers.
How to Build Followers on Your Blog?
There are several ways I guess that you can use to build a list of followers on your blog, but really there is nothing new under the sun, and it all starts with you.
Here are a few pointers…
Create a blog based on a theme that people are hungry for.  If you started as an affiliate marketer and have chosen your niche already, then, that blog should be based on that niche and it should be a niche that the public is hungry for.
Get educated about your own niche if you don't already know it well, and write a useful blog post on a different topic, every week.  If you want an example, just look at my blog and see how it's done.
 Do not write anything superficial.  Write deep material that can really help your readers.  The online world is getting deeper and deeper when it comes to written material.  Therefore, you can't afford to write low quality content.  You need to write superior quality content.
Try visiting other blogs related to your niche and get to know the owners of such blogs.  The best way to do this is to leave valuable comments on their blog posts while linking back to yours.
There is such thing as a correct way and a bad way to leave comments on other people's blog, so make sure you educate yourself about that too.  Personally, I do not bother with blogs that are not generous to their visitors.  The best blogs to look for are blogs using Commentluv which is the best blog commenting system out there, hands down!
 If you have good enough writing skills, try to write guest posts.  For this, you need to contact bloggers who blog about the same topics as you do and ask them if they are accepting guest posts. Some are and some are not, but asking won't cost you anything.  For example, if your niche is internet marketing you choice is pretty huge in term of finding blogs that are looking for guest posts.  However, you need to write at you highest level when guest post.
 Make good use of social media sites.  Post each of your blog post there, but also, try to share other material from other bloggers and retweet interesting tweets.  When you do so, the person will get an email and get to know you.  Remember, it's all about creating relationships.
Understanding the Purpose of your Article on Directories
The firt thing I want to specify here, about articles on directories more commonly known as article marketing is that the days that you could get away with badly spun articles are over.
A spun article is usually by definition a low quality article and no good article directory, today, would want to post your article if it was the case.
Even though you might not have to write as "well" for an article directory, you need to concetrate on the same thing; trying to educate your readers and make them want to learn more on your blog.
There are some specific techniques that you can use when writing an article for a directory which are not necessarily applicable for blog posting.  If you don't know what they are, I advice you to read this post.
The rules of thumb for article marketing are the following:
 Do not try to write a sales copy.
Write appealing titles.
Write articles that are helpful to the readers leading them to want to know more and click on your link.
Use short paragraphs, headlines and bullet points.  No one likes to read compact articles.
Give them a reason to want to know more.
Quick Takeaway Analysis Between an Article and a Blog Post
Here are a few pointers about the difference facets between an article and a blog post.
 Blog Post are:
 More casual
More personal
More engaging
More about the personal opinions of the writer
Usually written in the first person
Article:
Convey more factual information
Encourage the reader to take action towards the end of it to click for more information
Try to sympathized more with the reader to appeal to him or her
More objective than a blog post
Not necessarily the writer's opinion
Sometimes written in the third person (although I don't advise it)
I think that writing articles on directories is still a good idea for back-links and potential traffic, however, most or your time and energy should be spent on your blog posts.

Do you Want more article marketing success? Just fill out the form below and get my FREE article marketing eCouse!

If this article was helpful to you, or if you have any thoughts about it, don't forget to leave a comment and link you own blog or post to it!