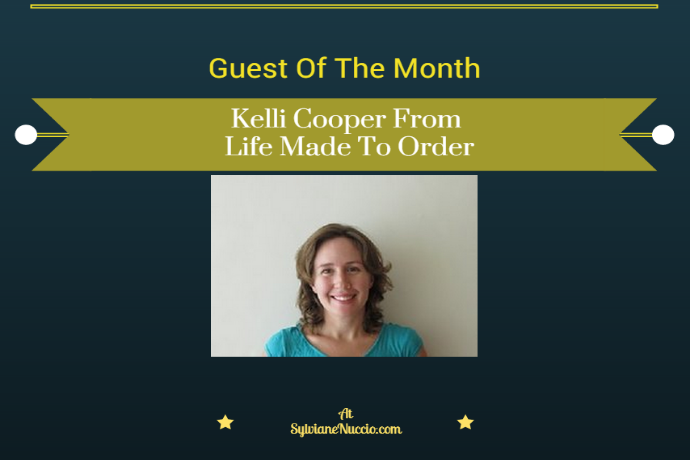 Today I have the pleasure to feature another law of attraction expert, in my personal development category. Here is my quote for her:
Take a law of attraction expert who is using what she teaches in her own life, and you get Kelli Cooper
So take it away, Kelli…
For a concept that is pretty simple at the core, many people find their efforts at 'working' with the law of attraction quite frustrating.
After actually allowing ourselves to want something better, and then having no luck in getting these things…that's painful, more painful than if we never bothered at all, and resigned ourselves to all the unwanted in our life, thinking that is just how it is.
Here's the thing. There really isn't too much to the law of attraction…what we focus on expands, and our predominant thoughts, feelings and beliefs, determine the experiences that are drawn to us. So we are told to just think about what we want, and it will come.
Hmm….a bit more to it than this. How law of attraction works in theory, and how the manifesting process may play out in the 'real world,' can be quite different. We have lots of blocks in the form of limiting beliefs, fears and all that other good stuff.
There is a lot of misconceptions about what the law of attraction is, and that certainly messes with our manifesting.  When you think about the actual process of manifestation, and all that gets orchestrated to bring you 'stuff,' it is pretty complex, and I don't think we can fully understand it. I would highly suggest making peace with that…it will take you very far in this journey, trust me on that one.
Between how manifesting in the 'real world' can differ from theory, and our mind's interference, I have found that it is not uncommon to struggle, so don't worry. You're not stupid or incapable of changing your life.
Because I have seen so many great changes since more consciously working with my energy, I am very passionate about helping others do the same, and that is why the law of attraction is the focus of my blog and coaching practice. And on that note, I would like to share a few thoughts on common issues that can mess with your manifesting.
Thinking the Law of Attraction Is Some Sort of Tool
The Secret was awesome in that it really brought LOA 'mainstream' if you will. But because many people had not been aware of this Universal law, it was easy to get the impression that the law of attraction was some sort of 'tool' that could be utilized like some sort of magic wand to change your life. People always lament how the law of attraction isn't 'working' for them.
But it isn't something that 'works' or 'doesn't work.' It just is. You can't do anything to make it 'work.' It isn't about anything you are really 'doing.' It is all about what you are 'being.'
It isn't like there are two options—live a life at the mercy of outside forces, and have no control, or 'use' the law of attraction. You have to remember you have been creating this whole time, but before, you were not doing it consciously and deliberately.
Learning about the law of attraction helps you do it more consciously and deliberately. And in order to do that, we usually have to do some work on ourselves, to make us a better match, to all the things on which we have set our sights.
You're Ignoring Negative Emotion
With all the focus on positivity, it is easy to get the impression that negative emotion must be stuffed down into the depths of your being, never to see the light of day again, lest you are totally screwed, and will never get what you want, because you are a 'negative' person.
Yes, the more positive we can be, and I mean truly positive, not just pretending, the more easily things can come to us. That state of positivity is oozing with trust and all sorts of warm, fuzzy feelings, that will lead to all sorts of great things coming to you, that mirror those feelings right back to you.
But, if you have negative emotion, you have to deal with it. You can't be afraid of it. The only way to truly transform it, is to dive in, and deal with it. You can't go from being riddled with fear, anger, resentment and all that other yuck, to just all of a sudden being super-happy. In theory that is totally possible, but for most of us, there will be some steps in between.
You may not be able to just get 'all happy' after having suffered in various ways for so long. Getting law of attraction in theory usually won't be enough to allow you to totally just release your negative beliefs, and adopt their polar opposites whole-heatedly.
So if you have been struggling, you have to honestly ask yourself if there is emotion you haven't been dealing with, if you are not feeling as great as you claim.
Remember there is a big difference between generating negative emotion by turning your attention towards things that trigger it, and dealing with it when it is already there. Our emotions are very valuable in that they tell us where we are focusing, and as such, can help us work through any blocks, that may be preventing the changes we want to see.
You Worry Feeling Better Now will Cancel Your 'Order'
When it comes to your mind fighting you on this whole law of attraction thing, this is one area where it can really dig in its heels.
Since the law of attraction states you can only receive that which you are match to now energetically, we come to discover the importance of feeling good (or at least better) now, feeling like we would feel if we had what we wanted, appreciating the good in our life now so we can draw more of it to us, etc…
But, because there is a part of us that believes the feelings of 'wanting' and 'needing' something are somehow what brings it to us, we have a hard time of letting go of these feelings. We worry that if we feel like we no longer 'want' something, it won't come.
We may worry the Universe is peeking in on us feeling all better, even in the absence of our much-desired 'stuff,' and  will conclude we must not want it anymore. I think this tendency, in large part, stems from the belief that some powerful force is standing watch over all of us, and deciding what we can and can't have, and if we make our desires known strongly enough, it will throw us a bone eventually.
But that isn't how it works. The process of attraction is mechanical…input and output. The Universe isn't making any sort of evaluation on anything or judging. It's not your momma deciding what's best for you, etc… When I use the term 'Universe' I have no intention of humanizing it in any way.
I don't think we have adequate language to really discuss phenomena such as this. But anyway… don't be afraid to feel happier now, worrying that will 'cancel' the order. The higher you are vibing now, the more stuff you will get that reflects this higher vibration back to you.
Too Much Focus on Thoughts and Not Enough on Feeling
Our thought isn't really what creates our reality… it goes a lot deeper than that.
Just thinking about things doesn't mean those exact things will happen. Think of all the stuff in your life that has happened, wanted and unwanted, that never crossed your mind previously.
Sure, thinking about what we want specifically in a positive way, gives our mind something on which to focus. Our conscious mind is thinking all day, and it behooves us to direct those thoughts as best we can.
Many people think the law of attraction states you can just think about something and bam, there it is. That can happen a lot, but again, we have a lot of resistance to work through.
It doesn't matter how many intentions you have stated, it doesn't matter how much you think about something, if you don't feel like it is truly possible, if you don't truly feel the feelings that lie behind what you want now, these things can't come.
It doesn't matter how many 'tools' you use to direct your focus, if said focus is not generating genuine positive emotion. Remember that things like affirmations are just tools to help shift energy, they can't make anything happen for you.
So again, you have to evaluate how you have been feeling.
How are you actually feeling in regards to your desired manifestations?
You Don't Realize What You are Really After
No matter what you want to attract, you are after a feeling. We all want to feel happy.
Whatever it is you want, you want it because you think it will make you feel a certain way. Your mind has translated that energy into specific things, and as such, it is very insistent these are the exact things you want.
And in certain cases, the argument is particularly compelling… money, relationships and wanting to get married so you can start having children, for example. But again, no matter how specific a desire, and how unlikely it seems there is no real 'substitute', you are still after the feeling. There are no exceptions there.
And the more insistent we are on the specifics of our manifestation, the more we block it. Because it is really hard to feel better now when we are convinced that we must have this thing to be happy. We are very insistent on exactly what has to manifest for us to feel like we have gotten what we wanted. We can't cede control in any real way.
But, when you realize, it is the feeling you are after, you find you can produce those feelings in lots of different ways.
You realize there are lots of things you can do to help cultivate those feelings now. And again, the Universe will deliver all sorts of things that match these feelings. In many cases, it will be the exact thing you want, and in many cases, it will be something even better.
Again, doesn't matter how specific the manifestation… you want feelings.
Find a way to feel them now.
Release on the idea that the things you want now are the exact things you want, and the only way you can be happy.
Unwillingness to Feel Better Now
Again, your mind likes to put up a fight with many of the aspects involved in this whole conscious creation process.
It feels very justified in pointing out all that is unwanted, and then focusing your attention on that.
That stuff isn't good, and you are supposed to sit there and feel badly about it.
I get it…
It's understandable to feel unhappy because things aren't to your liking. There are things we prefer and don't prefer. That sense of contrast helps us decide what we would personally like to see more of in our experience, and from there, we can begin the process of allowing it into our life.
You may not feel great all the time. Feeling good just for the sake of it, is not easy. I won't lie. You don't have to be perfect at it. We all have our moments of being fed up, feeling sorry for ourselves and what have you.
But if you want to create your reality more deliberately, you don't have a choice in the matter when it comes to the willingness to feel better now, no matter what is happening.
The Universe can't defy your vibration, and bring you what you want because you want it, are a good person or are trying really hard.
I don't mean that so sound harsh…
It is just a reality that you must contend with when it comes to conscious creation. You can have whatever you want… you are worthy and deserving of it all.
But in order to let in the most awesome versions of things, and to have a less 'random' experience where you let in a whole mix of things, you have to be willing to feel better now.
That higher vibe will make you a match for all sorts of great inspirations, ideas, encounters and opportunities that will move you from where you are now to where you would rather be.
I hope you enjoyed this post and thank you Sylviane for allowing me to present it here.
Happy manifesting!
Please, leave your thoughts down below.