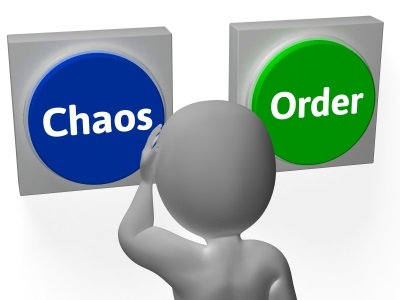 I've never been the queen of good organization in my actions.  I can accomplish things and get them done rather fast, but I can't say that I'm very well organized.
However, I do realize that I have to, in order to accomplish my goals these days.
What about you? Could you use a little more organization? If yes, then read on…
Why do we Need to be Organized?
Organization can increase your productivity by a lot. It can even make the difference between being successful and not being successful. So, needless to say, organization is vital.
But what could prevent you from being organized?
Please, understand that I'm not talking about organizing your house here, I'm talking having a serious organized plan for what you need to accomplish to improve your life form where you are at now.
Organization is an extremely important factor to accomplish great things (that could be a quote).
You may call it plan of action, goal, step by step; it doesn't matter what you call it.  It comes down to organizing things to be able to improve and progress.  I found that a large part of lack of success for many people – when you investigative them a bit closer – is lack of organization.
Right now, I'm working on this item with a client, so I thought that a post about the need to be organized was really apropos.
Success Takes Organization, Will and Work
I mean as much as I believe in the law of attraction, most of us were not necessarily programmed to attract success automatically.  We do have to work it, so to speak.
Now when I say work, I don't mean that you have to sweat it either, but what you have to do is take the right decisions and the right course of action and apply them.  Doing this takes organization.  It takes being organized both in your mind and in the steps that you're taking to get from point A to point B.
One thing I was able to observe though is that you can't be physically organized if you're not organized in your head. In other words, organization is an inside job, like so many other things pertaining to a human being.
Have you ever heard that people who keep their living areas messy are messy in their heads?  That's probably because it's true.  If your office, apartment or house is messy, it certainly means that there is some level of disorder in your head.  Your organization, or the lack of it can only come from your brain.
On a more alarming level, people who are hoarders have deep mental and emotional problems that translate physically into hoarding.
Bottom line is that what you see is never the cause of the problem, but the result of a problem.  A lack of organization to achieve a given goal could be caused by some deep down issues, but what are they and how can you get rid of them?
Causes that Can Create Lack of Organization
At an individual level, there could be many different things that create your lack of organization, and that can be determined exactly only if you had a one on one consultation with a coach or expert, but as a general rule, issues that create lack of organization are the following.
Self-sabotage
Fear of success
Depression
Procrastination
Lack of motivation
Emotional pain
Those are the main roots of lack of organization that could lead you to fail or miss on opportunities that could otherwise lead you to success.  However, those causes are not the real root of the problem; there are just causes which that we will explain in more details.
Self Sabotage comes from a deep-rooted issue that makes you take the wrong turn at every corner.  I have a fresh example of someone who was a living example of self sabotage.  His whole life story was screaming self-sabotage.  I can't remember one instance when this person made the right choice in his life when he was presented with two choices.
The good thing, though, is that he finally got to realize this and understood that he had a deep down problem that he needed to attend.
The reason why self-sabotage is so hard to deal with it's that it's a subconscious programming matter/issue.  As long as it remains there, the self-sabotage will keep on happening.
Self-sabotage can be responsible for your lack of organization.
Fear of success is the sister of self-sabotage.  It pretty much does the same bad job that self-sabotage does.
You may be under the illusion that you are searching for success, but there is an underlining fear of success that you know would change your life as you know it.  This makes you feel very uncomfortable, procrastinate and lack organization that would otherwise greatly help you.
This is also an issue happening at the subconscious level for the most part. But unfortunately, many people suffering from fear of success are not aware of it.
Depression is, of course, a huge hindered for anything, but it's a direct enemy of success and will prevent you to create any kind of organization.
I have myself dealt with depression for a few years, and while some people wanted me to believe that it was due to some type of hormonal imbalance, I always knew that it had more to do with the unwanted things in my life.  When I removed those things, the depression went away. No need for pills.
Whatever type of depression you may be suffering from will most likely prevent you from organizing and planning for success.
Procrastination is a killer for organization.  To organize means to take action steps and follow through on them.  The problem is that if you procrastinate you won't go far with organizing things.  Procrastination is also usually rooted deep down in your subconscious mind.
We all procrastinate to a degree, but if the procrastination is very serious, there's going to be some deeper issues to fix.
Lack of motivation could be a momentary problem due to grief or illness, but it could also become a chronic issue due to deep-rooted problems such as chronic depression. Lack of motivation can also be early signs of mental diseases such as Alzheimer.
If you feel that your motivation is dwindling away long term, you need to look for the root of the problem.  This at times can be serious. Lack of motivation will cause lack of organization.
Emotional pain is something that I'm personally very familiar with.  Emotional pain can be linked to a situation that is beyond your control and that may affect you more or less, depending on your mental and emotional strength.
Either way, emotional pain can be a cause for lack of organization.
5 Step to Overcome the Hurdles and become more Organized
First of all, if you suffer strongly from any of the above issues, you should consult with a coach or therapist professional that could help you to go to the real roots of the problem, in order for you to heal.
If you feel that you only suffer lightly with one or more of them, but can handle it on your own, you could try the following …
1– Take a white sheet of paper (or not book) and write down what you want to accomplish or finish. It could be in your business or personal life.
2- Take a second sheet of paper and write few loose sentences of the steps you need to take to get to your goal or goals.
3- On the third sheet of paper take each step and write down daily, weekly and monthly actions you need to take for each one of them. Do this for each step on each item. One page per item.
4- Keep those sheets of paper (or notebook) by yourself at all time as much as possible, in order to look to look them up often.
5- Each evening, check your lists to see if you have accomplished each step as you should. If not, make it a MUST do before you retired for the day.
These steps will be your organization cheat sheets.  The more you'll stick to what you wrote down (and you can also modify it as you go) the more organized you will become.
As you do this, I suggest that you use some brainwave entertainment devices as I mentioned in my last post (Go read it now if you haven't yet).  As a matter of fact, it could really speed things up for you.
I hope you enjoyed this. Your turn now.  Let me know what you think below in the comments.
Photo credits: Digital Photos
Sylviane Nuccio