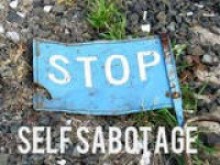 Don't you find it interesting that we, as human, are the only species that sabotage our own wellbeing? The most known form of sabotage is procrastination, but there are other forms of self sabotage that prevent us from succeeding.
People who sabotage themselves do it for the most part subconsciously and they are usually showing a pattern.  For example, there is that over-weight guy who always gets all his weight back, even though he managed to lose over 50 pounds.  There is that woman who always ends up with a violent partner even though she had sworn she would never do it again.  Then, there is that person who always managed to have their money disappear even though they did well for a while and accumulate a good saving.
Why are we Sabotaging Ourselves?
There are several reasons why we may be sabotaging ourselves – most of them are coming from our deep down beliefs.  Recently a marketer friend of mind was telling me over a blog comment reply about someone she knew who willingly refused an incredibly great offer to make more money as her own boss at home doing the same thing she was doing for a boss for less money.  Why was that woman saying that she couldn't do it? Because she said that she was totally incapable to discipline herself and would go to the beach instead of working.
Because of her lack of discipline she had to take less pay, more stress, less time doing what she liked and less quality time with her family.  I would say that this is sabotage on steroids.  This type of sabotage comes from some deep down beliefs that are no longer conscious, but 100% subconscious.  If this woman was one of my clients I would treat her as someone with very low self-esteem and lack of self confidence.
The two biggest reasons why we procrastinate and sabotage ourselves are low self esteem and lack of self confidence.  This is why we need to arm ourselves with three important shields that will protect us from harmful strong emotions that sabotage our results.
Shield #1 Against Sabotage – Having a Plan
I'm sure you've heard the phrase "if you fail to plan, you plan to fail".  This phrase is very popular because it's so very true.  Failing to plan is like letting your boat out to the waves without a stirring wheel.  You don't want your life to be abandoned to the unsecure waves of life, do you?  When you are at sea on a boat, whether you are the captain of that boat or not, you want to be sure that the boat is driven, not abandoned to the waves.
This is why you must have a plan, also known as a goal that will drive you through the right path to get there.  The stronger your plan the less likely you will sabotage it unless your desire is not strong enough and needs a little help.  If this is the case, then you need…
Shield #2 Against Sabotage – A Support System
A support system can be a mastermind group, a mentor or a coach.  Whatever avenue you might choose to support your goal, the purpose is to keep yourself on the right track and help you SEE your goal and FOLLOW your plan no matter what.
Sometimes a boat has to go through storms.  Some are small and some are big, but whatever the storm may be, the goal of the captain of that boat is to get through it and keep on going until he reaches destination.  To go through the storm, the captain is usually not alone; he has a whole crew with him that is going to help him to make the boat comes out of that storm in one piece and reaches destination.  This is exactly what a support system will do for you.
Your mastermind group, your mentor, your coach or any other support system you may choose or have, will help you to keep your goal alive and follow your plan until you get where you want to be.
Such support system will help you find out the root of the problem if there is one.  most likely it will be found in your subconscious belief.
Shield #3 Against Sabotage – Your Belief
I know I put this so very important shield against sabotage last, but don't be fooled, this is the MOST important shield against sabotage you will ever have.  That lady, mentioned above, who refused a dream opportunity to work from home at her own pace with more money and less stress has a belief problem.  Yes, this kind of situation (if the person is sane) can only exist because of some defeating belief issues.
The problem with beliefs is that no one can get into your head and change your beliefs for you, but YOU and only you can take some steps to get into your own head and do this.  Granted, willpower alone will not be enough to change your beliefs.  There might be much more that needs to be done to change your beliefs.  This is an inside job.
Thankfully, there are so many tools that can help you to improve and change your beliefs that I couldn't name them all here.  Most of the tools that I use myself are available right here on this blog.  To name a few, you can read tutorials about beliefs.  You can use self-hypnosis, practice EFT (Emotional Freedom Technique), use vision boards, or use meditation materials.
No body is perfect, we are all a work in progress, but we can – if we take actions, get rid of our emotional baggage and stop self-sabotage.
What are  your thoughts on that? Are you self-sabotaging yourself? Have you found a way to stop self sabotage? Let us know in the comment area, down below!