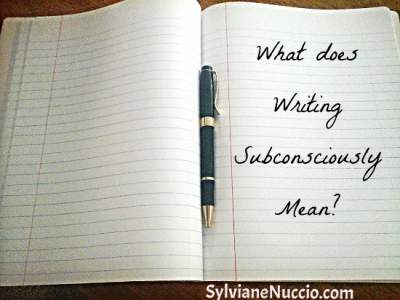 For some time now I've noticed that when I put my mind into writing about any topic, may that be personal development, blogging, writing, describing a French city, a dish or anything else I may have to write for a client, I just write as I think, effortlessly.
I do not stop in the middle. I just somewhat KNOW what I want to say automatically. The words flow to me until I reach the end of my article, no matter how long I need the article to be. It's like my mind is programmed for the length of that specific article.
Once I'm done, I usually leave my writing alone overnight, or at least for a few hours, and then I get back to it to edit anything that doesn't sound good enough, as well as any misspells or errors.  But I know that my most important piece is done and that's what counts.
For a long time – even though the subconscious mind is one of my favorite subjects – I didn't know that what happened when I wrote was my subconscious doing most of the work. This has been the very reason why I've been able to write so fast and easy.
Interestingly, not long ago, I was reading a blog post where the author was saying that by now he writes subconsciously, and what he was describing about his ability to write resembled to a T what I'm experiencing when I write. So, this gave me the idea to write about subconscious writing and how it can help YOU write better and faster.
How does Subconscious Writing Happen?
The best way to explain subconscious writing is by comparing it to driving.  Do you drive a car? Well, if you do, you might or might not know this, but you drive your car mostly subconsciously.
What does it mean? It means that you do not consciously turn on the ignition, press on the right pedals at the right time with your foot, stay on the right side of the road, or even get where you need to go, while you're consciously thinking about it all.  All of that is pretty much done on autopilot, and you can do it while you're thinking about something totally different that has nothing to do with driving.
The reason for this is because you're driving subconsciously.  As a matter of fact, if you had to drive one hundred percent consciously while thinking about anything else than the actual driving, you'd be heading for the nearest tree or wall and cash.
Do you remember the last time you drove consciously? It probably was the first time you got behind the wheel. Since you had never done it before, you had to be very conscious of every single step.  That's why it was slow and chaotic.
It really didn't come naturally then, did it?  It took some practice to pass on what you had learned consciously to your subconscious. But now that it's there, you drive without thinking of it. You just get in that car and drive.
The same can happen with writing.
Once you've practiced writing long enough, you can transfer that over to the faster and more efficient helper, which is your subconscious, and write like a machine.  This is how subconscious writing does happen. Just like for driving.
But before we talk about that, let's see what are the signs that tell you that you're not writing subconsciously.
What are the Signs that you're not Writing Subconsciously?
1 – You're unable to complete your thought
You start writing about a given subject, but you're unable to complete your thought. You stop after the third of fourth paragraph, and can't think of what else to write.
This is the first tell-tale sign that you're not writing subconsciously, and that's why it's so tough. Your ideas are not flowing, you stop in your track, and you want to give up right there.
2 – You stop every few minutes to check on what you've done so far
Do you stop driving every few minutes to look behind making sure you're doing OK thus far?
No, of course not.
Well, the same goes with writing. Do not stop on every paragraph to check on errors and misspellings, or anything else.  Keep going on your thoughts, and keep writing until you're done. Do not stop. This goes against the development of your subconscious writing.  You'll have plenty of time to do all the rewriting and error checking later, when your first draft is complete.
3 – You're correcting misspelling as you go
You can't possibly write subconsciously and doubting yourself so much that you have to spell check every so often. Actually this is also a sign of procrastination, but that an whole different subject of its own.
If you write on Word doc or any other writing program, most of the spelling errors will be corrected pretty much automatically anyway. Again, you'll have plenty of time to spell check what your program left off later when you're done with your first draft.
4 – You keep changing your theme
You start writing about something and change your mind, again and again. You can't seem to be able to stick to one subject and stick to it.
This is a huge sign that you have not been able to go from a conscious to a subconscious writing mode. If you do this, it actually means that your conscious is getting in the way, and you're not leaving any room for subconscious writing at all.
It's like thinking of every details you go through as you drive. It would be so hard to drive this way that you would have to stop and park the car. You wouldn't be able to go anywhere safely. You'd be stuck.
5 – Your main Idea Falls Short
You're thinking that you have a great idea to write about, but it falls short very quickly and you find yourself unable to complete your article. At first you thought you had something going on, but it's like you've ran out of gas mid-way.
This happens a lot when you're not writing subconsciously.
How To Develop Subconscious Writing
To answer this question I would want to ask YOU a question first; when did you develop subconscious driving? My guess is with practice.
The first few times we do something we almost always struggle because it's a conscious act, and our conscious mind is NEVER on autopilot. Our autopilot is our subconscious mind.  That's why habits work so well, because good or bad, they are actions that were once conscious, but passed on to our subconscious. We do them without thinking.
In the case of our example, as you kept on practicing driving you became less and less conscious of your every move, because your driving became more and more subconscious.
It's the same thing with writing.  The more you practice, the more you write on a daily basis, the more you're going to improve your subconscious writing. If you force yourself to write a certain amount of words each day, no matter what, you'll be developing the habit of writing.
On it becomes such an embedded habit in your mind, it does become a subconscious skill, just like driving, walking, or speaking. You'll never stop in your track for any reason again, and your writing speed and quality will keep improving.
When you write subconsciously, you never run out of idea to write about and when you get one it doesn't go away, it keeps going until you're done.
Here are few quick tips to develop subconscious writing
1 – Write when the idea is there
No matter where you go, try to have a pen and pad with you (or any note taking device) and write at least the main idea of your article when it comes to you. The longer you wait, the most likely the idea will go away.
2 – Resist the urge to stop
I know this on it's own is a practice, but when you start writing, resist the urge to stop for spell checking or errors or anything at all. Just write like you are on a mission.
3 – Practice writing every day
No matter how busy you are, practice writing each and every day. Do not wait to have an idea to write, just write anyway. If nothing comes up, just write about that. Don't let any excuse to prevent you from exercising your writing.
If you practice these 3 tips each and every day, your writing skills our bound to improve greatly and you subconscious writing mode will be improving each and every day.
So, how have you been doing so far? Are you letting your subconscious guide your writing, or are you consciously struggling to have the work done?
Please, do tell!