Here it's that time of the year, again!
What time is that? A time that happens every years around February or March, called Mardi Gras.
As I mentioned in my post last week about la Chandeleur, just about every festive occasion in France comes with food, and Mardi Gras is no different.
As a matter of fact, just the name tells you that there's going to be some food involved since Mardi Gras, as many of you already know, means Fat Tuesday.

This year Mardi Gras falls on February 12, but the date varies each year between February and March, because is always 47 days before Esther and Easter which also falls on different dates every year.
What is Mardi Gras?
Mardi Gras marks the last day of plenty before the long fast of old that lasted between from Ash Wednesday until Palm Sunday.  This is why on that day people celebrated with costumes and masks parties and food.  It's during such period that the bugne was born in Lyon.  Why do I say Lyon, because according to regions this French beignet changes names.
In the South of France it's called "oreillettes" and in the Paris area it's called "beignets". While the name and shape changes by regions, it's still the same recipe.
 Why do we make bugnes at Mardi Gras?
A very interesting thing and that touches me personally is that this type of beignets was actually was born in the same city I was born, yes, that's right, the bugne was born in Lyon, France what is now the second largest city of the country and nicknamed the capital of gastronomy.
According to history literature they found the oldest reference of the word "bugne" in the city of Lyon back in 1538 at the Hôtel-Dieu de Notre Dame de la Pitié du Pont-du-Rhône, which used to be a castle, then a hospital and soon will be transformed into a luxury hotel and a mall. This  happens to be the very hospital where my own brother was born.
It in this beautiful history building that a list for a banquet was found which include "bugnes" This banquet was made in the honor of a major Renaissance French writer named Francois Rabelais. The word bugne comes from the old French word "buigne" which meant "hump".
Where does Mardi Gras Meets Bugnes?
Even though Bugnes are now made and eaten during what it's the last day of plenty before the period of fasting, the bugne was actually born "during" the fasting by some Lyonnaises woman who where trying to make some time of food that was allowed during fasting. The only huge difference is that it was basically made of only flour, salt and water.  As  you will see in the receipe it contents much more good ingredients now.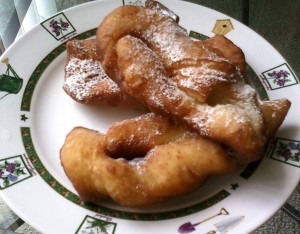 Bugne Recipe
Ingredients
300 g of Flour

30 g of sugar

2 coffee spoon of vanilla extract

4 eggs

120 g of butter
Preparation
Melt the butter on low heat. Mix all the ingredients together in a blow until you obtain a mixed dough. Work with your hand about 3 minutes. Form a ball and place your dough in a ball covered with a cooking cloth or plastic wrap and let sit in the fridge for about 2 hours.
After 2 hours take the dough out of the fridge.  Spread some flour on a clean kitchen counter and spread the dough with a rolling pin.  Than cut the shape of the bugnes as seen in the video and plunge them few at the time in hot vegetable oil.
Note: In Lyon We twist them before cooking, in the south they don't.