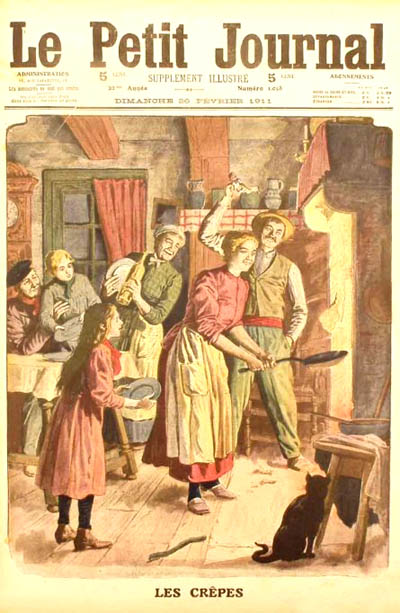 Like many traditions in France, la Chandeleur, a holiday celebrated on February 2nd has both pagan and religious backgrounds.
la Chandeleur is both a mixture of the  commemoration of "the light" and the presentation of Jesus to the temple.
The name ''Chandeleur" comes from "chandelles" which is the French word for "candles" representing light.
As all French traditions go it's also a good occasion to eat something.  in this case, Chandeleur is celebrated with crêpes.
For those of you who don't know, the crêpe is the French version of the pancake, but it's very thin and supposed to be filled and rolled or folded to be eaten. crêpe also has a finer taste to it than pancake.

It is also said that the crêpes being round represents the shape of the sun.  It's no coincidence that la Chandeleur happens to be at the time of the year where the day light is starting to increase noticeably.
It's also winter sowing season, and the excess flour was used to make those crêpes which were also a symbol of prosperity for the still new year.
My Crêpes Recipe
For me and this blog, la Chandeleur is also of course the perfect occasion to give you my crêpes recipe.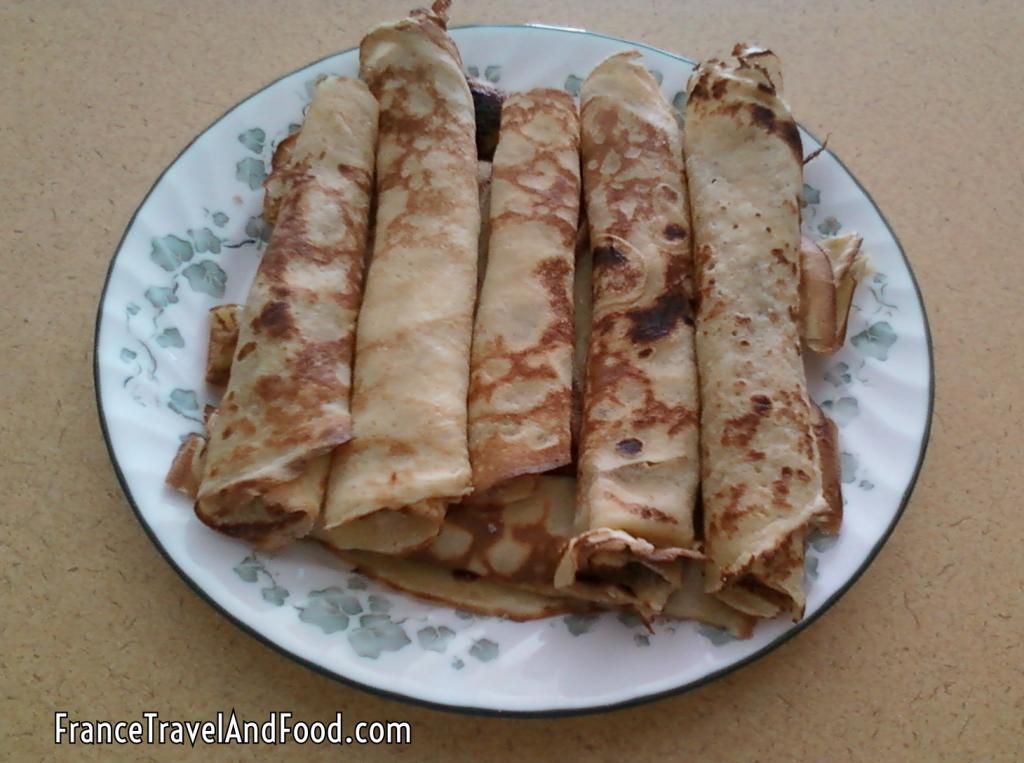 Ingredients
250g flour

4 eggs

Half a liter of milk (about two cups)

1 pinch of salt

50 grams of butter

50 grams of sugar

2 coffee spoon of vanilla extract

half a cup of rhum (rum) or beer (optional)
Melt the butter on very low heat. Mix the salt with the four. Heat up the milk lightly until warm.
Pour the flour into a large mixing bowl. Add the eggs, the sugar, and the butter as you stir vividly with a hand whisk or an electric one (I prefer using a hand whisk for crêpes myself).  Then, add the milk little by little as you stir.  Then, add rhum or beer or none as you wish. Rhum gives a very good taste to the crêpes, and beer makes them very light.
Then, let the mixture sit for about an hour at room temperature before making the crêpes.
See the video below for a step by step.
Once your crêpes are ready and cooled down a bit you can fill them with sugar, jam, honey, maple syrup, chocolate past such as Nutella, or what ever floats your boat. I also love them with nothing at all.
Hope you will enjoy your crêpes this coming up Chandeleur, tomorrow, February 2nd!
I hope you enjoyed…. Let me know in the comment area!