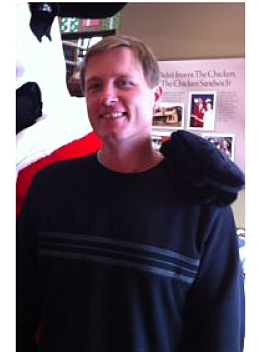 Today I have the pleasure to introduce you to Life Coach and Personal Development Blogger Justin Mazza.  It's been a while since I had an interview on this blog, so I thought this would be a good time to do this again while the year is still young.
So, without further ado, here is my interview guest.
I hope you enjoy!
Hi Justin, please, introduce yourself… Who are you and what do you do?
Hi Sylviane.  My name is Justin Mazza and I am a father, a husband, a life coach, as well as a personal growth blogger.
Personal growth is something I am committed to for the rest of my life. Once we stop growing in life we begin to atrophy, and none of us want that.
It seems to me that one of the biggest blocks we collectively face is distractions from our goals and desires. For example, the year of 2013 is going to be the year where I take my blog to an even higher level.
At the very beginning of this year I wrote down a list of goals that I wanted to achieve on a dry erase board so I could visually see them. Next, I created an action plan and have been following that plan right down to the finest details.
I find that writing down my intentions and having a plan of action works best for me.  In some instances I don't need to use this approach, but overall it is an effective strategy.
At one point did you start being interested in personal development?
I started my personal development journey back in 1997. I had just moved out of my Dad's house and began renting a studio apartment several miles away. I thought I was going to love being on my own, but I didn't  Having the extra bills and feeling alone, you could say I was feeling a bit depressed.
I had trouble sleeping one night so I decided to watch some television to occupy my mind. While flicking through the channels, I came across the QVC channel where Tony Robbins was promoting his Personal Power 2 audio program.
It was airing at the point in the program where people were calling in to express how well Personal Power 2 had worked for them. I was intrigued to say the least because I had some areas in my life back then that I felt I needed to work on.
So, I ordered the program, which was $195 back in 1997, and I eagerly awaited its arrival. Once it arrived to my apartment I opened it up and listened to it every day for 30 days.
The program really helped me to take action in my life, and as a result, a month later I bought my first home at the age of 23.
For those who don't know you, can you tell us what topics you write about?
In the beginning stages of my blog I primarily wrote about personal development topics.  Being an avid reader I was knowledgeable in a lot of areas so I started incorporating them into my blog.
I enjoy writing about spiritual matters like acceptance and forgiveness, metaphysical topics like the nature of reality, and the law of attraction, and also paranormal topics and health matters.
Going forward with my blog I am focusing on the theme of conscious evolution. Conscious evolution is a worldview that we raise the consciousness of the planet by participating in our own spiritual growth.
With conscious evolution we can literally change the world by changing ourselves first.
Where did you first hear of the Law of Attraction?
I heard about the Law of Attraction while searching through the Metaphysical section of Barnes and Noble. I have been an avid reader for the better part of a decade and I have read more than 700 non-fiction books.
I consider Abraham-Hicks and Dr. Robert Anthony to be the two best sources for learning and mastering the Law of Attraction. There are a lot of good blogs that cover LOA as well.
As a life coach, what is the first advice you give people who seek your help?
I cannot do the work for you. I am here as an advisor, as someone who will pull you to the next level. Most people know what they need to do with their life; the problem is they often lack the courage and or have a plan to take the necessary steps, and that is where I come in.
I look at anyone who wants my help as a friend in need of some support and not as just a client or money. I truly believe when we help another in any way we can, to the best of our ability, we our ultimately helping ourselves and raising the consciousness of the planet.
That is the reason why I blog and why I love coaching my friends to the next level.
You've probably heard the question; "What would you do if you didn't need money?" I would be doing exactly what I am doing now because I feel it is the best place for me to contribute to our World.
Do you think everyone should have a success/life coach?
Absolutely. I hired several personal coaches in 2005 and they totally helped me to get myself aligned with my personal goals. Every successful athlete and business person hires a coach to take the pressure off their minds so they can stay focused on their goals.
Trying to "go it alone" seldom works these days because most people's lives are so inundated with responsibilities that it becomes easy to "get off track." That is where I come in to help people stay on track so they can stay focused and aligned with their goals, dreams and desires.
Do you encounter people you can't help, and if yes, who are they?
People who don't want to take control of their lives and people who freely give their power away to their problems. We have to want to change our unconscious habits and the best way to do this is by changing the way we feel about change.
Life is in a perpetual state of change and so we need to be able to change with it. Nothing is static in our world and the last place we need to be static is in our thinking about change.
What are the most frequent questions people ask you?
Generally speaking, the biggest problem people have is with making new changes in their lives. As you know, the subconscious mind does not like change very much, and because of that internal resistance, most people don't have what it takes to make changes in their lives so they stay stuck in their current life patterns.
The only way to become "unstuck" is by allowing yourself to be vulnerable just for a short time to allow yourself to make the needed changes in your life. It's not dangerous to make changes, but the subconscious mind is feeling based, so anytime you even think about making a change, strong feelings will be present within you.
The strong feelings will eventually go away as you adjust to your new way of life.
How did you come up with your blog's name?
Great question Sylviane. When I started my blog I wanted to come up with a name that was in line with my niche. What I found out after searching a dozen or so domain name ideas were that they were already taken.
I didn't want to spend any more time searching for a domain name so I decided to use the name of my email address at the time; which was Mazzastick. My Dad's side of my family is from Sicily, and the name Mazza means something like stick, club, hammer; something to hit with.
I often wonder when someone visits my blog what they think of the name.
Do you have a regular schedule to post on your blog, and if yes when is it?
I've written on average about two to three posts a week for two years, even though the schedule does vary at times. I believe being consistent is a big part of blogging success. Ideally, I would write a new post every day, but I am not at that level yet
Where can my readers find you if they want to visit you?
My Conscious Evolution blog is at Mazzastick.com. I encourage you readers to sign up for my newsletter and get a free copy of my latest eBook: The Personal Growth Handbook.
Thank you for those great answers, Justin and I hope everyone reading this enjoyed it. I know I did. Please, leave your comments and feedbacks below.