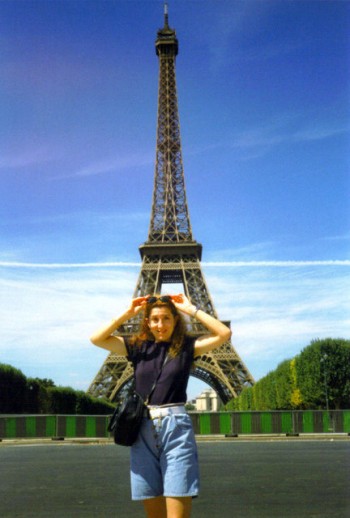 Recently I landed on Annie Andre's blog, which she created around the theme of living abroad.   I was really interested in checking her out because she chose to live abroad in France. And as some of you know, I chose to move abroad in the US from France.
Annie and her family have decided to live in Marseille, France, and on one of her most recent posts she mentioned a bunch of traveling blogs which are part of a challenge.  If you like traveling, adventures, and read about it, I suggest that you check them all out.
But before you do, however, let me tell you about my moving abroad and some of the things I've learned from it.  Thanks to Annie I came up with this idea for this post, and she accepted my invitation for an interview about her moving abroad story.  So, make sure you stay tuned as I plan to have this interview with Annie on my next post next Friday!

Moving Abroad Opens Your Eyes
When you move abroad the best thing that happens is that it opens your eyes to other cultures, languages, customs, and ways of life.  While living in the United States for over 15 years now,  I've learned a lot about not only the American culture, which I didn't know back then, but also, the South American culture, especially Mexican, Korean, Japanese, Russian and Greek cultures.
What Brought Me Aboard?
I was born in Lyon and grew up in a small village right outside of it.  When I was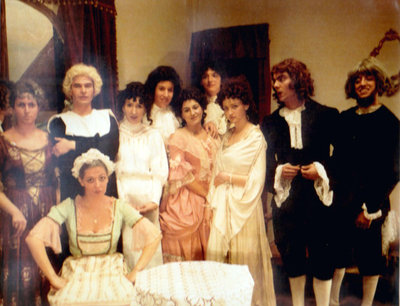 21 I moved to Paris where I lived for 5 years.  I moved to Paris for the purpose of my occupation back then, the theater.  Very few people who know me today know this , but I have been in several plays in Lyon and Paris.  I did one commercial and I had a part as a cameo in two movies.  While doing this, I had the pleasure and privilege to work with few famous French actors from both the movie and theater worlds. I worked closely with Michel Galabru and Bernadette Lafont and I met big movie stars such as Jean-Paul Belmondo and Catherine Deneuve among others.
So, the theater is what brought me to the United States in the mid 1990's to try my acting in the Big Apple.  And also I was fed up with France back then.  In New York I belonged to what is called an Off Off Broadway theater (no, it's not a typo) which specialized in French plays in French version.  There I worked with Marcel Luidgi a French-American bilingual director from whom I learned a lot.  Later on I belonged to a small company theater working in New Jersey where I had my first big role in the English language in Barefoot in the Park.  My partner playing my husband was a Jewish actor from Brooklyn, NY.  Now,  when could I have done that if I'd stay in France?
While this was all fun and wonderful, it didn't last.  However, what did last were my adventures in the United States.
The Challenges of Living Abroad
The one think anyone who has moved abroad had to face in one way or another is becoming legal in the country they moved or are moving to.  I came to the US with a student visa and when that expired I had to find a way to get that famous "green card" which is not green anymore for at least 25 years, but the name stuck.
There are basically only two ways to become a legal alien resident in the US.  One is being sponsored by an employer, and the other is getting married to an American citizen.  In my case, it was a little bit of both, I was engaged to someone who was sponsored by his boss, and thus I was allowed to apply with my soon to be husband.
That's how I became a legal permanent resident of the United States.  What you need to know about being a permanent resident is that you can't live outside of the US for more than 6 months at a time or you will lose your green card.  A green card is a privilege, not a right.  So, the next best thing to do once you have a green card is make sure you don't get lost too long back home.
From Legal Resident to Citizen
After 5 years as an alien resident you can apply for citizenship.  In order to apply for citizenship you can either hire a lawyer, or do it on your own.  It's really easy to do.  You will have to fill out some paper work answering very specific questions and learn some basic American history facts.  There are 120 questions that you need to learn the answers to.  Don't worry if you forget them later on, most American citizens don't know the answer to all those questions either.  At the citizenship exam you will be asked only 3 to 5 of those questions, the only problem is you don't know which ones in advance.
So, basically to be able to become a United State Citizen you need to:
Be a permanent resident for five years
Be able to speak English
Learn the answers of the 120 US history and facts questions
Fill out all the paper work
Pay for the fee which is now around $300 without a lawyer (If you hire a lawyer for the job, you need to add $500-$1000 dollars for legal fees) depending on the lawyer.
Luckily, when I did my own paper work for my citizenship application I was working for an immigration law firm, so I did my own legal work and handed the papers for my boss to sign.  He gave me his signature for free.
Will You Lose Your Citizenship of Origin?
When you become an American citizen, depending on the country that you come from you might lose your citizenship of origin.  In my case, I have now dual citizenship and carry my two passports when I travel to Europe.  The reason being that it is not to my advantage at all to show my American passport in France.  Having a dual citizenship is very practical and I love it.
The reason why I never lost my French citizenship is that France doesn't care what you've become.  If you are born in France, you are French forever in the eyes of the law.  Which in my book it's a very good thing, because as much as I wanted to live here,  I never wanted to lose my citizenship of origin.  No matter what I do, it's still and always will be part of me.  Have you ever heard the saying "you can take the man out of the country, but you can't take the country out of the man"? I can assure  you that it's very true.
So, what about you? Have you ever lived abroad? Would you like to do it? Would you just want to know what it's like while you're staying at home? If so, stay tuned for next week's post and found out what it's like for buddy blogger Annie Andre to live abroad in France.  In the meantime, let us know what you think of this in the comment area.