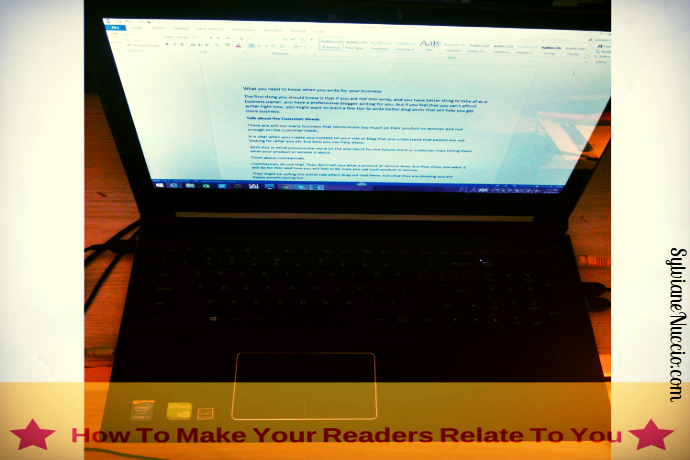 Writing is the action of thinking they say.
But what if your thoughts are all over the place?
Then your writing might not be as good as it could be.
If you have a business and writing is really not your thing, there is hope. You could hire someone to write for you, and never worry about all this writing business thing again.
That's what many businesses are doing right now.
But if you feel that you can't afford such service yet, then you might want to learn a few tricks to spice up the way you communicate with your readers on your blog.
Since your readers may turn into potential customers, you don't want to miss out on that, do you?
Even if you don't want to spend money for the content that goes on your blog, don't waste your time and energy by writing in a way that doesn't interest anyone.
This post is going to be your quick mini guide to create content that sparkle interest, so your time will be well spent right from the get go.
Talk about the Customer's Needs
There are still many businesses that concentrate too much on their product or service features rather than the customer's needs.
It's vital when you create your content on your site or blog that you understand that people are not looking for what you do, but how you can help them.
With this in mind, concentrate more on the end result experience of the future client or customer that's visiting your blog, rather than telling them what your product or service is about.
When was the last time you've seen a commercial on TV?
Commercials do just that.
They don't tell you what a product or service does or what's in it, but they show you what it will do for YOU and how you will feel once you use such product or service.
They might be selling the worse side effect drug out that there, but what they are showing you are happy people having fun. Regardless of the potential side effects.
They are showing you the rewards you will get once your pain is gone.
Now, I'm not asking you to be fooling your potential customers like commercials often do, but I'm telling you to use their marketing concept because it works. It's the best marketing concept there is.
Those who create those commercials understand that it's not about the product they are trying to sell, but about what it can do for the potential buyer.
This is the first thing you need to keep in mind when you blog for your business.
Relate to your Customer
Then, you need to just a little step further.
I believe that if you can relate to your potential customer, you can grow the most successful business ever. Because people are attracted by whomever it is that can relate to them, and understands their problems or pains.
What does it take to do that?
It takes to go back to human feelings rather than American Corp ion hand without heart type behavior.
If people can feel that there is a true human being that seems to truly understand them, behind the business, they will flock to you because there are so many business owners that have not understood that yet.
The way you relate to you customer is by creating a list of what your ideal customer is looking for, and what would be the type of message that they would totally relate to.
Think about what makes YOU relate to something you may read online.
What resonates with you?
There ins't really a step by step I can give you to do this. This needs to come from you.
Let the business man or woman aside for a while and let the human being transpire into your business.
Develop a Conversational Tone in your Writing
In order for the two points above to work well, you need to develop that entertaining conversational tone in your writing.
The more matter of fact you will sound, the less interested people will be in what you have to say.
No matter what you're trying to convey to them.
The more you'll personalize your writing style, adopting a conversational tone, the more your potential customer will relate to you and what you have to say.
Don't lull your readers to sleep with long boring sentences. Always use short easy to read sentences within short easy to read paragraphs.
This is a useful rule of them to use.
Remember that it's all about how you say it.
To give some spice to your content, you can use some creative tricks that good writers use all the time.
But the good new is that you don't have to be a "good writer" to use them anyway.
Use Stories and Anecdotes
Very few things will help your readers/potential customers to relate to you better, than an appropriate story or anecdote.
I am sure that you have some sensational true stories that you could incorporate to you writing.
A story could be an excellent ice breaker and make people feel that you are truly human, and that you do truly understand what their problem is and and able to help them to solve it.
Use a Language that Establish a Bond Between you and your Reader
Have you ever noticed the structure of a press release?
In press releases we use the expressions like; Company X does this and that… That's a unique press release structure which has its own purpose, but you do not want to sound like that at all in your blog post.
The best word you should always use in a blog post is YOU.
Don't' say, Company X, or use sentences such as;  one would have thought that this was better this way, but rather say; you would have thought that this was better this way.
In short, words like you, me, or we establish a bond between the writer and the reader.
While words like one, they, people or company (name) do not.
Use too many of those bland words and you'll lose the reader faster than you can say 1,2,3.
Use as many as possible of bond words and you've got a winner.
Writing is a very subtle art and just like too much or not enough salt can ruin a dish, too much or not enough of the right words can ruin your article.
Use vivid words
In order for you to fully understand what a vivid word is, you may need some examples of their opposite.
Opposites of vivid words are bland words that don't really do anything for your writing except filling up space.
I'm not going to give you a lengthy list here, just a few words to give you an idea.
Nice
Great
Good
Effective
Bad
Ultimate
Useful
Those words are over used and useless for the most part, because they are very general and don't express anything specific.
More vivid words could be:
Indispensable
Entertaining
Powerful
Tasteful
Inspiring
Admirable
Spicy
The more you write, and the more you read, the more you'll be able to spot a weak word, and replace it by a stronger one as much as possible.
Edit and Refine
Editing is as important as the writing, but editing should never get in the way of writing because they are two different things.
When you're writing your first draft, you're expressing an idea. It's your creative phase.
When you're editing, you are refining your story, making sure you are sending your message in the clearest and most powerful way.
Once you've edited once or twice, you should do another couple rounds to refine your piece, until it sounds close to perfect.
To make sure that you take full advantage of your editing phase, you should sleep on it.
There's nothing like editing the next morning with fresh eyes, because that's when you'll be able to catch all those little imperfections that need to go.
Make sure that you edit, refine and polish your article the best you can because that article will be out there forever.
That article is what will represent your business and what you do for the customer.
That article will be a tool that's going to help your potential customer relate to you.
Your turn now…
Give us your feedback and input down below…