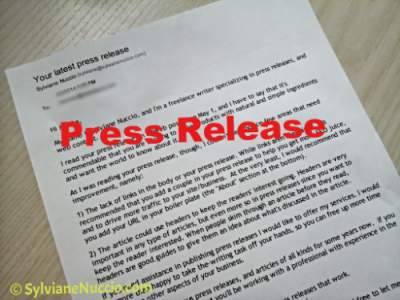 Recently I've been browsing through releases with a very specific goal in mind. What goal? Finding badly written (or not so well written) press releases to pitch their owners about my writing services.
The way I do it is by sending them a nicely detailed email that explain to them how they could make their press release much better, and by offering them my service to do it for them if they wish to hire someone.
This is a great approach I've learned about to get clients, because those people/companies don't have money issues and some will be more than willing to pay someone, who they can tell, knows about writing a press release.
While some press release sites have a free service, the companies I'm pitching do not use free accounts. Those guys know that in order to take full benefits from a press release, you need to have a paid account that offers all the bells and whistles, so your press release can be found by many more potential customers and bring you considerable revenue.
Some companies will actually pay quite a bit of money to release their business news, so my guess is that they don't want to waste that money with a badly written press release.
Answers to Some Basis Press Release Questions
I do receive questions about press releases on a regular basis, so even though I've already written a post about how to write a good press release, I thought it was time to do it again a little differently while adding some info about press release sites and what they can do for you.
In this post I am going to name a handful of press release sites by detailing what they offer to you and your business as well as giving you a few tips to write press releases that will get read. Now if you have a comfortable enough budget to pay for your press release, you may want to hire someone like me to write it for you. I promise you won't regret it!
But to start, here are some tips to help you write a good press release.
Why would I give you tips if I'm promoting my services to write it for you, you might ask?
Because, I know for a fact that it's not because I'll give you tips that, a) you'll want to do it yourself, b) that you'll be doing it right, anyway, and c) this blog's goal is to help the reader, which never prevented potential clients to reach out to me anyway.
So, now that you know, let's see few quick tips to help you write better press releases.
The Basics Important Points of the Press Release
Why is it that important to write good press release? Well, because a press release that is well constructed can generate thousands to million dollars in revenue. I'm not saying this, expert do.  Because of that fact, companies have no problem paying $150 to $200 for a simple 400 -500 word press release (based upon my free estimate).  Which by the way, may increase, in the near future.
What is a press release, exactly?
A press release is different than a typical article or blog post. A press release is more like a statement about your company or service that is prepared for distribution to the news media, so it's written in the news content form, and it needs to include the following details…
The Headline
Which is the very first line of text of your valuable press release. In a press release, the headline is super important and should even be written in a journalist style such as the eye catching newspaper headlines.
Usually 80 to 100 characters is ideal with the proper first letter of each word capitalized. It's well worth it to spend some extra time to think about a very catchy headline, not only to catch the usually reader's eye, but journalists, because when your press release catches the eye of a journalist, that a good promise of an incredible income.
Summary
The summary of your press release should be a resume of the whole press release with a strong highlight about your product or service. It should be the next best attention grabbing piece of your release after the headline.  The summary should ideally be a 4-5 line paragraph.
The Dateline
In some press releases, this may be added automatically, so based on what press release platform you're using you may or may not have to add this manually. But if you do, just known that the dateline should contain: City, State, Day, Month, Year (in this order), and the most important information/name you want to release. All total between 15-25 words.
The Body
The body of your press release is where you want to include the typical who, what, where and why of your business. The more skilled you will be at describing those the more attractive your press release will be.  This is the most important piece of your release (the plat de consistence) after the reader has decided to read on beyond the headline and summary.
A good press release body length should be 400-600 words maximum. Keep in mind that press releases are no articles or blog posts and it's not recommended to write long running press releases.
Another big difference is that they need to be written in the third person.  For example, instead of using we, us and our, you need to be using they, them and theirs.
The boilerplate
The boilerplate or (about) section, what is called the "resource box" in article marketing is where you are going to provide your background information, about your company, service or organization, and service details. The boilerplate is also a good place to add the URL of your company which I see many people not doing.
Contact Information
The contact information section is where you include your name, title, company name, telephone number, email and website. This is the place where, you obviously don't want to have a Gmail or Yahoo email address as it would take your credibility away.
5 Good Press Releases Worth Checking Out
PRLog
PRLog is a press release that allows you to post your press release for free and advertise it on your own if you don't want to spend extra money. However, they are in partnership with Newswire where they will promote your release for about $350 per release which include a premium distribution.
PRWeb
This is not a free site they have 5 different packages: Basic at $99 per release. Standard at $159 per release. Advance at $249 per release. Premium at $359 per release. And Financial at $499 per release.
Most people publishing there are medium to large companies, but anyone can.
PRLeap
This not a free site either, but more affordable than PRWeb.  They also have a standard plan starting at $99 per release just like PRWeb, but they do have a monthly plan at $79 per release. Their 3rd plan is $699 for the year for 12 releases.
1888PressRelease
This site allows you to publish your press release for free, but if you want them to advertise it their packages go from $25 to $249 per releases. Only the two most expensive packages they have offer a widespread campaign while the others are limited to Google News.
OnlinePRNews
This one has 4 packages going from free to $389 for a release that includes over 5,300 submissions and over 150 syndications.
I hope that this post was helpful for both those who want to try to write their own press release and those who would rather have someone else do it for them.
Please, leave your comment below.