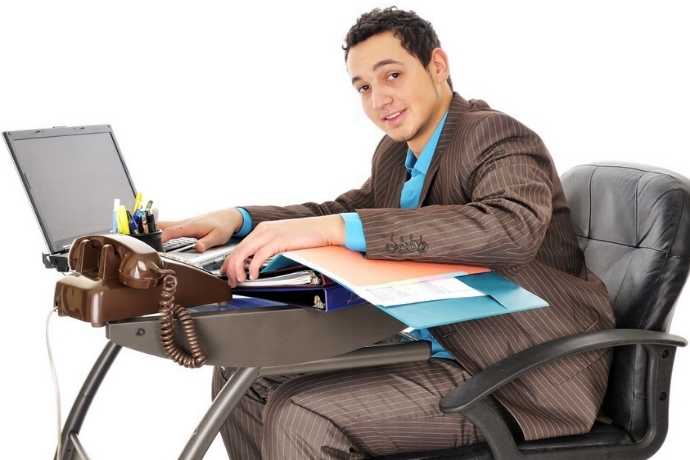 You wouldn't love anything more than quitting your job and moving on to entrepreneurship, but you are not sure where to start.
I know the feeling, believe me. That was me for at least my last employee's life.
So, how do you make such transition?
How do you go from being an employee to owning your own business?
I feel that my own experience can help you a great deal, and I feel that I can help you understand how and when to make the jump from being an employee to being your own boss, so you don't hurt yourself like I did the first time I tried to quit my job to start a network marking business.
The Importance of Being Mentally Ready
Back in 2003, I was working as a trilingual legal secretary for a small law firm, when I quickly realized that it wasn't what I wanted to do for the rest of my life.
I was coming from the acting world to being married, and it was only when I got divorced that I had to find a job in a very long time.  that's when I realized that I didn't want to work for someone else. I guess I was an entrepreneur at heart from childhood.
I slowly became interested in working online, and at the end of 2005, I quit my job in an attempt to work full time as an online network marketer.
The only problem was that I wasn't ready mentally and psychologically, so failed miserably, and eventually I had to get back to working a job.
I was very disappointed and emotionally devastated.
I didn't know it at the time, but the odds were against me. In order to become successful, I needed knowledge that I didn't have back then.
That knowledge is what I wanted to discuss in this post.
 Prepare Yourself Financially
Just this past week, I had a short conversation with two entrepreneurs. One was saying that she made sure she was fully ready financially to leave her day job, and the other was saying that he made the plunge right from the get go.
Both are very successful today, so to leave one way or another is not the problem, the real problem is acting before you're personally ready.
For starters, if you have a spouse who brings an income at home while you can concentrate on your new business, that's totally fine. Do that if you can.
But if you're the lone breadwinner of the household, then make sure that you don't rush into leaving your job, because if it doesn't work as you've expected, you would be in a worse situation than you started with.
That's what happened to me. But that's one I'm the perfect person to help you understand this.
This said, being able to succeed as an entrepreneur takes more than having a plan and following that plan. It takes even more than stepping right into someone else steps who did succeed. It takes work and most importantly the right mindset.
Because, unless you have a success mindset, your attempt at being successful online, or in any entrepreneurship endeavor could turn out extremely difficult to pretty much impossible.
Here are some vital points that you need to check before you move into you entrepreneurship endeavor, so you don't have to go back to a job a year later depressed and disillusioned like I was.
If I had known the vital points that I'm going to discuss with you here, I would have waited a little longer and been successful the first time around.
In my case, I had to learn it the hard. Because back then I didn't know what was going on in the deepest part of me, otherwise known as my subconscious mind.
Understanding your Mindset
The most important thing that I didn't know when I left my job in 2005 is that no matter what you do, as long as you're not aware that you can sabotage yourself from the inside out, you might be wondering for years and years, why things don't seem to work out for you.
That has happened to me and I've seen it happen to people time and time again.
Wanting to start your own business and be successful with it, is what you want consciously, but let's be honest, what you want consciously and what you want subconsciously can be two totally different things.
This was exactly my case and the case of most of my clients and other people I know.
As I explained in my previous post on the subject, whenever there is a conflict between the conscious and the subconscious mind, the subconscious will always win. Because it's our subconscious mind that runs the show.
In my case, I was carrying around lots of baggage I wasn't aware of. I only started to truly become aware of my problems when I started studying personal development and the laws of the universe at the beginning of the year 2006.
It's only then that I came to the realization that my subconscious programming was sabotaging my results.
If you feel that you're stuck in your entrepreneurship endeavor, I would advise that you consult with a life coach if you can afford it.
Why?
Because if you don't, it's going to take you much longer to get a grip on your inner issues, get rid of them, and then start making real money with your business.
Think about it, it took me another 8 years getting lost in meaningless jobs before I was totally ready to make the plunge again.
At the time, if I had managed to save some money for a good coach, I'm sure my progress would have been much faster, but it took me another few years before I did hire a coach to help me with my issues.
Prepare your Exit while Keeping your Job
You can totally build your entrepreneur mindset while you're keeping your job.
That's what I did the second time around.
It's totally possible to keep your job while you're emotionally not attached to it at all. I've done that for several years and it's worked great for me.
While I was working my job, I was building my success mindset and my entrepreneurship skills, knowing that I was going to stop working for a boss very soon.
I was working my job and my business while my heart was fully in my business.
I was building an entrepreneur mindset and didn't feel like an employee at all anymore.
I made sure I wasn't advertising the fact that I was still working for a boss on social media or anywhere. Not because I was dishonest, but because that job was just an extra cash option that I had at the moment, so I wouldn't repeat the same financial mistakes I had made few years ealier.
But my mind, heart, and soul were in my business, and that's what I wanted to show to the world.
And as someone who was by then knowledgeable in the subconscious mind programming, I knew how important it was to play the game of success, even before it fully appeared in my reality.
If you are still tied up to a job right now, but your heart is into your business, you need to act, think and breathe your business and learn how to put your job in a little corner so it doesn't get too much in the way, especially at a mindset level.
So, when you are ready to leave your job, you don't have to go from an employee mindset to an entrepreneur mindset. You will already be a full blow entrepreneur, mentally, by the time you're ready to embrace your business full time.