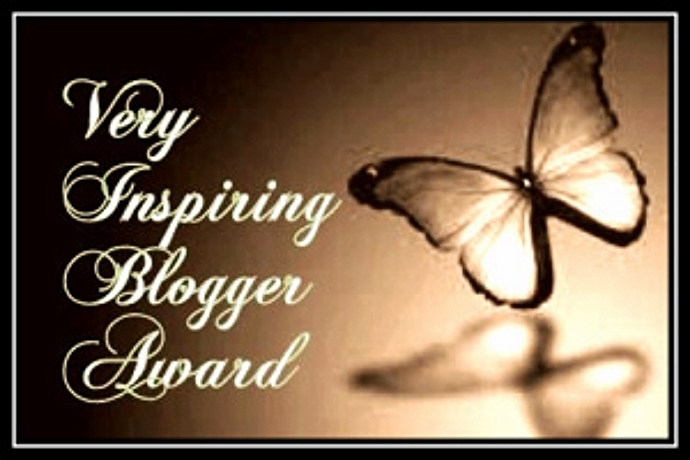 I was rewarded the Very Inspiring Bloggers Board award few weeks ago,  and since I've accepted it, it's my turn to give back to 12 inspiring bloggers, and to tell you 7 things you (didn't know) about me.
Don't worry, you don't have to accept his award. I won't take it personally.
I wasn't sure in which one of the three categories of my blog I should post this, but since yesterday I was without power for the better part of the day, I kind of got behind with my scheduled post.
So I thought that this was the perfect time to take my turn to spread this award that I received and give back.
It happens that Lorraine Reguly from Wording Well mentioned me as one of the bloggers who has inspired her.
As Lorraine said in her own awarding post, rewards may not mean much for seasoned bloggers, (but frankly, it should, as no one should think so much of themselves).
Rewards and recognition are ALWAYS good in my book.
So, I accepted that reward which meant that I had to follow the rules, and in turn, tell you the rules of this game.
If you accept this nomination, you are asked to follow the rules attached to the Very Inspiring Blogger Award wish are the following:
Thank the person who nominated you by linking to his/her blog.
Display the award logo somewhere in your acceptance post (right-click and save it to your computer, then upload it to your blog).
Reveal 7 things about yourself.
Pass on the award to others by nominating 12 people, linking to them within your post, and then notifying them about their nominations (which can be done through email, a blog comment, or social media).
By the way, since I've receive a similar award a two and half years ago, from Harleena Singh, so I'm going to mention different bloggers than I did then.
And since Lorraine mentioned my as a former actress, I thought that it would be fun to mention 7 things around that part of my life.
7 Things From Former Actress Sylviane Nuccio
I was once in the arms of one of the most famous French actor (of his days and until now) If you're not from a European country, you may not know his name, but if you are, I'm sure that  Jean-Paul Belmondo will be very familiar to you.
 I was once in an elevator with Tom Cruise. It was in New York in 1994.
 I was in the acting business for 9 years of my life. From 1986-1995. I was in several plays. I appeared in one movie, and did two commercials. The movie and commercials were  in Paris, France. The plays were in both in Paris and New York.
 I've got to make up with a handful of handsome unknown actors for acting purposes.
 I've worked with two very famous French actors, Michel Galabru and Bernadette Lafont, between the late 1980's and early 1990's.
 I've worked with several less popular, yet known and working actors over my acting years. I still get to see them once in a while when I watch French movies.
I belonged to an Off-Off bilingual Broadway theater in New York City in the early 1990's.
There you have it. Some things I don't really ever tell anyone these days.
Now I want to pass this award along to the following bloggers (and remember you don't have to accept it).
My Dozen "New" Inspiring Bloggers
Don Purdum for being the inspiration behind my new site that I love so much, and the knowledgeable business man that he is.
Kumar Gauraw for helping creating this site for me, and being such a valuable helper.
Deborah Tautnauer for being such the knowledgeable and smart business woman that she is.
Neamat Tawadrous for her entrepreneurial spirit and growth in her business while giving great advice through her blog.
Andrew Warner for being the talented blogger that I'm so glad I met lately.
Jaime Buckley for being the wonderful and fun writer that he is.
Fabrizio Van Marciano for being another knowledgeable and great blogger I met lately.
Mi Muba for teaching us everything we need to know about blogging, and making money with it.
Kerry Kijewski for being an inspiring blind young blogger who is following all my posts.
Carol Amato for being the knowledgeable and smart business woman that she is.
Enstine Muki for being the smart network marketer that he is.
Maxwell Ivy for being the blind inspiring blogger and entrepreneur that he is.
There you have it!
I followed all the rules,  and awarded some great bloggers, which for some of them I met just this past year.
Hope you enjoyed and now comment.