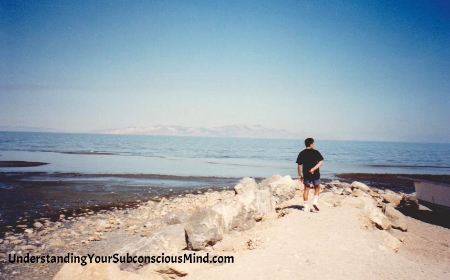 When you study the Law of Attraction in dept, you become more and more aware that you can attract anything in this life.
As a matter of fact, what you're experiencing right now you've attracted.
This is the very reason why you may not be quite where you want today, it's because  something you've attracted when you didn't know any better, or you may be still in the process of mastering this law of attraction thing, and as long as you don't master it, you'll keep attracting stuff you don't want.
But don't worry, we're all working on that!
The law of attraction is not prejudice, though, it works both ways.  It all depends where your mind and thoughts are more inclined to.
Today, I wanted to talk about attracting your perfect day.  When was the last time you had a PERFECT day? I'm not talking about an OK day, here; No, I'm talking about a day where everything was just great, where you felt completely alive, satisfied and happy. A day when you felt totally at peace with yourself.
When was the last time you felt that way? Or did you ever?  Most likely you did, even if you can't think of it right now.
Let's try to find it together…
Go Back Into Memory Land
I'm sure you know how easy it is to go back to a bad memory, right? This is something we can do quite well without any training at all. We may have had a very bad experienced 5, 10, 20 or more years ago and it comes back to haunt us still.
No matter how dead and gone that bad day should be, we rekindle it once in the while, so as to keep it alive.  Unfortunately, this is something that our brain does well, and not only for us humans, but animals too, because the brain is usually marked by traumatic events.
An old elementary teacher of mine used to take a nice and smooth sheet of paper and shape it into a ball in his hands. Then he would unfold it again and flatten it. Then he would show it to us and say, you see, once you wrinkled that sheet of paper it can never get back the way it was!
He was using this example to illustrate to us that if we'd hurt someone, they may never fully recover or we may never fully recover.
We are a lot like that sheet of paper aren't we?
Sometimes someone can do something to us, and we'll never see that person under the same light again.  We may go through a very negative experience that leaves us with emotional scares that will stick forever.  They are some things that can never become undone.  Yes, that's true for most people.
However, does this mean that we can't create our perfect day?
Try Remembering the Best Day of your Life
So, since we already know how good we are at remember bad stuff, my question to you is, are you able to recall the best day of your life?
Hopefully you actually have more than one. But try to remember the very best one or two. The ones that you go back to once in a while and can't help but smile.
Sometimes, it may not be a whole day, but just a moment. A total bliss moment that you will remember for the rest of your life.
I remember my first perfect day. I was about 10 years old. I was home with my mom on a summer afternoon and I was feeling so well. It was a feeling of being 100% alive and happy. I remember that I told my mother how I felt and she told me that she had felt that way herself before.
This was such a perfect day for me that decades later I still remember it.  There was nothing special, but I think that it was a pure spiritual moment, and I think that's how we should feel most of time, not just sometime, or ever very rarely as it is unfortunately the case for most people.
I had other moments such as this one in my life, but this one was my first, and I like to go back to it to put me in the same mind state as I was then.
The other day, as I was walking around my favorite park to relax and recharge my batteries, I was revisiting all my perfect days.  I noticed that I couldn't stop smiling and feel good.
Even though I was very tired physically, it put me in a very good place, and my thoughts combined with my walk totally refreshed me and I noticed how well I was when I got back home. All my tiredness had gone away!
Your Turn…
My advice to you for today is this; go try it! Go in the place where you can be alone with quiet time and revisit some of your perfect days. Forget about everything else and immerse yourself into those thoughts, and see what it will do for you!
It's a sort of meditation, and it really works for the best.
Do you have 11 minutes today? What this video to help you do this…
I hope you enjoyed this! Please, let me know in the comment area below!