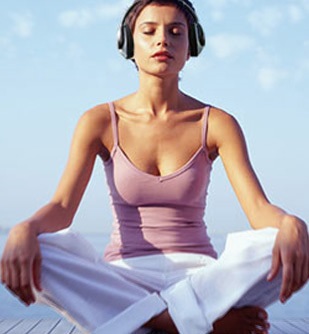 In my last post about attracting money I've mentioned several methods that are known to bring about more success and money.  One of them was Holosync.
This was the one method I mentioned that got the most attention.  Several people seemed to want to know about it or had a totally wrong idea about it as well.
So, in order to answer those questions and bring about more clarity about Holosync, I decided that it was the right time to dedicate a post about it.
I've been introduced to Holosync in June 2010 and I purchased my first Holosync meditation CD in August of that same year as my own birthday gift. It was actually two CDs, one for meditation and one to use for reading and studying.
Now, before I spent over $50 on those CD's I did a lot a research and reading about Holosync, and I liked what I was learning.  I will share what I know about Holosync and what it did for me on this post.
What Attracted me to Holosync?
I always wanted to have the benefits of meditation, but I have never had the time, or the knowledge of the necessary techniques to meditate.  Besides that, it takes a long time to master meditation, and that alone wasn't very motivating to me.
Another thing is that you have to be "calm" to even start meditation, and I wasn't calm enough to sit for long periods of time and let go.  I felt that meditation was above my head, so to speak.
When I learned that Holosync would give me the same results as meditation, but in a much simpler and easier way, it really got my attention and I wanted to find out more about it.
I started reading information from Bill Harris, the director of Centerpoint Research Institute which was created in 1989.  Bill Harris who is a Certified Trainer of Neuro Linguistic Programming, and his partner Wes Wait had spent some time researching, and studying Holosync, until they created their own Holosync program which received so many positive feedback from customers.
What is Holosync?
Holosync is a sound technology which induces deep meditative states, and help create mental, emotional, and spiritual benefits. It is estimated that over one million people have used Holosync since 1985. Holosync is totally safe.
There is no danger in using this meditation inducing sound system. On the contrary, it helps establishing more balance in brain waves, which is the root reason for its benefits.
This is what Centerpoint says about Holosync…
"Holosync stimulates the creation of new neural pathways between the right and left hemispheres of your brain, balancing your brain and leading you to a high-performance state scientists call "whole brain functioning."

"Holosync dramatically improves your learning ability, memory, intuition, creativity, and your ability to focus, concentrate and think more clearly."

"Holosync dramatically increases your production of vital brain chemicals related to your longevity, well-being, and quality of life."
Holosync helps the user to develop brain functions in such a way that it works hand and hand with the subconscious mind, and helps reprogramming it in a positive way.  It also works hand in hand with the law of attraction as it prepares mental, and sub-mental capabilities to be more in tuned, more positive, more creative, and so forth.  There is no doubt that Holosync will help you attract better things into our life.
My Own Personal Results with Holosync
The very first time I put my headsets on to listen to my first Holosync session (Holosync doesn't work without headsets), I followed Bill Harris advice and didn't try to bring about some thoughts or prevent them from coming, but rather try to just observe them.
At the time the heavy weight of my mother's failing health was very much present 24/7, and the whole session I found myself thinking about her, and started tearing up almost the whole 20 minute session.  However, when it was over I felt calmer and relieved.  I believe that the first session relieved me from a heavy weight I was carrying around, without ever realizing it.  So, yes, I can say that Holosync worked right away for me. I felt a change right at the first session.
During these past three years I have stopped doing my sessions at times, for one reason or another,  but one thing is sure, Holosync really helped me being more clam, more creative, attract better things in my life, Less anxious, happier, and more.
As a matter of fact, if you had known me only 5 years ago, you would not believe it was me.  I made a lot of improvements on my overall personality to the point that I looked at who I was as another person that I don't even recognize. And most of all, don't want to be.
How Holosync Sessions Work?
All you have to do is making sure you are in a sitting position, either on a chair or on the floor, as long as you are comfortable.  Make sure you have headphones, since Holosync won't work without it.  Close your eyes and play the 20 minute recording.
If any type of thoughts come up, don't try to push them aside, but rather step out of your own thoughts and observe them.
Try to focus on the soft music that covers the Holosync sounds, and use it to calm yourself down.  Allow yourself to BE in that Holosync MOMENT 100% for those 20 minutes.
If you want to learn more about Holosync for yourself, you can get the free demo from Bill Harris, by clicking below. That's where I started myself.

I hope this helps clarify what Holosync is and if it's something that would be for you or not. There is no string attached in trying the free demo if you decide to do so.
Let me know what you think in the comment area.
Photo Credits: Centerpoint.com