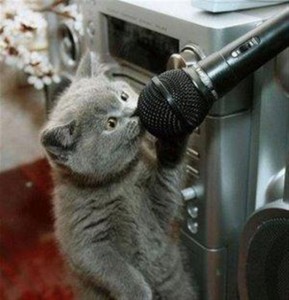 You hear everywhere that in order to stand out as a blogger you need to speak (write) with your own voice.  But what's my own voice you may ask and how can I find it?
With the huge amount of blogs out there, there is no doubt that you do need to find your own voice, because that's what is going to make you sound different than the other thousands of bloggers on the web.  As a matter of fact, the word "voice" applies very well as an example of what we mean by "your own voice" in the figurative sense.
What is Your Voice?
Have you ever marveled at the fact that each human being has a specific and unique voice? I know I have marveled at this many times, myself.  Our voice is so unique that we can recognize someone we know by their voice just as well as we do by their face.  As a matter of fact, sometimes you may meet someone who has changed so much or maybe is wearing a disguised that will prevent you from recognizing their face, but you will always recognize them by their voice.
Indeed, our literal voice is a very good example to illustrate what your blogging "voice" should be.  You're blogging voice, if you can find it, will be as unique as your literal voice.  Basically, your voice is your overall personality and who you are.
By defining who you are you will be able to find your blogging voice and use it in your writing.
How You Can Find Your Voice?
Do you have a hard time finding your voice?  The best way to find your voice is to start answering questions like these…
What type of person am I? What am I  good at? What is my strength? What is my style? What do I like or dislike? What do people say about me?
For example, to take my own case, I like to tell stories. I like to give real life example when I explain something and I kind of like to tell things in a rather direct manner.  If I had to answer the question, what do people say about me?  I would have to say that people tell me very often that I am direct.  Therefore, when I write about a topic I am pretty much straightforward.  No beating around the bush.
I can tell that a great part of my voice is writing in a very direct manner.  I kind of like to tell people what to do and what not to do.  This is so strong in me that sometimes I have to catch myself and cool it down just a bit.  However, I do not want to totally extinguishing it, because this is a big part of my voice.
Another asset that will help you find your voice is your background.  Where are you from? How did you grow up? Who were you as a child?
In my case, just like Onibalusi, for example, I am a foreigner.  English is not my native language and I have never tried to hide this fact.  On the contrary, it's part of my voice.
Are you good at teaching things?  I'm not asking if you are a teacher, but if you can teach.  Not everyone can teach, not even every teacher, but if you have teaching skills try to use this quality to find your voice.  When you write your blog posts, adopt a teaching voice if you like to teach.
Again, to take my own example, I like to teach people about what I know and do, and I love to give them a step by step on how to do it.  Due to his successful experience, Onibalusi likes to tell people what he thinks and has no excuse for it.  He is direct and loves to give great tips to his readers. That's his voice.
Bring to mind what you like; what you are good at; where you are coming from and who you are.  Mix all that with your own knowledge and experience, and you will be able to find your voice.
Your voice is YOU, and do not be ashamed of it or try to change it, because it's what makes you UNIQUE. Just like your physical voice is unique, so is your personality as a whole. Use this uniqueness in your blogging and you will be different than anyone else.
So, what is your voice? Please, do tell us in the comment area.