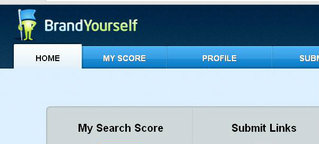 Have you Googled your name lately?  If not, you might want to go ahead and do that to see what Google is showing when it comes to YOU or YOUR sites.
Have you ever noticed that Google is not always showing your best content if you are an online marketer?  Or maybe it's just not showing what you want to show to world about you.
I know that in my case, I have been pretty annoyed seeing sites or articles of mine showing on first page, when they were no longer what I wanted people to see.  On the other hand, what I do want to see, is not as highly ranked as I would like to. So, what is my best option? Paying a lot of money to some so called SEO expert to fix this?
Well, thanks to Ilka, from The Enlightened Networker, I learned about a fantastic tool called BrandYourself.
What is BrandYourself?
BrandYourslef was created by 3 young guys who thought that each one of us should be able to choose what WE want Google to show about ourselves and our work.
BrandYourself is the first Do-It-Yourself platform that makes it easy for anyone to take control of their own Google results. We make the "Search Engine Optimization" process simple so anyone can make sure positive, relevant results shows up when they are Googled online, without having to pay a reputation firm thousands of dollars a year to do it for them.
I know that in my case it's solely for a marketing purposes, but for many people out there it could be that they are worried about showing the wrong thing to their boss or future employer or anyone that might want to check them out.
You know that people Google your name, don't you? That's why controlling what they see is so important.
What Does BrandYourself Do?
BrandYourself helps you to bring up sites or links that you want to show on Google's first page and burry the ones that you don't want there anymore.
On BrandYourself you can do the followings:
Create your profile which will rank high on Google automatically while bringing up the links you include in it as well.
Submit the links that you want to show on Google and mark them as "positive"
Mark the links or sites that you don't want to show as "negative" to bring them down in the search engines
Boost your "positive" links
BrandYourself is a free do it yourself "search result management" platform; although, you can upgrade for even more optimization.
Would you rather see a video that shows you all that?  Watch it now!