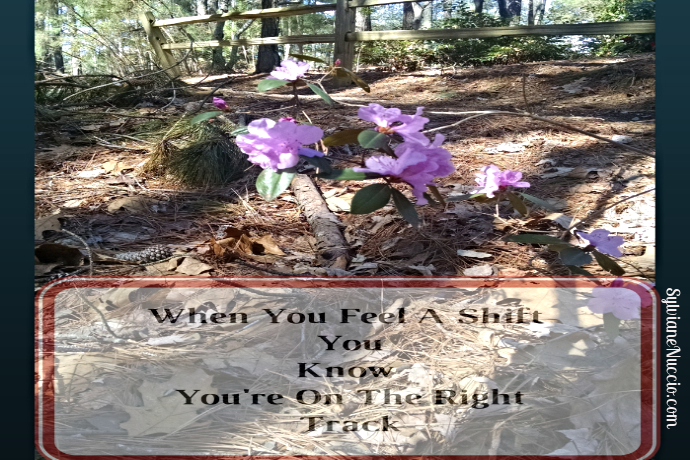 Have you ever felt a law of attraction shift in your life?
Even though I touched up a bit on that in one of my last posts, today I wanted to talk about emotional and vibrational shifts.
Because let me  tell you, they are really cool.
I mentioned before in another post as well, that I was told that it's not uncommon to observe a shift in the mist of grief, and that it appear to be the case more often than not.
I have to tell you that right now in my life I am living one of the most incredible time.
While I still have those sad moments when I'm crying for my losses, I also feel that everything is coming together for me. And that's why it feels weird.
It's very strange and very exciting at the same time.
Right now I'm starting to attract exactly what I want, and just writing this almost makes my hair stand up.
I've been working this law of attraction thing for 9 years now, and it's only recently that I felt a real shift in a truly positive way.
Now I am telling you that I wasted 9 years?
No, I really didn't, but this low progression for me was taking me somewhere at the pace that I was letting it to.
Experiencing the Law of Attraction
As I was listening to one of the public recordings of Ester Hicks/Abraham teaching sessions, she said think of something you want to attract today. Anything, and see if you can attract it by the end of the day.
Just a fun little exercise that I encourage you to do.
Of course it has to be something within reason. Something that could show up in just a day.
So this morning I decided that I wanted to attract a red bird.
Later today, just as I was done doing some energy and EFT tapping exercises in a park I always go to nearby my house, I happened to look up at a tree and I saw a red bird.
Now do I see a red bird everything I go there. No, I sure don't.
For me to see it, that bird had to be at right place at the right time.
It could have been there 5 minutes before or after and I wouldn't have seen it.
It's the only red bird I saw today.
So, I proceeded to thank the Universe out loud, because I remembered that in the morning as I was thinking of Ester Hicks' suggestion, I said I want to attract a red bird today.
Another Manifestation…
Another funny thing happen today as well.
You know when you're walking on a sidewalk and you're passing someone who's on the phone?
As you pass them you can hear a sentence or two of what they're saying.
As I'm passing this guy on a sidewalk I heard him say… "She going to Italy and then to London."
I couldn't help but smile and think of that law of attraction again.
I said to myself, why am I hearing this?
Or is it because I was supposed to go to Italy but changed my plans and now I'm going to Scotland before moving on to other European destinations?
Is this a coincidence that I'm hearing that stranger saying this as I'm passing by?
No, it is not.
Those are things you experience as per the law of attraction. Because the law of attraction gives you more of what you're focusing on in many different forms.
Another Manifestation…
And last but not least, today again, as I was sitting at my desk at work, a record number of people came in to chat with me. That has never happened to that extent before.
I felt like a  flower surrounded by bees all day.
So, yes, I do feel a strong law of attraction shift with ever cell of my being, but because I know quite a lot about vibrations and the law of attraction today, I also totally understands what's happening.
But if you don't let me explain…
Vibrations are Like Magnets
Do you know what is the biggest challenge we are facing when we first learn about the law of attraction?
It's that we don't truly understand it.
We think we do, but we don't.
As Ester Hicks through Abraham always says, words don't teach, only experience teaches.
So, we start repeating those affirmations, but for the most part we don't truly believe them, and what's even worse is that we keep on carrying bad feelings EVEN as we are saying those positive affirmations.
I know. I've been there.
Then the next thing you say is that law of attraction doesn't work.
When, really what doesn't work, is you.
The law of attraction is a law of the universe and it always works. No matter what you think and no matter if you believe in it or not.
The problem is never the law of attraction.
The problem is us.
If your life sucks in any way right now, you are part of the problem.
I know, tough truth. It took me years to fully accept that.
But as long as you don't accept it. Your life will continue to be pretty much the same as it's been.
However, let me tell you something very important here. Even from the time you actually come to understand and accept this, and the time you will actually act on it, there will be a gap.
There will be some time before you intellectually understand that you need to accept the fact that you are at least mostly responsible for what's happening in your life, and the time where you actually will start to truly act on it, and become the creator that you truly are, rather than just the receiver.
Your vibrations are like magnets, and your vibrations create your environment. Even what people like to call back luck or circumstances.
We attract what we vibrate.
But where do our vibrations come from?
Our vibrations are based on our thoughts.
So how do you control your thoughts?
If you Can't Control your Thoughts Watch your Feelings
Thoughts are not always easy to control.
As a matter of fact, it's impossible for anyone to control all the thousands thoughts we have each day, but it is easier to watch how we feel.
If you don't feel good, most likely your thoughts at that moment are not good either.
But what's most important here is that if your feelings sucks, because your thoughts suck, you're vibrations are very low. And low vibrations are not a good match with attracting good things in your life.
Remember that vibrations are like radio waves, you don't see them, but they are there, and they are powerful.
Bad feelings which equal bad thoughts which equal low vibrations is the perfect recipe for not being in alignment with the universe.
When you are not in alignment with the universe you attract bad experiences into your life and that's what people love to call fate, or even life.
I understand you.
I've called it that for the better part of my life, and I'm pulling my hair just thinking that I had to walk the earth for that long to only truly get this now, so to speak.
But when you do get it.
When you truly get it.
You feel it.
It's undeniable.
And that's when you feel a shift.
But How do you Get There?
It's not easy, I would admit, but it's pretty simple.
3 words.
Why Time?
No matter what you want to accomplish in this dimension we live in, will take what we call time.
It takes time to grow up.
It takes time to go from point A to point B.
Everything that you do will take a laps of time.
So when you start working with the law of attraction on your favor, give yourself  some time to start seeing improvements.
Be patient, because it will take time. But in the end you will see a shift.
Why Efforts?
The more you learn how to play with the law of attraction, the easier it gets, but at first it will take efforts on your part.
You will have create positive affirmations, and repeat them every day.
You will have to watch and moderate those feelings that will let you know if you're on the right track or not.
You will have to learn to watch those thoughts of yours as much as possible and switch them around when they are not serving you.
You will have to learn the difference between good vibrations and bad vibrations.
You will have to keep reading, learning, expanding, and maybe invest in a coach that could help you go faster.
But no matter what you do, you will have to do your part.
It will take some efforts on your part.
Why Release?
Once you are on the right track, and that you know that you've got it, you will need to release any resistance that you may feel.
For example, let's say that you want to attract a car, but you start thinking of that car that's not here yet, so what you're really feeling is the "lack of that car," not the car.
That's usually when people start saying that the law of attraction doesn't work. But actually it's working great.
You are concentrating too much on the lack of the car rather than thinking of the car as if you had it, so as per the law of attraction that never fails, you are experiencing the lack of the car, not the car.
So you are creating what is called a resistance, which is the very opposite of attraction.
I really, really hope you're getting this. Because it is very important. And unless you do get it, you will continue to struggle with attracting what you want.
You see, when I said I want to attract a red bird today. I said it, thought about it for about a minute, and then totally released it.
And boom, my red bird appeared later in the day.
Knowing this today, I often think of the two or three years that followed my divorce. I was in a strong need for a relationship, but it was so bad, that what I was really focusing on was the lack of a relationship. I was focusing every day on being alone.
So, even though I was light miles from understanding what I know now about the law of attraction, I was attracting that lack of a relationship and was desperately alone, wondering why I couldn't find the man of my dream.
It makes total sense to me now though, and there was no way on earth, as per the law of attraction, that I would have found someone to be with in those days. And I sure didn't.
The law of attraction is perfect. It never fails.
It's our job to understand how it works.
Today I am a totally different woman, and I am in a totally different place.
I do not care about a relationship at all in my life at this time. I'm way too busy attracting other exciting things at the moment.
For me today, a great relationship would be the cherry on the cake, not the cake.
However, when I'm ready for a relationship, I have no doubt that it will come, because I know better now. Plus now I'm much stronger and single by choice. That's a whole different story.
So are you Getting it?
Have you experienced a law of attraction shift yet?
Let's talk about it!
Are you truly getting it?
Are you experiencing this law of attraction in a good way now?
If not, grab my free eCourse, and let's talk.