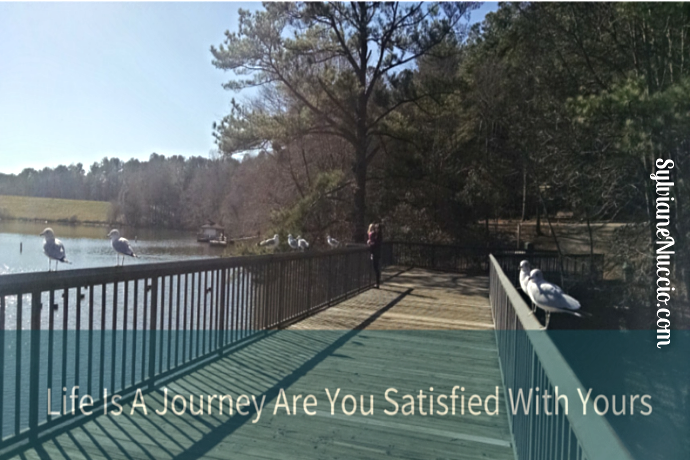 You know what they say, right?
Life is a journey, not a destination,
When you're younger you may hear those words, but they don't really mean anything to you.
I mean really…
If you're 20 years old and you hear this statement, what does that mean  to you?
As you grow older, however, you start seeing the picture.
You start seeing that life has different stages.
But what does this all mean?
So, let's talk about that today.
Stage One – Childhood
You're first stage in life is when you're a child and where everything you're allowed to see, think and eat is basically given to you by the adults around you.
At that stage there is very little room for expansion of your true self, in a way.
In my case, I can't even complain, for someone my age growing up between the 70's and early 80's I had a pretty cool mother, who rarely said no to me, except for a few things of course.
But for the most part, I was fortunate with the mother God gave me, and I thanked him on a regular basis.
Yes, even as a child.
Because I always felt that she was just the right parent for me.
Actually, it may be because of the way I was raise that I develop the free spirit adult that I am today, and that allowed me to get acquainted with things such as the law of attraction, the subconscious mind and all this food stuff, that some people may call "new age", but which is really knowledge that helps you grow in life.
As you probably know by now, if you've been following my blog, the way you were raised has probably affected your subconscious mind quite a bit. That's inevitable, no matter who you are.
Unless you were raised by the perfect parent, you are going to have some positive beliefs, habits, and other directions in our life, and some not so much so.
That's why we all need to grow in one way or another. And that's why most people can really benefit from coaching.
Stage Two – Adolescence
Then, comes those few adolescence years.
Those are the shortest ones (or the less numerous ones) but they are very important as well.
When you're an adolescent you're not a child anymore, but you are still very fragile, because you're not an adult yet either.
Actually until age 16 your subconscious programming is still very active, so to speak, and some of the things that you are going to learn or things that are going to happen to you, good or bad, until around that age, will pretty much stick around for the rest of your life as well.
Adolescence is a fragile time, and a key moment in our life, but unfortunately not one where we are strong and mature enough for the most part.
This is a time in our life when our reasoning is not the best, by any mean, and this is a time we often look back on later in life and say, what was I thinking?
Well, it's because, as an adolescent we don't do much thinking. We tend to do thing and think later.
This is a time where we need good parental guidance, more than ever before and after, in our whole life.
If you are a parent, you really need to be conscious of that.
Stage Three – Young Adulthood
Young adulthood is where you are going to get your higher education, start your career, get into what you love, hopefully, and go from there.
But this is what I would call best case scenario.
It's not the case for all of us, far from it.
It certainly wasn't mine.
As a matter of fact, this is the time where you're going to see many trials and errors, and where errors might outnumber the trials.
We can only wish we had the brain of a 40 year old when we're 20, but that just doesn't happen that way.
When you're 20, you're 20, and you are going to make the mistakes that 20 year old people make.
However, many of those mistakes are part of the journey. They are inevitable and even necessary for your learning and maturing.
This journey can easily last 10-15 years.
Stage Four – More Mature Adulthood
Then, one day, you're turning 40, and if you are like many people who have turned 40 before, you are going to feel a shift.
In not so many words, you are not going to take the crap you've been taking thus far with the same ease.
You are going to feel something like, OK, that's enough with that.
It's called midlife crisis.
Yes, it's real.
Have you had a midlife crisis?
I know I did.
My life did take a drastic turn right around 40.
This midlife crisis is not imaginary, and it has a reason for existing.
It's because by the beginning of the second part of your life, the spiritual YOU is becoming bigger, than the physical you.
That is why most people feel a shift at that time.
They start realizing, and feeling things differently…
Maybe you're not accepting some things that you were accepting before.
Maybe you're deciding to take your life in a new direction.
Maybe you're feeling like you are going to explode if you stay in that relationship or job.
Maybe you're starting to feel like, you're too old for this now, but in a good way.
By the way, that midlife crisis doesn't necessarily happen exactly at 40. It can happen anywhere between 40 and 50 years old I would say. It depends on the person's evolution and growth.
When you feel that shift, it's actually a good sign.
It's the sign that you are growing right on the clock.
It's part of the journey.
This is probably the BEST time to consult with a coach, if you feel that you are ready for something new, something better or something different at this point.
Where are you in your Life Right Now?
One thing that I always say is that I wish that I knew at least half of the things I know now, when I was in my twenties.
I feel that it would have saved me lots of headaches, and heartaches.
But I also know that whatever happened to me when I was in my twenties and thirties made me who I am today.
But I could certainly have used some wise guidance, that you don't really get from your parents, because they are not experts in success, even though they tried their best.
No matter how old you are, and where you are in your life, right now, you might beneficiate from someone who could guide you.
When I was in my early 20 I remember reading my first personal development book, because even though it took another 15+ years until I started to really get involved with personal development matters, I was already showing signs of a thrust for truth, so to speak.
But back then there was no access to internet yet, and life coaches where not as easy to find as they are today.
But truth be told, if I had had access to the type of information that we have access to today, I would have loved to consult with someone that could help me and maybe answer some of the questions that I already had back then.
So, what about you?
Where are you in your journey right now?  Are you satisfied with it?
If you are, that's great, but if you are not, then there is plenty of help and resources you can access to today.
For one thing, you can start by filling up the form below, and get my 7 day coaching eCourse.
You can also leave your questions and comments below.