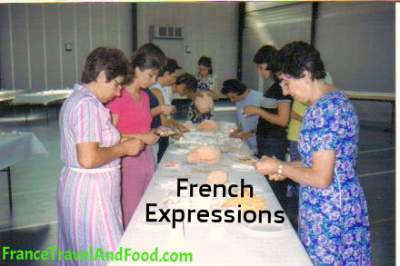 If you are a reader of this blog, you may have heard me say or write that the French language has many more common and slang expressions than English does. I'm not just saying.  It's just true. I guess it's the nature of the langue.
French folks are notorious to be good at speaking in a very slangish way.  when I hear it in movies, for example, it really makes me feel home. This way of speaking has been around for decades now.
But if you went back 80 to 100 years, then slang would be almost non- existent.
It all really started around the end of WWII. However, on top of the slang, the French language is also full of expressions that are much older than slang.
As a matter of fact, some of them have their English equivalent, but not all. In the post I am going to discuss some of  those French expressions that really can't be translated literally, but they'll  make you laugh.  Then, I'll give you their English equivalent if there is one, or tell you what they mean. So, here we go…
Avoir la Gueule de Bois (to have a wooden face)
Here the word "geule" is the slang word for face, I might add. The true word for face in French is "visage." Avoir la gueule de bois means to be drunk. Il a la geule de bois means he's drunk. The expression started because when drunk people have a dry mouth like wood. It's a very common slang French expression. I don't think there is an equivalent for this one in English.
Avoir un Chat dans la Gorge (to have a cat in the throat)
You may hear someone say "j'ai un chat dans la gorge" which literally mean I have a chat in my throat which in this case, it's the equivalent of "I have a frog in my throat." It means the same thing in French as it does in English. Somehow English speaking people got a frog as for the French speaking people got a cat. Even though a cat would be even much more uncomfortable.
Donner sa Langue au Chat (to give one's tongue to the cat)
French have lots of expression with the word cat. Je donne ma langue au chat, which means, I give my tongue to the cat, means that you can't find the answer to a quiz question, and are requiring the answer. It's the equivalent in English of saying, I give up, but I can't think of an English expression that means that. So here again, no equivalent in English. This expression comes from the fact that in ancient times, the cat was believed to be the guardian of secrets. Thus giving your tongue to the cat, means you need that secret to be revealed to you and put in your tongue. So crazy, don't you think?
Chat Echaudé Craint l'Eau Froide

(Warmed up cat doesn't like cold water)
This is an expression that my mother used to say all the time.  I remember that when I was very little I didn't have a clue of what that meant. One day as my mother was using this expression one more time, I asked, what the heck did this expression meant? It means that if you've had a bad experience about something, you'll be careful the next time around if you find yourself in the same type of situation. Why cat again? I don't know, maybe French people like cats.  I don't think there is an equivalent expression in English. But if there is one, let me know.
Oh la Vache (how the cow)
The one is the equivalent of holy cow in English. It means the same thing in French, and it used in the same type situation; surprise and amazement about something you didn't expect, or scary, etc.
Avoir une Peur Bleu (To have a blue fear)
This mean to be really scared of something to almost the level of phobia.  This expression makes a bit more sense the ones above, because a shock can cause a lack of oxygen in the blood which makes the skin look bluish, especially on the lips.  Thus, the expression "avoir une peur bleu." Can't think of an equivalent in English for that one either.
Passer un Mauvais Quart d'Heure (To have a bad quarter of an hour – as in 15 minutes)
This means to have a very bad moment, either with physical or emotional pain. If you hear someone say "j'ai passé un mauvaus quar d'heure"  It means that they were under extreme pressure for a little while. It's a very common expression. No equivalent I can't think of in English.
Honni Soit qui Mal y Pense (Shame to thee with bad thinking)
This is a very old expression using the word honni, which is really used only in this single expression in today's French. This used to be another favorite of my mother. I grew up with this expression. It means, bad are thee who sees bad motives from those who have no bad intentions. Old French expression still very much alive.
 A Gogo (a lot)
The real word for gogo is beaucoup in French which mean a lot.  Gogo is a slang word. You may hear people say y'en a gogo  which really translates "il y en a beaucoup" which means there's plenty.  Totally ever so popular slang expression in the French language. Again can't find an equivalent in English.
Amuse-Gueules
This one is simply impossible to translate. Amuse means to entertain and gueule is slang for bouche (mouth).  The real expressions for amuse-gueules  are;  hors d'œuvres or canapés, which are some type of appetizers. It entertains the mouth, thus the French created an expression amuse-gueule. Note : Gueule means both face and mouth, depending on the context.
Après moi le déluge (after me downpoor)
This expression means "I don't care whatever happens once I'm gone."  This expression goes back to King Louis XV who was reported to have said that one when he meant that he didn't care what his heir would do after his death. Nowadays, this expression is often used in a joking or sarcastic way. I don't think that this one has it's English equivalent at all.
Je Vais te Casser la Geule (I'm going to brake you face)
Je vais the casse la gueule is slang for I'm going to fight you/hit you.  This is a very common expression that you'd hear often in movies. It's a very common French expression. I can't think of any in English beside, I'm going to hit you. If you know of one, please, include it in your comment down below. I hope you enjoyed those crazy French expression and I hope they made you laugh or at least, smile. Over to you now!