In my series of useful posts for tourists I've written about how to use the  Paris Subway  and how to make sure French people won't be rude to you, so far.  On this post I wanted to gather several must know items that you may be needing when traveling to France.
Where to go for money, sending mail, first aid, emergency numbers and more. I definitely hope that you won't need any the emergency phone numbers, though, but it's always good to know them,  just in case.

France Emergency Phone Numbers
Especially if your are renting a house instead of staying in a hotel, you should know the main emergency phone numbers. They are easy to remember, but you just need to know them.
SAMU for Medical Emergnecy Dial 15
A must know number is the SAMU "Service d'Aide Medicale d'Urgence" (urgent medical assistance).  Only two number to remember 15.
If you are able to speak or if you call for someone else be prepared to give your last name, first name (always give last name first in France), address and phone number, and of course, your emergency.
If your condition is very serious and wouldn't be able to give this information to the operator, the SAMU also has a system that will record your phone number and location after the first ring even before they pick up.  It will detect even unlisted number and mobile phones.
Les Pompiers (Fire Department) Dial 18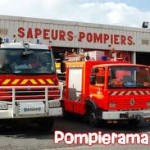 Again, let it never be something you need, but if you rent a house during your stay in France, make sure you know that the fire department phone number is 18.
Fire trucks in France are the same obvious color as the ones in the US.
Police Dial 17
For any issue where you may need to call the police, their number is 17.  While police uniform is different than the one in the US, the police is easily recognizable in France as well. Will the word "police" is pronounced a bit differently than in English it is as you see the exact same word.
Emergency for All European Union Countries Dial 112
There's also a number good for all European Union Country (including France) If you are in one of such countries and don't know their specific emergency numbers dial 112.
First Aid

Pharmacie
Pharmacies are pretty different form the US in France, expect for the spelling.
Pharmacies are sickly about medicines (no candies or teddy bears).
Employees of any Pharmacie can answer most basic health questions and give guide you to non-prescription medicine.  Pharmacies employees are not just clerk but all have pharmaceutical degrees and other health related training.
Pharmacies are very easy to recognize with a big flashy green cross that you can see a mile away.  Some pharmacies close very late and some in big cities are open 24/7.  They are very neat stores with white coat people helping customers.
They used to be one of my favorite stores when I was little. I was always impressed when I came in a pharmacie.
Mail
La Poste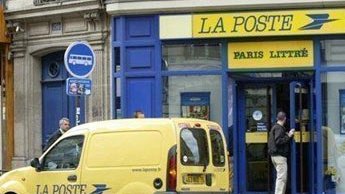 If you need to send a package or buy stamps you need to look for this recognizable yellow and blue sign which is the logo for the post office, called la poste in French.
La Poste is one of the oldest public services in France and probably still the most liked and respected.  France has of the highest number of post offices and post-boxed in the world. You can recognize them easily with that bright yellow sign.
If you go to a poste in a big city chances are that someone will speak English (maybe with a strong French accent) if you go to a poste in a small town, chances are they won't, but you might manage without saying much.
Money
Banque
This is the word/sign you need to look for if you need to go to a bank to exchange your dollars with Euros, or need to do some type of banking transaction in France.
Most bank doors are lock and you have to push a security button in order to be allowed to come in.  This system exists for over 30 years in France to prevent bank robberies.
Anyone with a suspicious look wouldn't be allowed to come in.  Just make sure you're not trying to get into a bank with a coat in summer time or something like that!
Handy Places For Tourists
Ambassade (Americaine)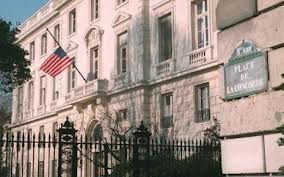 You might want to know where the closest embassy of your country is, especially if your stay is going to be a long one. When I first arrived in New York, my French Embassy is one of the first things I tried to locate.
As you may already know, people working at your Embassy are citizen of your country and it's also considered your country's territory.  The language barrier won't exist in your embassy.
The American Embassy in Paris is located 4 avenue Gabriel, 75008 Paris at the Concorde Metro station.
Centre d'Echanges Internationaux
International Exchange Center is a center who handles short linguistic stays for students, abroad sport events, educational vacations, language lessons and much, much more.  This center was created in 1947.
If you'd be interested in visiting this center it's located 1 rue Gozlin, 75006 Paris, in the Saint-Germain-des-pres area. Their phone number is 01-43-29-6020. I'm pretty sure the staff is multi-lingual.
Office de Tourisme
There are six offices of tourism in Paris, and they are more active between April and November with extra staff to help the huge influx of tourists in Paris during that time period.
They can guide you to find hotels, restaurants, museums, events, shopping and more.
The office of tourisme can provide you with any kind of city maps, museum maps, subway maps, and any type of information you may need.  The staff in any office du tourisme does speak English and other languages.
I know this in French, but it would give you an idea of how you'll be treated in a French pharmacie.
Was this helpful tips to you? Please, let me know.