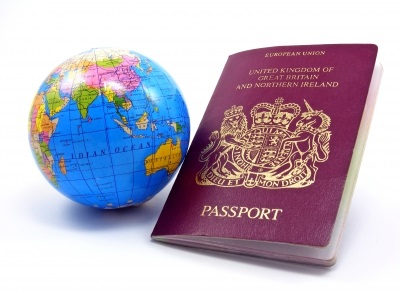 As I was looking over my daily emails for press pitches needed for the day, one really caught my attention earlier this week.  The theme requested was tips for for expats.
As I was sending my pitch I knew that I could make a blog post out of that. Now, why didn't I think about this before?  I don't know, but this sure unlocked a few ideas and there you go, this post was born.

Two Types of Expats
Some expats will move to a foreign country only for a limited time, either for studying, for business or other related reasons that require a limited stay in a foreign country.
Few weeks ago I met a French couple here in Raleigh NC that was from the same region I am.  I approach them because as they were speaking I KNEW they were French.  They told me that they were hear for 4 years for business.
Other expats will hop on a plane with a vision of adventure and the desire of not coming back home. Usually those people are not the kind to look back and become home sick.  On the contrary, they will do whatever it takes to become legal citizens of the country they are moving to.
I belong to the second group.  I've read somewhere a long time ago that children and grand children of expats have a higher percentage of chance to expatriate themselves. Well, there you go. My father was an expat.
For those of you who don't know my story yet, this is a very short version of it.
Some 20 years ago I was living in Paris and was involved in acting.  I had studied Drama in various popular drama schools in Lyon and Paris.  I even ended up working with two famous French actors.  I was in various plays where I had a few leading roles.  Acting probably brought me the greatest joy of my life to this day.
However, there was a part of me that wanted to leave far away.  At the time I had a huge feeling of "not fitting" and wanted to see other skies.  So, on a winter day of 1993 I hoped into a plane and flew to New York City with a student visa in my luggage, and became an expat.
When you become an expat, there are few things that you need to know in order to be well prepared and have as few bad surprises as possible.
Tip # 1 –Learn the Language
If you move to a country which language is different from your own, you must learn the language well enough, so that you'll have all the basics covered without the language being a major problem.
There are many ways to learn any language well this days right at your kitchen table.  That's  where I learned all the English I needed to know in order not to be lost in New York.  It worked well for me. I was never lost in translation.
I could understand basic conversations, and be understood. Learning the language is the first thing you need to do in order to be well prepared as an expat.
Tip #2 – Learn about the Culture
Believe it or not, language is not the only communication barrier that you will run into when going to a foreign country. Cultural language can be as tough to learn as the literal language.
Recently I was watching an interview of a French show host who told about an experience when he received Bruce Willis as a guest on his TV show. This show host had the habit of giving his guest "une bise" (which is the common French kiss on the cheek) at the end of the show.  He was explaining to the interviewer how Bruce Willis asked someone sitting next to him if the show host was gay.
Maybe if Bruce Willis had taken the time to learn a bit more about the French culture he would have known that "la bise" is as common as hot bread in France and has NO sexual underlining what-so-ever (just like the American hug). Women kiss women, men kiss men and women kiss men (and the same goes for kids).  It's a sign of affection for friends, family and in some cases such as in that TV show, even people who are neither a friend nor a family member, but as a kind gesture of appreciation.
When you are going to expatriate yourself, learn about culture facts of the country you are moving to. No matter where you go, you will have a culture shock, so why not be prepared as much as possible. There are many blogs today that will give you very informative facts about the culture of foreign countries.
At first, there will still be some culture facts that will evade you, because there is even more parts of a culture that's hidden, and can only be experienced with time, but you will get there.
Tip #3 – Get Involved with the Locals
Get involved with local people as soon as you can.
When I landed in New York City, and got settled in that foreign student hotel, there were many French students who wanted to hang out with me, but I quickly saw the danger of this seemingly innocent act.
I wouldn't be able to improve my English as fast as I wanted to by hanging with French students like me, and I wouldn't be able to insert myself with the natives either.
Another huge motivator is that my mother didn't pay that trip for me to hang out with French folks.  If she ever discovered that, I would have been be in big trouble. So, after a short while of doing this, I say good bye and didn't associated with them anymore.
Tip #4 – Join Groups
Try to look for groups that want to learn your language.  Just a few weeks after I've arrived in New York I joined a "learning French" group where I met a bunch of Americans.  That's where I met my first American boyfriend from Italian decent. Return to the source.
Jokes aside, this group helped me greatly with my English.  I made a deal with them; we spoke 50% of the time in French and 50% of the time in English, so everyone was happy. They practice their French with me and I practiced my English with them.
Tip #4 – Watch TV and Go to the Movies
I've learned a lot about the English language and about the American culture just by watching TV and going to the movies.  When you expatriate yourself in a foreign country you need to spend some time doing that. This is the one time watching TV won't be a waste of your time, and you won't be mad for having given your money for a bad movie.
You will learn common expressions, lots of vocabulary, jargon, slang and all many other things that will be very useful to become a well inserted expat.
If you are a new expat or thinking about moving abroad, I hope you enjoyed those tips. But even if you are not an expat, please, leave a comment below to share your thoughts.
Photo Credits: FreeDigitalPhotos.net