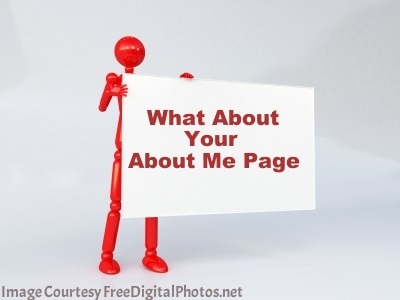 Now, you do have an about me page, don't you?
If you are a blogger and don't have an about me page yet, it may be because you are very new to this business, you don't have a business and just blog for fun, or you don't know how important it is to have an about page.
If you're blogging for a purpose, that purpose is most likely to generate clients, customers or sales of some kind. No matter how you approach blogging, I'm sure you don't spend the time and money that your blog is costing you for nothing; do you?
I'm sure that you've heard that people buy more from someone they know and trust, haven't you?
When people come to your blog and want to know more about you, they will want to check your about me page.
I have to admit that my own About Me Page really sucked until recently.  That's why I totally transformed it, and wanted to help you with YOUR about me page in this post.
Make Sure you have a Picture of YOU on your About Me Page
At first, I didn't think it was that important to be so serious about my about me page.  I had a picture of me as a toddler there, just because I had seen someone who seemed to know what they were doing had a picture of them when they were little.  I thought it was funny and did the same.
Overtime, though, as I was getting more educated about my about me page I really didn't think it was cute anymore.
However, it's very important that you do include a picture of you on your about me page, especially if you don't have one anywhere else on your blog.
People like to see the face of whom they are dealing with. Nothing is more annoying to me than when I can't find the blogger's face anywhere. I don't know about you, but it tends to make me suspicious.
Your about me page is the perfect place to show your face with a professional looking picture of you.
Inform People Briefly About Who you are
Your about me page should include information about you. That's the very purpose of that page on your blog, isn't it? People will want to know who you are, what you do, and what is the purpose of your blog.
But even though this page is "about you," you should not forget the reader and tell them what's in it for them as well.
If you are trying to attract clients and customers with your blog, you could even mention that in your about page as well.  There is nothing wrong with that since it will tell your potential clients and customers that they've got to the right place as you explain to them how they can reach you.
If there is anything usual about you, you can mention it briefly in your about page.
For example, a lot of people question me about my name, so I explained where my first and last name originate from, as well as the fact that my first and last name together make me pretty much the only Sylviane Nuccio I've ever known.
I mention how anything named Sylviane Nuccio in the internet will be, indeed, me. When I do a search for "Sylviane Nuccio" I get myself only in the results included a results that says "we found one Sylviane Nuccio in North Carolina." Thank you Google, I think that would be me.
This is something rather unusual about me that show people that I'm easy to find.
Link to Other Pages of Your Blog
In your about me page you should definitely link to other pages of your blog. Anything you want your readers or potential clients to see, should be linked to with an encouraging statement for them to go check it out.
For example, in my about me page I link to my other two blogs, but I also link to the home page of this blog as well. Don't forget that some people may land on your about page from the search engines, so you should have a link to the homepage of your blog on there as well (don't assume that everyone will know to click on the Home tab).
Since my blog is meant to attract clients for my freelance writing service, I also linked to my testimonial page, and my contact/hire me page.
In case people want to know more about me and my story, I also linked to a "my story" post.
Tell People How you can Help them
Your about me page is a good place to let people know how you can help them. In my case, for this blog, I did it in the form of questions.
I called this section, "what are you looking for?" and basically named a few things that people can find on my blog like this…
– Are you looking to learn more about writing and blogging?
– Are you looking to promote your blog with articles, or other online marketing venues?
– Are you looking for someone to write for you?
Then I made sure to tell them that if they are looking for any of such information, they've got to the right place. Here is a good place to remind people that they can subscribe to your blog, so make sure you link an anchor text to your RSS subscribing page.
It would hurt to remind the reader that they can subscribe on a couple of different places in your about me page.
Tell Something Fun, Original or Outstanding about you
I took this idea while browsing some outstanding about me pages.  They added some more personal facts about them for those who would like to know a bit more.
On my own about me page I added few details about me, so people can connect with me even more if they wish to do so. I called that section "Few Things About Me."
Mentioned any Interview of yours
If you have any blog, radio or video interview, your about me page is a good place to link to those. Even if no one takes the time to read or listen to them, this a great way of branding yourself on your about me page, and it makes you look good!
I added both my radio and video interviews on my about me page. I'm sure more will come (smile).
Add your Email Address and Phone Number
If you are blogging for business, I'm sure that you really want people to reach out to you, don't you? If you do, then give them several options to reach you.
In my case they can reach me through my contact page, my email address and my phone number.  If people have a choice about how they can reach you, you'll multiply the chances that they will.
For some reasons, I get my writing clients by phone more than any other ways.  Don't under estimate the fact that more options mean more potential business.
I hope you enjoyed this post, and will start applying those tips now. Please, let me know what you think and add your thoughts down below in the comments.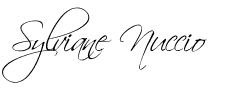 If you found this information valuable and would like to share it, you should add the RSS feed of this blog to the social media sharing platform of your choice.
The feed is https://www.sylvianenuccio.com/feed/
Don't forget to add "via @SylvianeNuccio" to tweet, so I can thank you.