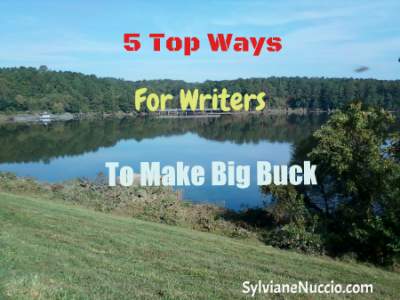 It's not a secret that if you love to write, you can find many opportunities to make a very comfortable living, in today's internet world.
I've read recently that in order to make lots of money writing, what you need the most is NOT being an excellent writer in the technical sense, but simply have the love of writing. Your love of writing can take you places you didn't know you could make a living from.
I know bloggers who are saying that they love to write and others who are saying that they don't, they just write to pass on information from their blog, but in the end, either way, we are all writers, as long as we put words on the blank screen for others to read and to learn from.
What about you? Are you just a blogger writing to inform and promote your own business or are you someone who is looking for ways to make money writing?
If you are looking for different ways to make money from your writing skills, then this is for you.  In this post I am going to discuss 5 ways you can make big money writing online and offline.
Copywriting
Of all the many ways you can make money writing online, the most lucrative one still, has got to be copywriting.  Why am I saying this? Because copy writing is a $2.5 trillion business, and growing.
Now, do you think that there is money to be made here?  You bet there is.
Granted, not everyone is a good copywriter.  As a matter of fact, surveys are reporting that some business owners are complaining about the shortage of good copywriters out there, but that's kind of good news for you, because if there is more demand than writers to provide for such demand, it means that with the right training there is an avalanche of opportunities for you.
Copywriting is totally teachable and learnable, and if you are willing to invest a bit of time and money learning, it might pay off big time for you.  If you learn the basic techniques of copywriting and mix it with own personal writing style and touch, you could potentially develop into a great copywriter and make a very comfortable living doing it.
Are there tools and methods available for you to learn about copywriting? Yes, there are, and if you connect with me I can let you know about some of them.
Website Writing
You can make money with website writing in two different ways.
1- Writing for your own niche website
2- Writing for other websites.
Website writing is probably the easiest way you can make money writing online.
Writing for your own niche blog/site
You can create a specific niche site, learn everything there is to learn about it, and write about it weekly, by-weekly or even daily if you want. If you do it well, you could become the go to guy or girl for that specific niche and while linking to products and services (not to mention ads) you can generate a profitable income with your niche site.
Some of such writers report a 50,000 to 100,000+ a year in revenue doing just that.
While doing it, you will also improve your writing skills, help people, learn more and more about the product you love, and work at your own pace.
Will you make money over night? No, but with the right goal in mind, some focus and patience, it could be your very own way to make a very comfortable living writing online.
Writing for other sites
Of course, you can apply the same writing technique for other marketers who are looking for writers to write for them.  You can perfect your knowledge in specific niches, and offer your writing services in such niches.
A good niche writer can make $100+ per article very easily. If you can write 3-5 articles a day, as it's totally possible for us writers, do the math on how much money you could make?
Your toughest job will be to find the right clients, but when you do, most clients like to stick to the same writers when they find good ones.  So assuming that you're a pretty good writer and find the ideal clients for you, you could generate a pretty comfortable living writing this way.
Grant Writing
Grant writing can be a very lucrative niche that very few writers are willing to take, because they simply don't know how to go about it.
So, what does a grant writer do?
A grant writer writes intelligent proposals and try to link the foundation they're writing for to the right government organization which has the money available and ready to go for it.
A good grant writer will know how to convince such organization to be willing to give some grant money for the foundation they're writing a grant for.
Now, needless to say that it will take some learning to be able to write great stand out grants, but just like copywriting, it's something you could learn.
Once you learn the tricks, you'll be able write attractive grants and find the right government organizations that have the money, but are only waiting to read the best written piece about why they should give it away.
Literally billions of dollars are waiting around to be given for grants, and that's where your writing skill comes in as a grant writer.
Resume Writing
You might not be aware of this, but resume writing requires the same persuasive features that copywriting, website writing or grant writing do, and this can be an online/offline business for you.
I have a lot of experience myself with resume writing, and I can tell you that if your resume is badly written, badly formatted or simply unattractive, you are seriously reducing your chances of getting the job you're applying for.
If you are a writer and know how to write resumes that work, that's when you come in.  Hundreds of thousands of people need persuasive, effective and professionally written resumes.
Many of those people even need two or three different resumes that they can use alternatively depending on the type of job they're applying for.  The only problem they have is that they don't know how to write a good resume that works for them, and they need help.
As I said, resume writing is one of my specialties, and I have to say that people in general have resumes that are pretty darn bad.  There's just no way those people would be able to get a good job with their resume unless they fix it or totally rewrite it.
A well written resume and a badly written one can be the difference between getting that great job you want and not getting it.  Badly written resumes are tossed away before your potential employer even get the chance to look at it.
People who are conscious of this fact, but can't write a well put together resume, will be willing to pay a good resume writer to do it for them.  The fee you can charge for a good resume is about the same as for a good article.  It's your business and you make the shot.
Travel Writing
If there is a dream job, and if you like to travel, then it's got to be travel writing.
As a writer you already know that pushing the emotional buttons of the reader is your goal, and that's what you have to do even more so when you are a travel writer. You need to help the reader connect emotionally with the place you're writing about.
As a travel writer, you need to pay close attention to everything you see, eat, smell, feel and experience. You need to ask questions, find out more about known and not so well-known facts from the places you're visiting, and be willing to spend some time in non-touristic areas as well.
As in the case of all areas of writing, you need to develop your own specific tricks and skills to differentiate yourself with other writers by making your writing the most attractive and compelling one. Your love for what you see and feel should be felt in your writing. That's what will make you an excellent travel writer.
All in all, travel writers can have a blast and live a very exciting life, spending few hours writing and many more hours enjoying life in the most beautiful parts of this world.
Travel writers can write for both online sites and offline magazines. Sky is the limit.
If you are a freelance writer, and still wondering how you could make good money writing, pick one of those and investigate it fully, and you'll be able to see if this is for you or not.  If not, continue your search as there are a few more ways you could make money using your writing skills out there.
If you enjoyed this post or have any comments or questions, please, do so below.