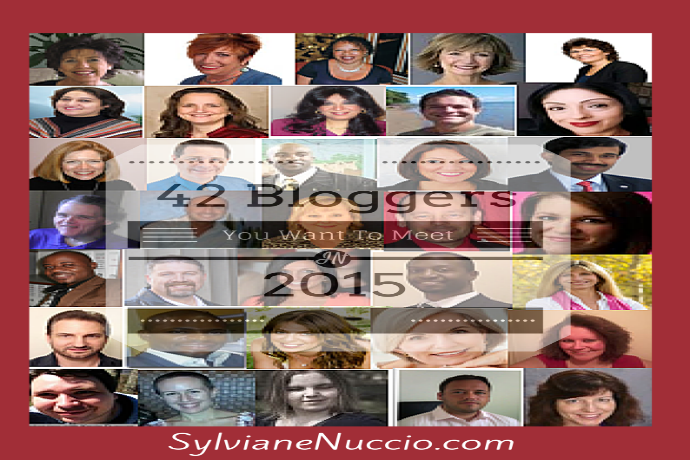 At this time of the year, I like to give back to my community of bloggers. Every year I meet new fellow bloggers, and at times I see some people just coming and going.
Some however, have stand the test of time, and are still here, year after year.
Along the way, I've met some people worth knowing that I wanted you to meet, in case you don't know them already. But I also wanted to introduce some new folks (for me) that I've met recently.
So, without further ado, here we go…
My Oldest Buddy Bloggers
First off I want to mention my oldest buddies, with whom I have built relationships a while back. These 5 ladies and I even have a mastermind group together.  But above all they we are very good friends beyond blogging.
1) Adrienne Smith, whom I met before anyone else, few years ago. Adrienne, is not just a blogger, she's a dear friend who has been with me during my grief this year. You see, Adrienne doesn't just blog about things, she does them. She knows how to build relationships. She doesn't hide behind her blog, she is a real wonderful person. I had the pleasure of promoting her new product recently.
2) Donna Merrill is someone I met soon after Adrienne, and she has been there for me as well for me above blogging. Donna and her husband David, are right there at a drop of a hat if I happen to need them. You rock guys. I also had the pleasure of promoting their products, earlier this year. Donna is a successful entrepreneur teaching people how to build an online business along with her husband.
3) Sue Price is someone I met through a blog commenting group. Sue has also been a big support to me during my bad times this year? She has been the CEO of several successful businesses in the past, and she blogs about business and success.
4) Barbara Charles is someone I met when I first joined a Google hangout group over some 3 years ago. Barbara is a successful network marketer. She knows how to build huge lists, and she blogs about this topic and others on her blog.
5) Raena Lynn, is a pro internet marketer. She went from zero to over the top in a very short time. She is a hard worker who did what she had to do to get where she is now.  She deserves every little bit of her success.  Now she teaches people to make money online.
Some great bloggers that I've met two to three years ago 
And whom I've seen improve and grow over the years.
6) Harleena Singh, is a freelance writer, who likes me, writes about many different topics including; blogging, social media, writing, family matters and personal development, as well as other topics. She owns a very successful blog.
7) Carol Lynn Rivera owns a web creative service with her husband, Ralph. According to her own words she wears the hat of project manager, consultant, editor, and writer. She's been in the digital marketing business since 1999. She a great smart writer, and I enjoy reading what she writes.
8) Neamat Tawadrous is a online marketer and a blogger.  She took some time off to learn more about her business, and now she's back.  Each week she writes insightful articles about what it takes to run an online business.
9) Corina Ramos is the expert about working from home, she blogs about this topic, as well as money matters, and lifestyle.
10) Maxwell Ivey is someone I met when he used to blog about amusement park rides, and who is now known as the blind blogger, but is much more than that, of course.  He's an incredibly good business man and a wonderful blogger worth knowing.
11) Ryan Biddulph is someone whom I've met a couple of years ago as we were visiting the same personal development blogs, and who has grown tremendously since I met him. As you probably know he's the popular blogger from Paradise.
12) Sherman Smith  is a network marketer and blogger. His blogging style has improved tremendously since I've known him. He research his subject very thoroughly and then write about them. His posts are very informative.
13) Kumar Gauraw is someone I met through a blog commenting group, we now both belong to, and as many of you know has been invaluable to me during the process of revamping my site, and migrating all my content under the same roof. Thank you Kumar for all those hours you've spent over the phone helping me.
14) Enstine Muki is a developer, and traffic geek.  I'm sure most of you know here know him. He is a very successful and skilled digital guy who has fun blogging as well.
Some awesome bloggers that I've met earlier this years
And that have responded very well to my efforts to build a relationship with them. I'm so glad we have met.
15) Don Purdum is a successful business owner who teaches people how to understand and grow their business.  Don is also a blogger and someone who knows how to build relationships online. It was so easy to connect with him, because there's a read person beyond his blog.
16) Carol Amato is a very successful business lady. She helps entrepreneurs succeed in their business. She  is a blogger and someone you definitely want to get to know. She is so easy to talk to, and very personable. Again, a person beyond the blog.
17) Mi Muba has worked in journalism, and he is very  knowledgeable about ways you can use to make money with your blog. Mi is a faithful reader of this blog.
18) Brittany Bullen is someone with whom I have "acting" and "writing" as common grounds to start with. I think that's the reason why she landed on my blog first, she had read that I used to be an actress. A great lady to get to know.
19) Jamie Buckley is an author and cartoonist with a personality that comes out your computer screen. He's got great sense of humor (I've always been a huge  fan of sense of humor), and I love how he writes. If you've met Jamie once, you didn't miss him I'm sure. I met him through Carol Amato's special guest section, and beside the ones that I already knew, he's been the one that made the effort to connect with me.
20) June Whittle is a writer and editor. Through her I started writing for Hairdressers' Eyes blog magazine. She also writes poetry. She's a very talented writer with an interesting story.
21) Andrew Warner is a  very talented blogger who got it, and got it fast. His blog became popular overnight, basically. According to his own admission, he started blogging in his own corner, like many of us, and as soon as he started building relationships with other bloggers his game improved greatly. His blog posts are always great.
22) Mandie Sanders is someone I met through Jaime Buckley. I don't know how I could have missed her until now, but I did. However,  I'm glad I connected with her. She's a great writer, and we quickly realized that we have lots in common, blogging, cats, writing, travel, and even some grieving times we went through this year.
23) Deborah Tatnauer is a coach for entrepreneurs. She teaches people to get real about money. She helps people to get clear and focused. We've met very recently because of my new website. I can't wait to know her more. I know we've got some common ground we can build on.
24) Kerry Kijewski was introduced to me by Maxwell Ivey. She is also a blind blogger, and she was my first guest on my new blog platform this past Friday. She wrote a beautiful post about Louis Braille.
More bloggers that I have know for a little while
But would love to know more, and visit more regularly in 2015.
25) Carol Nicander Mohr runs a very popular technology blog.
26) Lisa Buben blogs about internet marketing, social media and other online success related topics.
27) Lisa Magoulas is  a Board Certified Holistic Health Practitioner. She blogs about healthy eating and healthy habits. She's got a gorgeous site.
28) Coach Gladys Cruz is a Certified Life Coach, and a Blogger, just like me. She has an incredible story and is a living proof of how someone with tough beginnings can make it through.
29) David Leonarht, a writer and blogger who has given me the honor of including me in a list along with some other popular and wonderful writers, recently. Thank you, David.
30) Angela McCall is a designer, a blogger and a marketer. A very sweet person as well.
31) Cole Wiebe is a content marketer and a blogger. A nice talented guy.
32) Jackson Nwachutwu is a blogger who has written for some of the biggest blogs out there. Just met him recently and hope to know him more. Great personality.
33) Richard Martin is an internet marketer, and blogger teaching people how to make money online. He knows his stuff.
34) Akaahan Terungwa blog about making money online, and I think he loves to learn from other bloggers too.
35) DeeAnn Rice blogs about blog security, plugin, blogging and other related topic. She's a very busy lady, and I wish I'd see her online more.
36) Mitch Mitchell is a blogger who owns several blogs. A very busy and talented blogger.
Some bloggers that I would love to get to know more
As long as they do their part as well (can't do it alone). Either way, definitely worth checking their blogs.
37) Catherin Holt writes about blogging and online related topics. I hope to get more acquainted with her.
38) Erik Emanuelli is a blogger and freelance writer. He sounds just like the people where I'm from, but to this day, don't know where his accent comes from.
39) Sue Anne Dunlevie blogs about blogging, traffic and making money online. Really would like to know this lady more.
40) Kevin Duncan whom I don't think he's really noticed me yet, even though I've been on his blog few weeks in a row. Because I think the trick with him is to make it early on his post. I think he's very busy, but since I am too, we keep missing each other.  He teaches people how to become better bloggers. I hope we could connect some day.
41) Lorraine Reguly, she is a writer and editor. And while I saw her face around a lot, I've only started to connect with her very recently, and would love to know her more.
42) Kelli Cooper, she is the fiancée of Ryan Biddulph, and that's how I've got to know her. She right my alley as she blogs about personal development, the law of attraction and all that good stuff. She hasn't make it up here yet, but hopefully she will.
There you have it. I hope you enjoyed this.
If there are some folks on this list that you don't know yet, I encourage you to take the first step and get to know them. Once they connect back with you, make sure you remember how important building relationships with other bloggers is, for all of us, bloggers.
Have a wonderful holiday seasons.