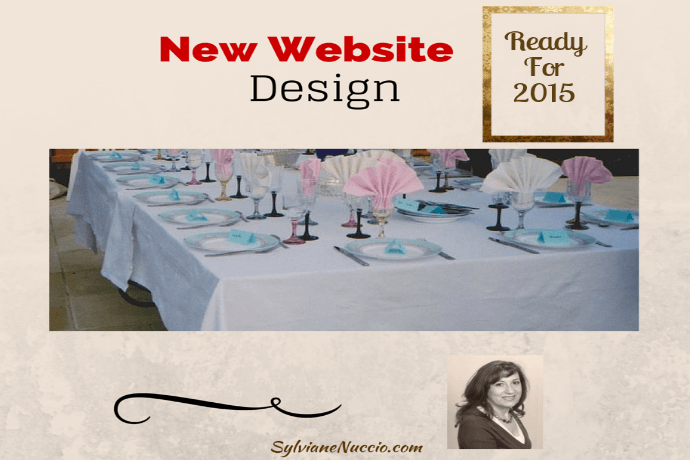 I am very happy to introduce my brand new website to you today. It's finally up and running after three and some weeks of work.
Special Thanks
First off, I want to thank Kumar Gauraw for his hard work on my site.  For answering all my questions over the phone and through emails. And for making sure that my site is safer than it has EVER been before (so excited about that one. Even if I gave you my password you still wouldn't be able to login).
He he he… as my friend Donna would say.
I also want to thank Don Purdum for advising me and helping me making the best choice for me site. Actually his advice met the vision that I have had for this site a long time ago.
Thank you Don, your tips were invaluable.
My Apologies for those who were Bombarded by Emails
I also wanted to apologize to you if you are one of the people who received a bunch of emails from me.  Those emails were actually not purposefully sent, of course.
It was just a glitch during the merging of my personal development blog under its new URL.  For some reason, Commentluv started to shoot emails to everyone that had ever commented on that blog.
It wasn't my or Kumar's doing.
So, my apologies if you received a handful of non-solicited emails.
Finally a New Site
Few months ago, when I wrote about my intention to redesign my site and combine my 3 blogs together, I received a lot of comments. Some of which advised me that it would be a mistake, because of my blogs being of 3 very different niches.
I understood that, believe me, I did. And I also know that everyone giving me feedback were in my corner.
That's why I hesitated to do this for a very long time in the first place, but as time went on, I realized that having 3 successful blogs was only possible if all I had to do was blogging and promoting my posts all day long.
Especially the promoting part.
Unfortunately, considering what I have on my plate already, that's just impossible for me.
so my only other option, was to give up two of my blogs, but I really didn't want to do that.
Thankfully, though, a handful of people did tell me that it was possible to merge my blogs together, and that it had been done many times before.
Needless to say, it was very nice to hear.
So, today, if I may, let me give you a tour of my new site as a welcome launch for this new baby.
Taking a Tour
The home page
I have been wanting a home page for the longest time.
Well, it's finally done now. I have now a beautiful home page that you can visit right here.
Most people won't land on it when I'll be promoting a new post, since they will be landing on the post page (just like this one), but for anyone Googling my name, for example, chances are that they will land on my home page, and be able to see what my site is about at a quick glance.
I am not going to start worrying about if they'll like it or not.  If they don't they can leave.  As far as I know we've made it the clearest and cleanest we could.  Kumar and I had long discussions over the phone to make the best possible.
As a matter of fact, Kumar told me that I may be the only one out there having my services presented this way. And he meant it in a good way.
The Logo
The first thing you'll see is my brand new header with my new and first logo ever.  No brainer here, and actually pretty unique logo at the same time.
As I researched the "SN" logos that already existed out there, not only did I realized that they weren't that many (love that), but none of them even resembled my own design, and I bet their logo cost them a small fortune.
Mine did not.
There are actually many talented people, over at fiverr that will do a fancy logo for anywhere from $5-$15. Now, there is nothing risky with that, even if it doesn't turn out that good.
Why you shouldn't spend too much money on a logo?
Because, it's just a little logo, not a big deal. Plus, remember that maybe a year from now, you may want to tweak it a little or totally redesign it, so why should you invest $200 or more in a logo?
In my own case, I see no reason to spend that kind of money on a simple website logo.
I think that's a waste of money, and I'd rather save it for things that I really want or need for my business.
Three Main Categories
Right under my name on the header, you can see three simple words: Writing – Success Coaching – Travel.
That's were all the fuss was about.
How can you mixed writing, coaching and travel all at once under the same roof (site)?
Well, easy.
Just like that.
We did it.
I don't think it's that shocking, do you?
Right under that, you can see 4 simple tabs.
Home – Writing and Blogging – Success Coaching – European Travel.
Whoever lands on my site, doesn't have to be confused or disturbed, they can click or not click on whatever other tabs are available to them.
That's as simple as that!
One thing is for sure. It's ALL written content.  So in the end, it's also ALL about writing.  All my 3 categories promote my writing skills, don't they? And one of my two services is about WRITING.
Simplified Name/Titles
During a conversation that I had over Skype with Don Purdum, he reminded me that using jargon is never a good idea, as people may not understand it.
That's why my "understanding your subconscious mind" has gone away and has become a much easier to understand "success coaching."
Those two words are easy to understand. No ambiguity for anyone with a few brain cells.
My France Travel and Food blog became European Travel, because as you may or may or may not know, Europe is where I will be living for a while, very soon.
But I won't say too much about that for now.  Just so you know that I won't be writing ONLY about France but other European countries as well in a few months from now.
All I can tell you is that it's so going to inspire my WHOLE writing experience.
The Slider
Ah, a slider.
I wanted a slider for the longest time, just like a little girl wants that latest Barbie doll.
What can I say!  Just something I've always liked and wanted for my site.
Well, now it's done!
Featured Services
Under the cool feature services section I included my latest free eBook that you can get by putting your name and email address .
Then I included my two business services that I offer to paying clients, namely my writing service and my life coaching service.
Latest posts
Well, this section is pretty much self explanatory, the visitor will be able to see  a small selection of the latest posts of all 3 categories, and click on whatever they see fit.  I think that's a pretty cool display too.
Right now, you can see that the images are not of the same size, but since from now on all my images will be of the same size, in just a few weeks the home and category pages will look better.
Categories
My categories were a shamble, to say the least, because when I started blogging all those years ago I had absolutely no clue what a category really was, so I had way too many of them and some didn't make sense at all.
So, since I kind of hate this type of work, I actually asked Kumar if I could actually pay someone to reorganize my categories for me, and he said he knew some people that could do just that.
All I had to do is tell them what categories I wanted to keep, and where to put the ones that I wanted gone.
So, now, if you look down below you can see that I actually have less categories for all the 3 blogs together than I used to have for one alone.
I love that and I'm sure my readers will too.
Footer
The footer is not done, yet, because I'm waiting for an item still in the oven.
But I've been wanting a footer just like the one I will have soon, for a very long time.
New and Better Hosting
While I was having a discussion about hosting over the phone with Kumar, he told me some very interesting and educating things about website hosting.
For one thing, let me tell you that this man knows about hosting. Just discuss hosting with Kumar Gauraw, and you will understand what I mean.
He explained to me what it really means to share your site on the same hosting server as another zillion people.
Well, it could actually turn out to be a treat to your website (he told me a scary story).
Does it happen every day?
No, of course not, but when we host our blog on multiple user servers we do take risks that we are often totally not aware of.
Just like I was.
He also explained to me how some people are actually using dedicated servers when they really don't need that much, and thus wasting their money in the process.
I also learn from Kumar about some potentially dangerous situations that people put their site into, because of the lack of understanding of the hows and whats of hosting.
I tell you, I have no doubt that Kumar knows about hosting.  No wonder he often writes about it on his blog, and owns his own hosting company.
Needless to say that I trust my site with his service. And I'm so glad I am not hosting my new designed website on a multiple user server anymore.
The service that I have now, is just fine for me. Not too much, and not too little.  Plus it's taken care of by someone who knows what he's doing.
Conclusion
So, here you have it guys?
I hope you will enjoy my new look going forward.
By the way, the site should be faster now too, and whatever problems you might have run into when trying to comment ( I know few of you did on the old one) should be done away with.
Please, let me know what you think in your very much appreciated comment!