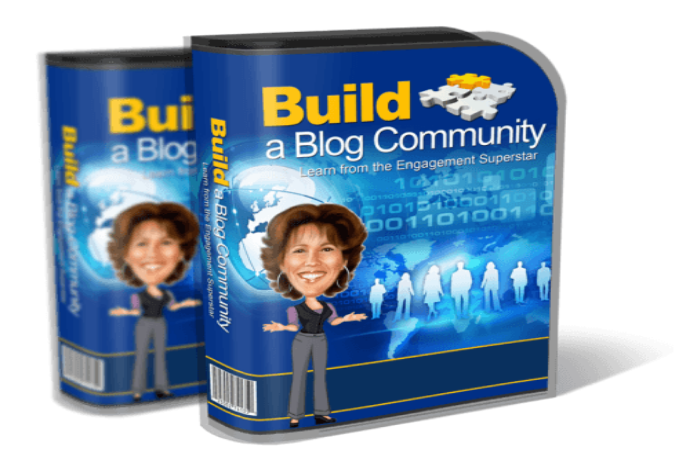 I was going to wait until my new site was ready, to post again, but you know how it is, at times things take longer than expected, and since I'm told that it's OK for me to add content to my blog while it's being transformed, I decided to write this post today.
I'm sure most of you know that my friend Adrienne Smith has launched her brand new product last week. A tutorial that is meant to help us – YOU – to be better bloggers, by learning how to build a community around your blog and help you rise among the greats.
I consider it a privilege to have been one of the few who had an early in-sight of Adrienne's product and was able to participate just a bit with one of my skills, so it's a no brainer for me to promote this baby today.
After all, that's what building a blog community it's ALL about. Isn't it?
You blog – you create valuable content for your potential readers – and you form relationships with them over time.
In turn, when you come up with a product, you WILL, one way or another NEED someone else's help, talent and skills, to help YOU out.
None of us can do it all. It's impossible.
So, that's when you realize how important it is to have built an online community that can help and support you when you need it. But this can happen ONLY when you've helped and supported others first. That's what Adrienne is teaching with this tutorial of hers.
So, what will you find in Adrienne's tutorial?
Build A Blog Community at Adrienne's Smith 101
Well, I won't beat around the bush here, the best way you'll ever find out how to build a blog community following the Engagement Super Star herself, is by getting her tutorial that you can find right here (affiliate link). As any good product she's backing it up with money back guarantee, just in case you didn't think it was helpful to you.
Now, I have to say that it's so much easier to promote someone's else product than your own, because you have much less reserve doing so when it's someone else's, since you don't feel that you're tooting you own horn.
Who Needs Build a Blog Community?
Is your blog a bit dead? Do you long for more comments? More traffic? More interaction and discussion around your content? More social proof? More sharing of your content? More stardom?
All in all do you wish your online business would grow way more consistently and concretely?
If you've answered yes to all or even just a couple of these questions, then Build a Blog Community is for you. Go grab it and start making some serious improvement with your blog right now!
It's the Right Time!
I know that with the New Year approaching for many of us it's that time of the year where we start thinking of a few things we want to change and improve.
So, my guess is that's it's the right time of the year to learn how to build a better and stronger community that's going to help you grow your business. Don't you think so?
How if you started the new year with all the tips and tools you need to bring your blog and online business to the new level? Would that be great? Only, YOU can answer this question, so I leave it at that.
Think about it and decide what you want for you, your blog and your business for this new coming year, and act accordingly.
I hope you enjoyed this short review. For more specific information about what you're going to get,
click the image above
, and read them from the sales page itself.
If you have any questions I can answer for you, I'll be glad to do that, but in case you are not aware of this yet, Adrienne herself will be more than happy to answer any question you might have as well.
In the meantime, Let us know what you think right here in the comments.